We would have spaghetti a lot in my household when I was a kid. Being it was very much a part of the regular rotation of my mom's dinner meal repertoire, I consider it a comfort food. Just the thought of a big warm bowl of noodles slicked with meat sauce brings a smile to my face even as I'm typing this. Here, I take a standard spaghetti recipe, top it with a pound of mozzarella cheese, and bake it in a casserole dish.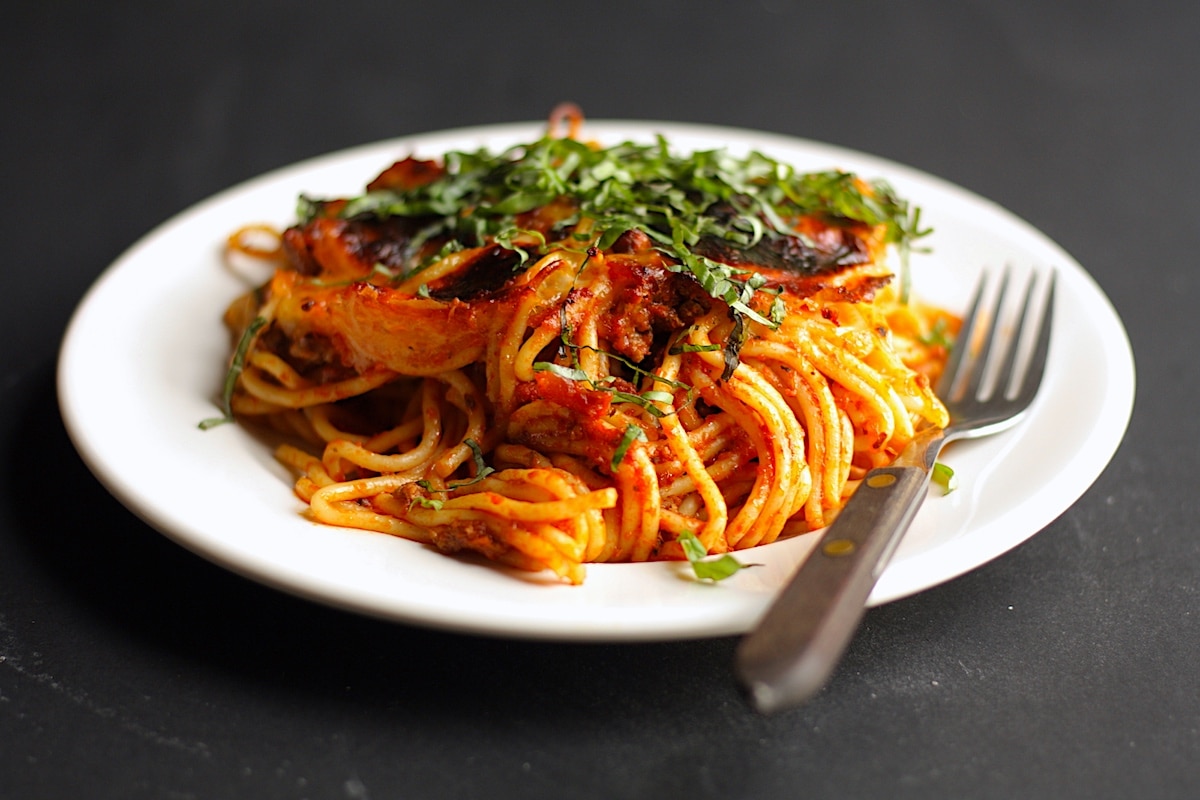 This recipe uses a jarred pasta sauce to save you the time of making it yourself, which means it's fairly easy to throw this together for a weeknight dinner. Just cook some onions and ground beef to add to the sauce and you're practically done with all of the prep involved in this recipe. All that's left is to mix the sauce with the cooked spaghetti noodles, top it with some cheese, and then throw it in the oven. If you want to be a little extra, then you can pop it under the broiler briefly to let the cheese brown up a bit and top it with some fresh basil just before serving.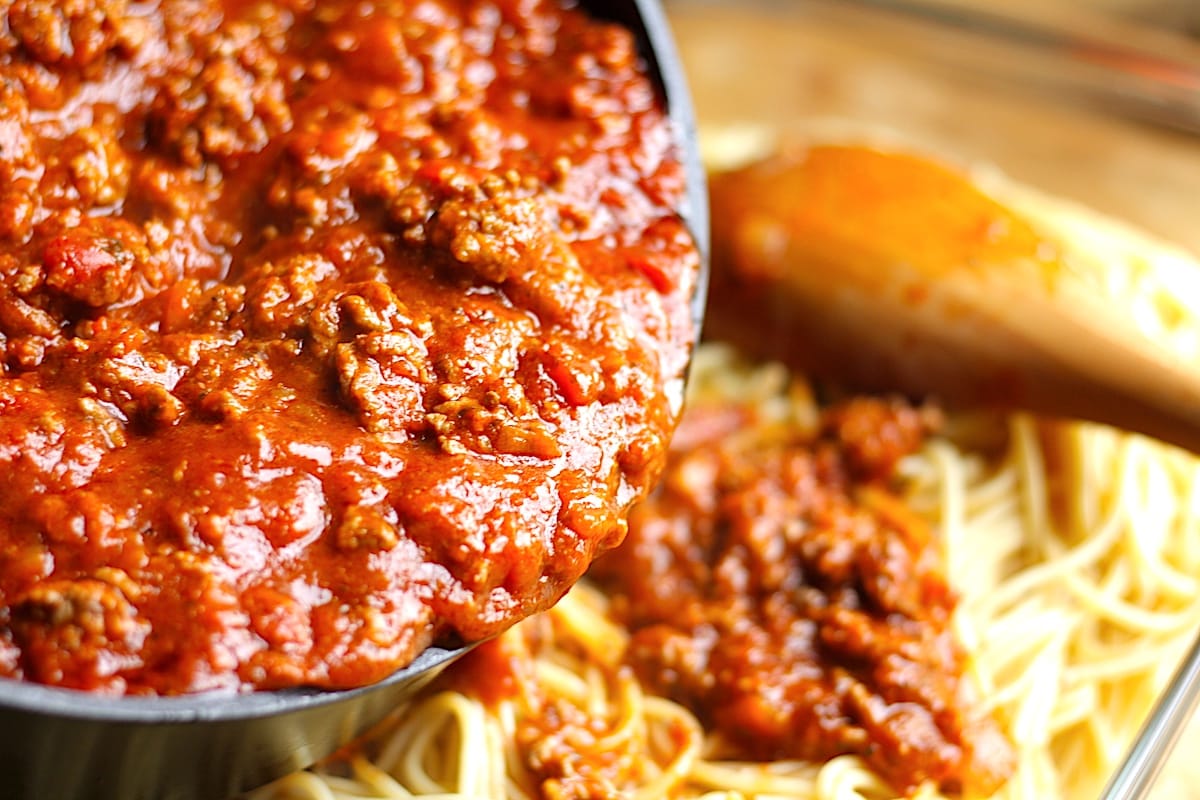 Side note: I really love this action shot of adding the sauce to the pasta.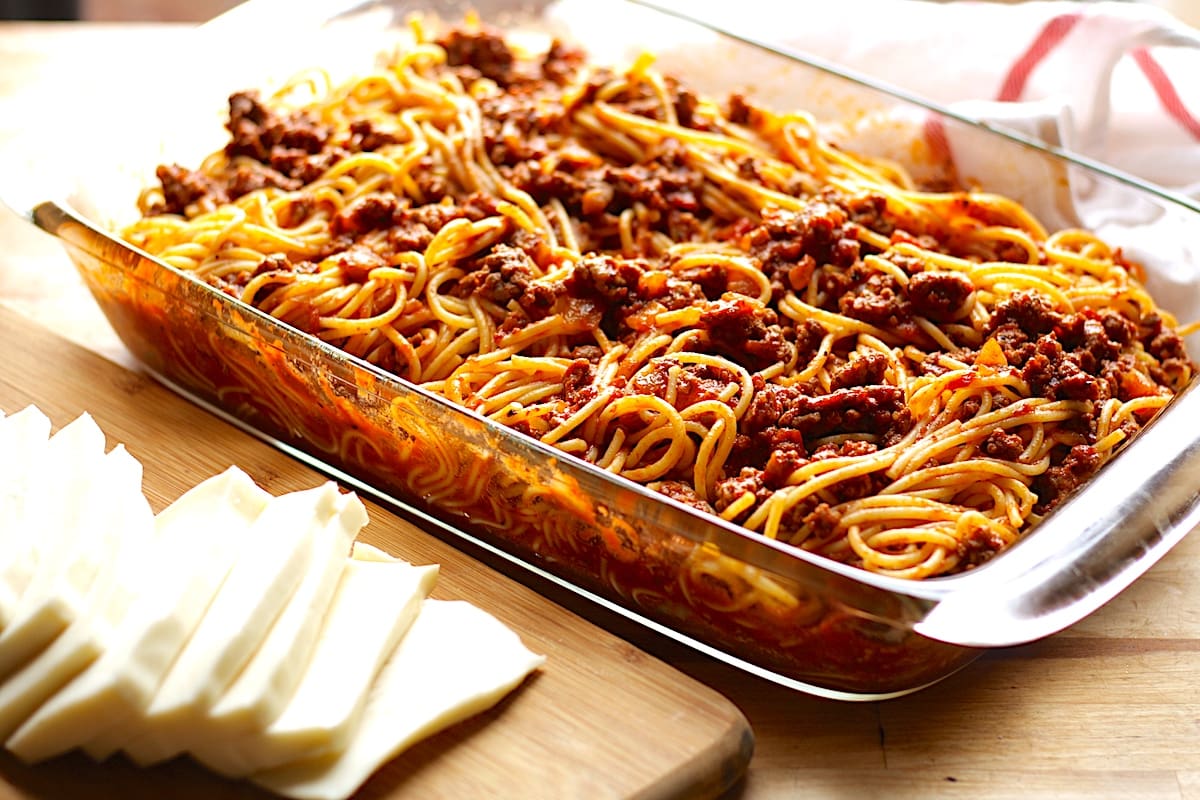 Also, be sure to pin the image below to save this recipe for later.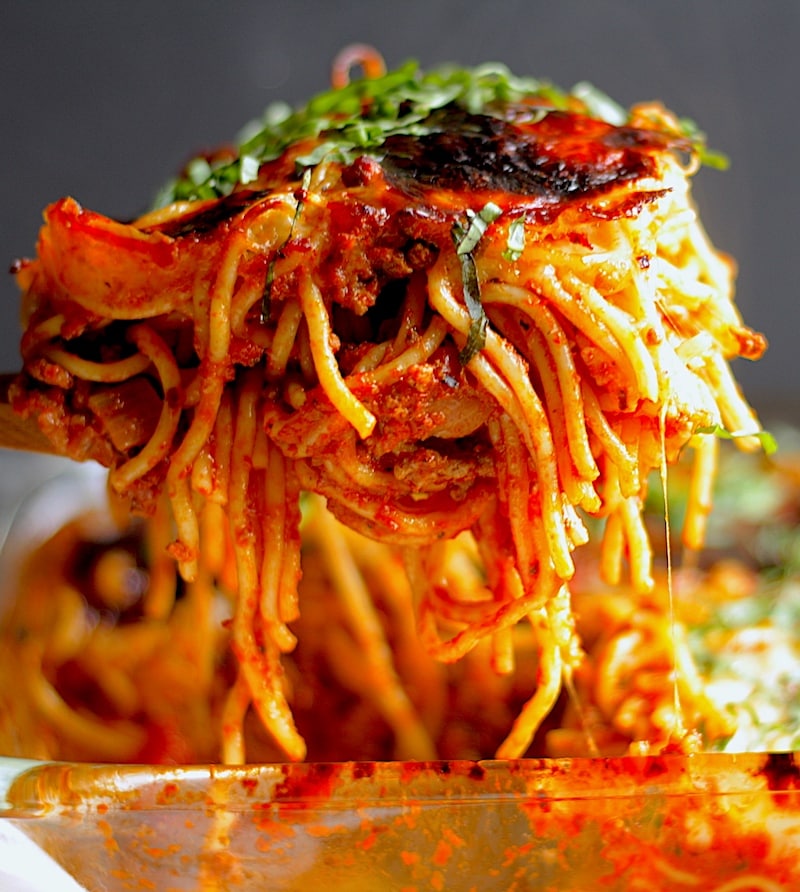 Baked Spaghetti with Meat Sauce Recipe
A classic recipe for spaghetti with a simple meat sauce. It gets topped with sliced mozzarella cheese before getting baked to bubbly, melty perfection.
Ingredients
2 tablespoons olive oil
1 yellow onion, diced
Salt and pepper
1.5 pounds ground beef
One 25.5-ounce jar pasta sauce
1 pound dried spaghetti, prepared per package instructions
1 pound mozzarella cheese, sliced
Sliced fresh basil, for garnishing
Instructions
Heat the oil in a large skillet over medium heat; add the onion, season with some salt and pepper, and cook until the onion is soft and translucent, about 5 minutes. Add the ground beef, sprinkle with some more salt and pepper, and cook until browned, 5 to 7 minutes more. Add the pasta sauce to the beef and heat until warmed.
Combine the cooked spaghetti and pasta sauce in a 13x9-inch (3-quart) baking dish. Top with the sliced mozzarella cheese and bake in a 350˚F oven until bubbling and the cheese is melted, about 30 minutes.
Set your oven to broil and cook the pasta until the cheese is browned, 1 to 2 minutes, if desired. (If broiling, be sure to keep a close eye on the dish so that the cheese doesn't burn . . . like mine kind of did). Top with the sliced fresh basil leaves for serving.
Disclosure: This recipe was originally created for Pillsbury.