Disclosure: This is a sponsored post for Bonne Maman. All views and opinions are my own.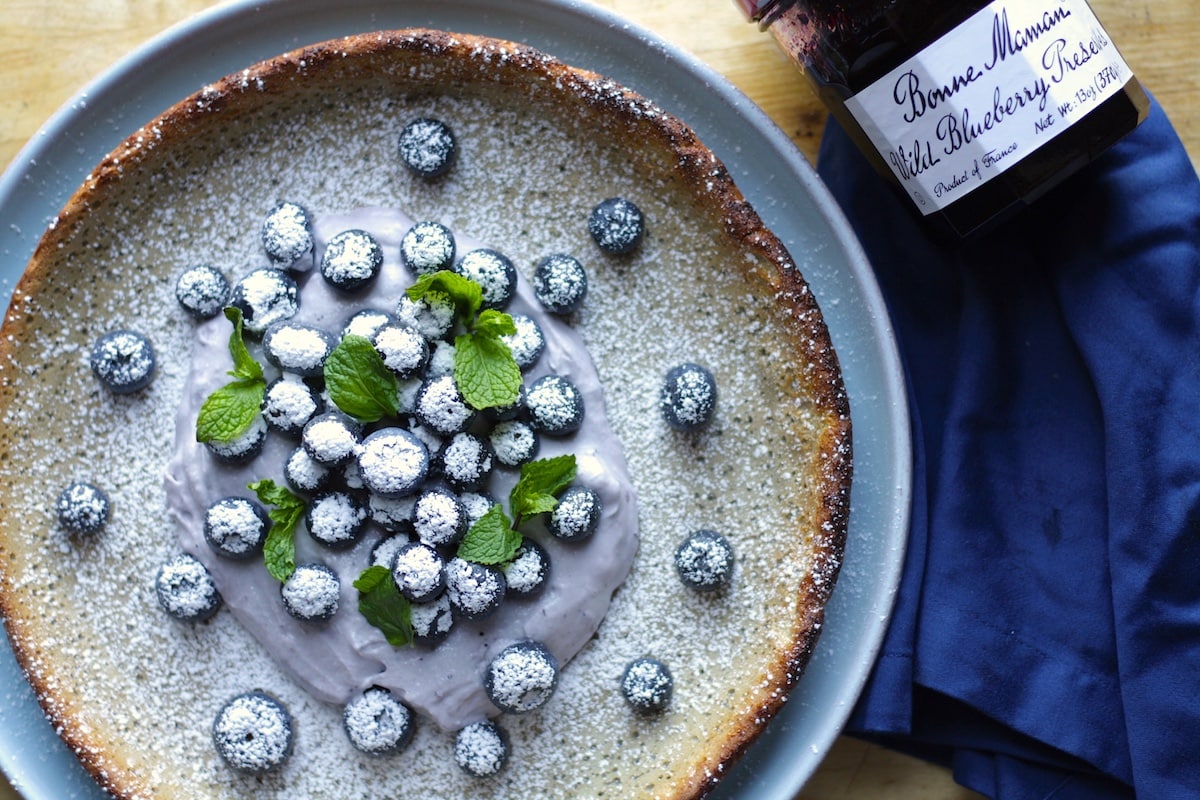 I do this every time: I tell myself that I'm going to write a post when I get home from work, only to wait hours until I actually sit down to write. Some of it is justifiable—I need to eat dinner, or I want to decompress a little bit after a long work day—but today I have to admit that much of my free time was consumed with catching up on the past few episodes of Empire. For those unfamiliar with the show, it is a tale of a fictional "first family of hip-hop" and their successes, failures, and everything in between.
At its core, the show is about family. Cookie Lyon, the matriarch as portrayed by Taraji P. Henson, is a fierce mama bear that would do anything to protect her cubs. And to top it all off she is a CEO with a divine ear for music and a wardrobe to rival an urban, contemporary Jackie O in its appeal. These favorable character traits aside, it's the title of "mother" that is the thesis of this character. This leads me to my next point: Mother's Day is coming!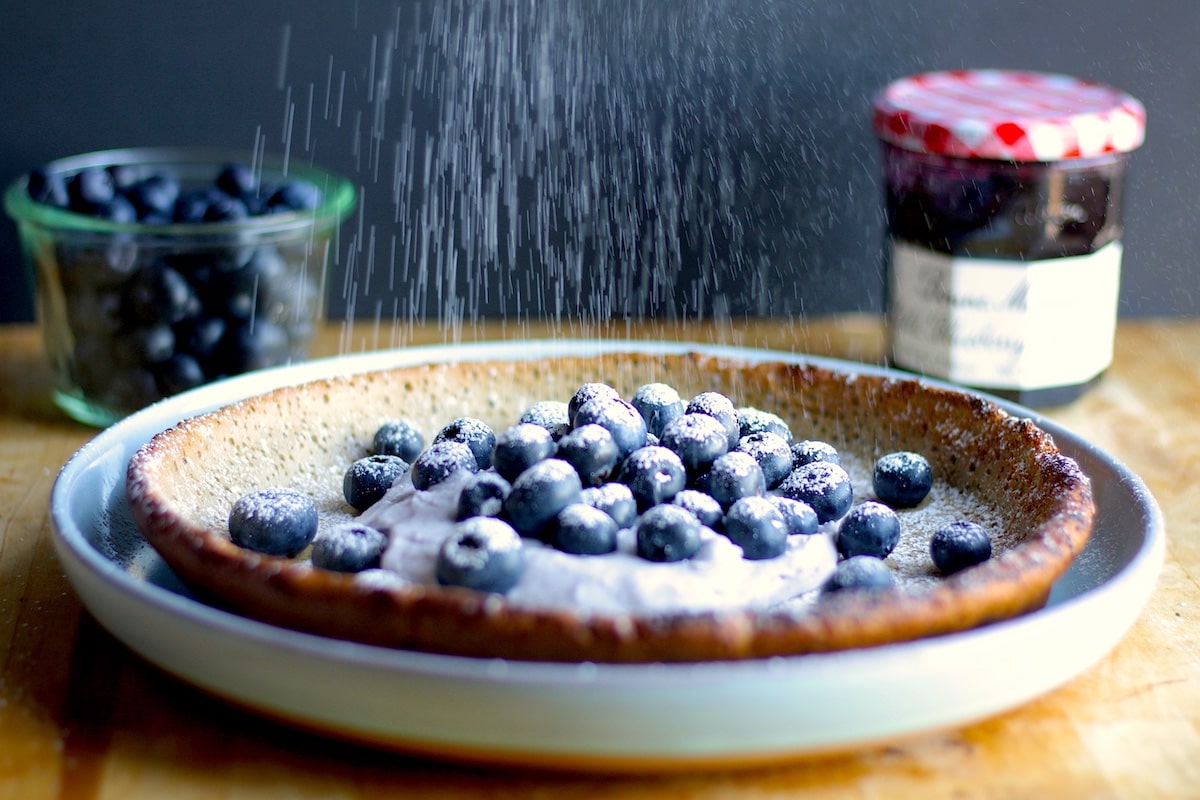 I was tasked by the folks at Bonne Maman to create a delicious recipe using their Wild Blueberry Preserves that would be perfect to make for the great women in your lives as a great little "breakfast in bed" treat. I decided that a dutch baby pancake recipe would be the best way to showcase the preserves in a couple of different ways while being simple enough for anyone to prepare and easy to make beautiful. (I mean … look at the photos.) The preserves are in the pancake batter itself and are also incorporated into the mascarpone whipped cream.
Believe it or not, this is the first time I've both made AND eaten a dutch baby pancake. I've been kicking myself ever since for taking so long to discover its glory. I think I can safely say they're even easier to prepare than regular pancakes on the stovetop because you don't have to worry about flipping them over. After just one bite I was truly hooked (and proceeded to eat about half of it before having to run to work). This recipe is perfect to show the moms in your life just how much you love them this Mother's Day. (Alternatively, you can use this recipe to show you how much you love yourself any day of the week.)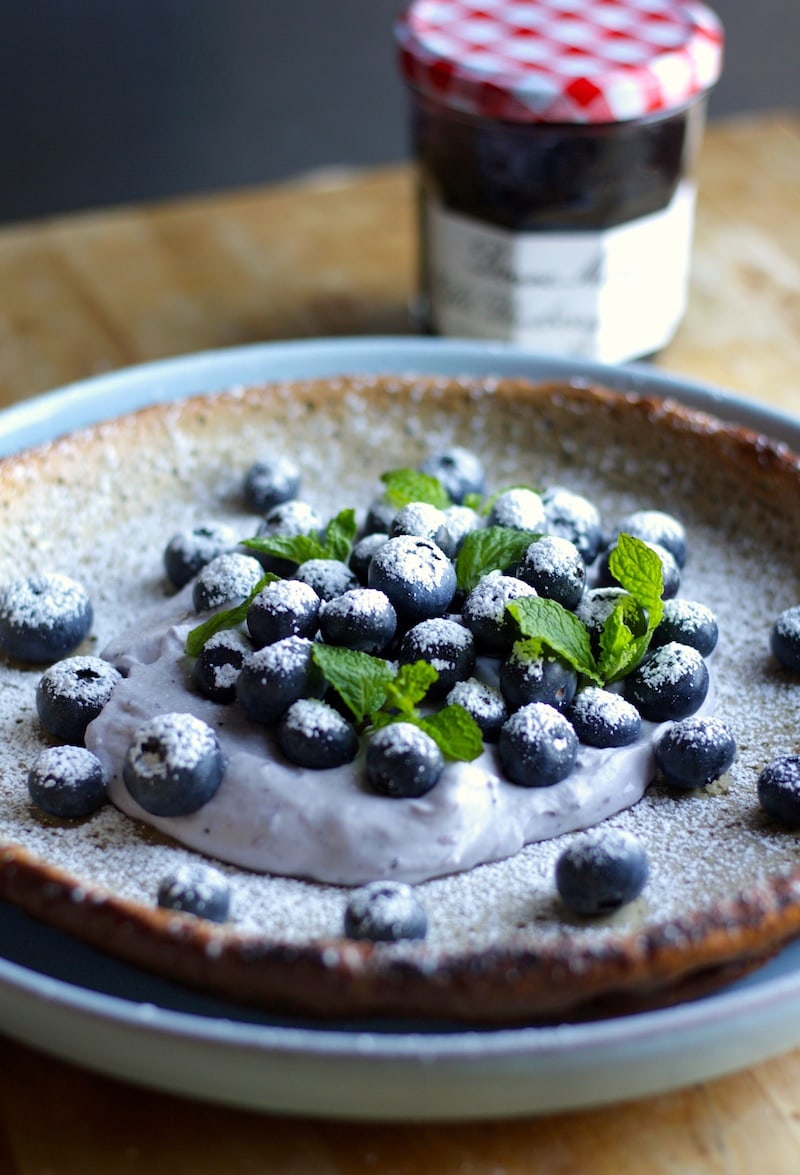 Blueberry Dutch Baby Pancake
A large, puffy pancake that gets baked in the oven. This version is flavored with blueberry preserves and served with mascarpone whipped cream.
Ingredients
Blueberry Dutch Baby Pancake:
2 large eggs, room temperature
½ cup all-purpose flour
½ cup heavy cream or whole milk, room temperature
2 tablespoons Bonne Maman Wild Blueberry Preserves
½ teaspoon salt
2 tablespoons butter
Blueberry-Mascarpone Whipped Cream:
For Serving:
confectioners' sugar
fresh blueberries
fresh mint leaves
Instructions
Make the Blueberry Dutch Baby Pancake:
Preheat the oven to 400˚F oven.
Add all of the dutch baby ingredients except for the butter to a blender and blend until smooth and fully mixed. blend batter. Add the butter to a 10-inch oven-safe skillet and place in the oven until the butter is melted and the skillet is hot, about 2 minutes. Remove the skillet from the oven and swirl to coat it with the melted butter; pour in the batter and return to the oven to bake until the pancake is puffed and golden, about 20 minutes.
Make the Blueberry-Mascarpone Whipped Cream:
Put all of the ingredients in a bowl and whisk until medium peaks form. (You can make this ahead and store it in the refrigerator.)
To Serve:
Transfer the dutch baby to a plate. Spoon some of the prepared whipped cream on the pancake, top with some blueberries, dust with some confectioners' sugar, and garnish with a few pieces of mint.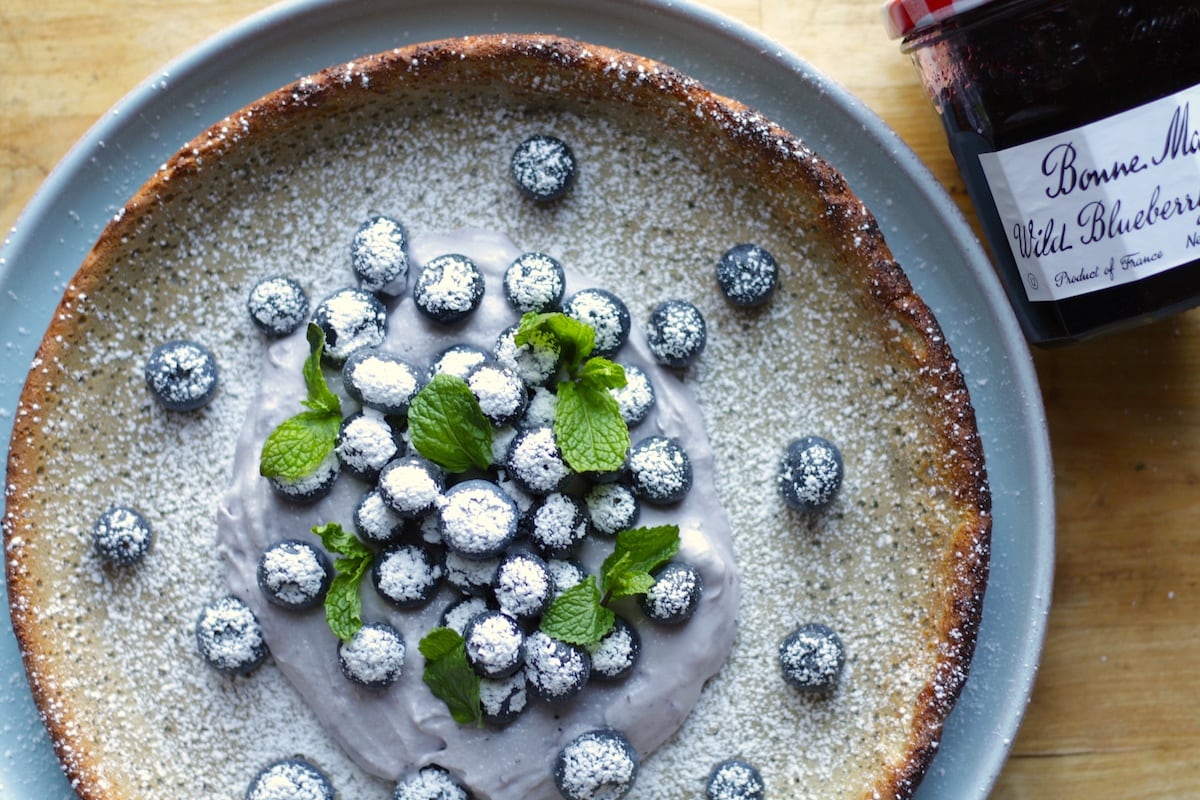 If you were to ask me the next item on my kitchen wishlist, I would immediately say some Le Creuset cookware. (Seriously, do you know someone with a hookup?) Well, it seems that some lucky reader might just beat me to the punch. Enter the contest below for a chance to win a set of your own Le Creuset cookware. (And while you're at it, don't forget to subscribe to my email newsletter at the top of the sidebar.)
Disclosure: This is a sponsored post for Bonne Maman. All views and opinions are my own.