Today…yesterday?…has not been a very productive day. Granted I did some of the things I needed/wanted to do—volunteered at church, went to the grocery store, took a nap, called both my mom and grandma, made fried chicken—but I had so many more things I wanted to accomplish, one of which being writing this blog post. Then I got sucked into watching the Oscars. Between the excitement of the fake out Moonlight win and my aforementioned 3-hour nap, I find myself awake at 2:30 a.m. making use of my insomnia. (I tried to go to sleep, but my body wasn't having any of it.) As we near the end of the February/Black History Month and in the midst of everything that's going on in the world, I'm pleased that a film about queer black boys took home the award for the best movie of the year. (I saw it and can verify this claim.)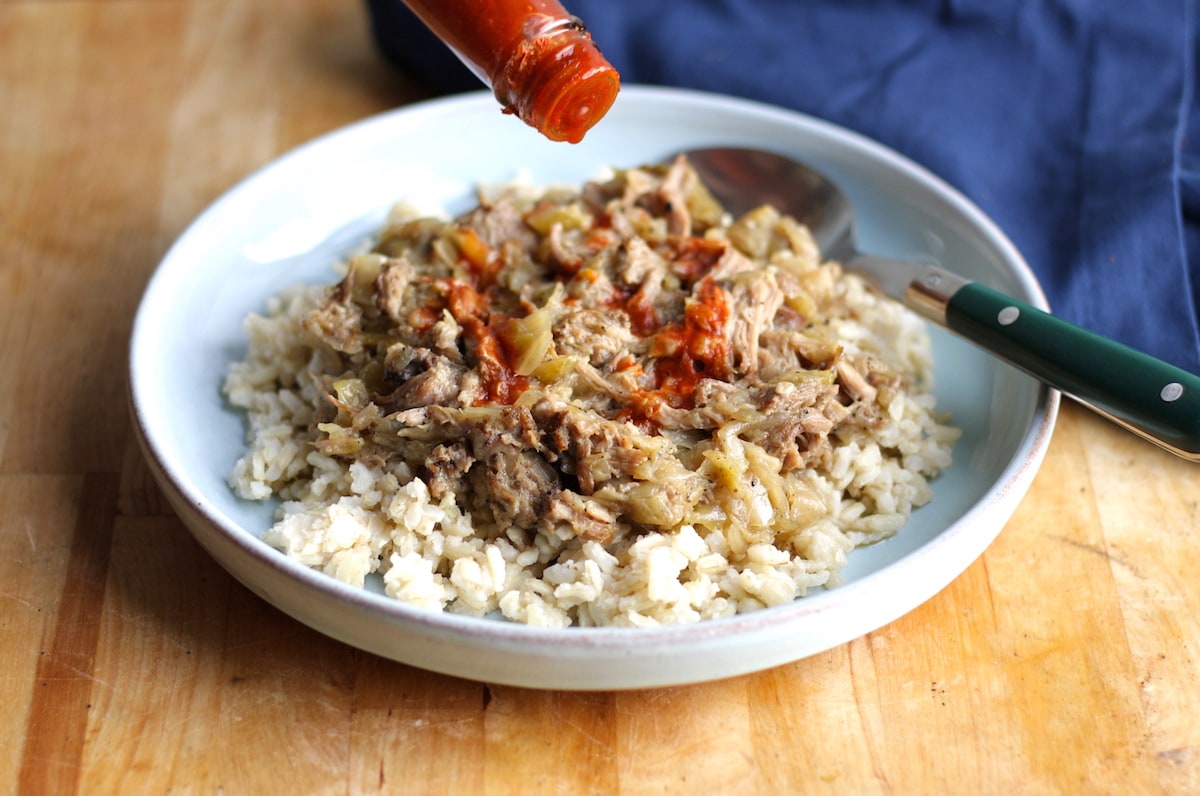 I started out the month with the announcement of the Black History Month Virtual Potluck (read more about it on Tasting Table and Food52) and want to end with a recipe I was inspired to create based on my background. As most of my recipe inspiration does, it all started with a trip to the grocery store. I was wandering the aisles and stumbled upon pork neck bones for something along the lines of $1.50 per pound. I don't think I've ever cooked (or even eaten) pork neck before, but I couldn't pass it up at a price as low as that. Additionally, I was reminded of how black people in this country were forced to make do with the less desirable cuts of meat and other produce, and I wanted to see what I could create with this overlooked package of pork. I knew that by braising the pork I could develop some nice flavor and get some really tender meat. The bonus of using the bones is that they gave a nice flavor and texture to the braising liquid—the collagen released by the bones made it rich and unctuous.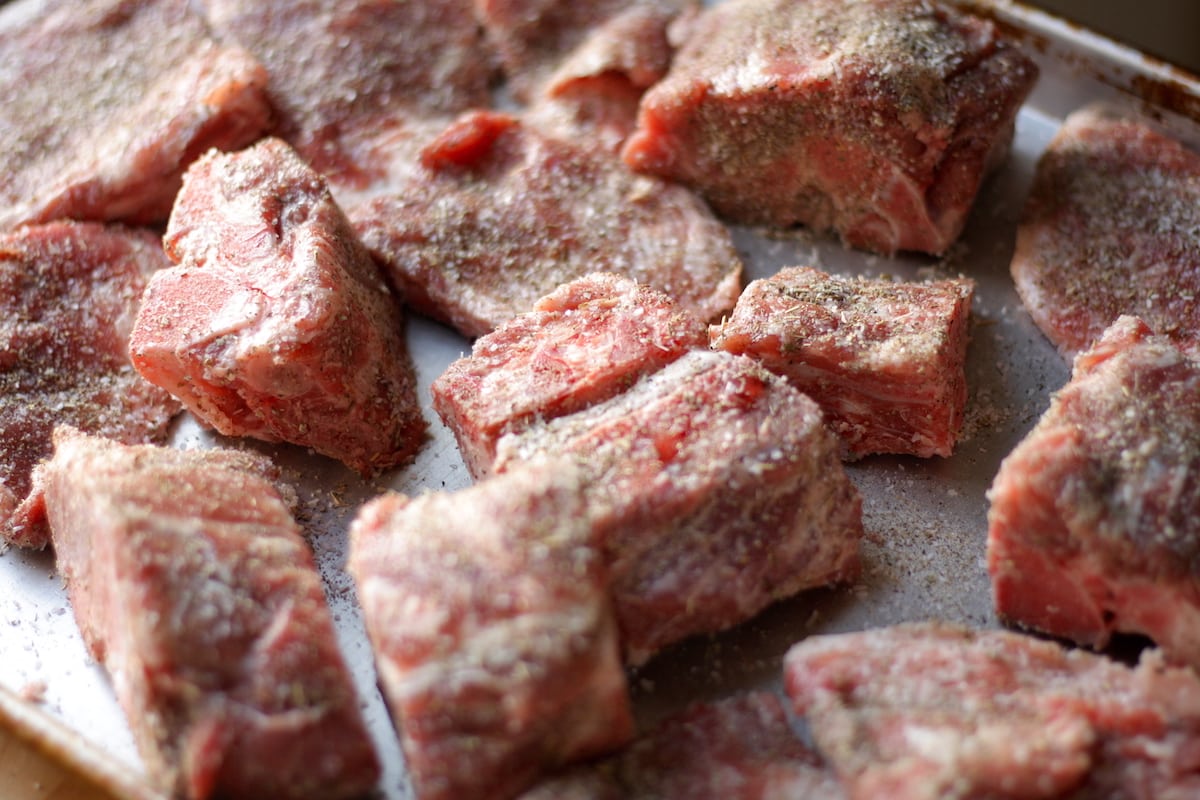 I also included the humble cabbage in the dish. Growing up my mother would make boiled cabbage as the vegetable for many of our meals. It wasn't anything revolutionary by most culinary standards, but cabbage reminds me of home and family. Ever since making this recipe, I seem to have rekindled my affection for cabbage and have made it multiple times throughout the past few weeks. (I had it last night for dinner.) Cabbage always seems to be cheap and abundant, but I haven't seen much use of it in restaurants or food blogs/websites. Perhaps one day it will have its moment in the sun just like cauliflower and kale, and maybe I can say that I started this trend.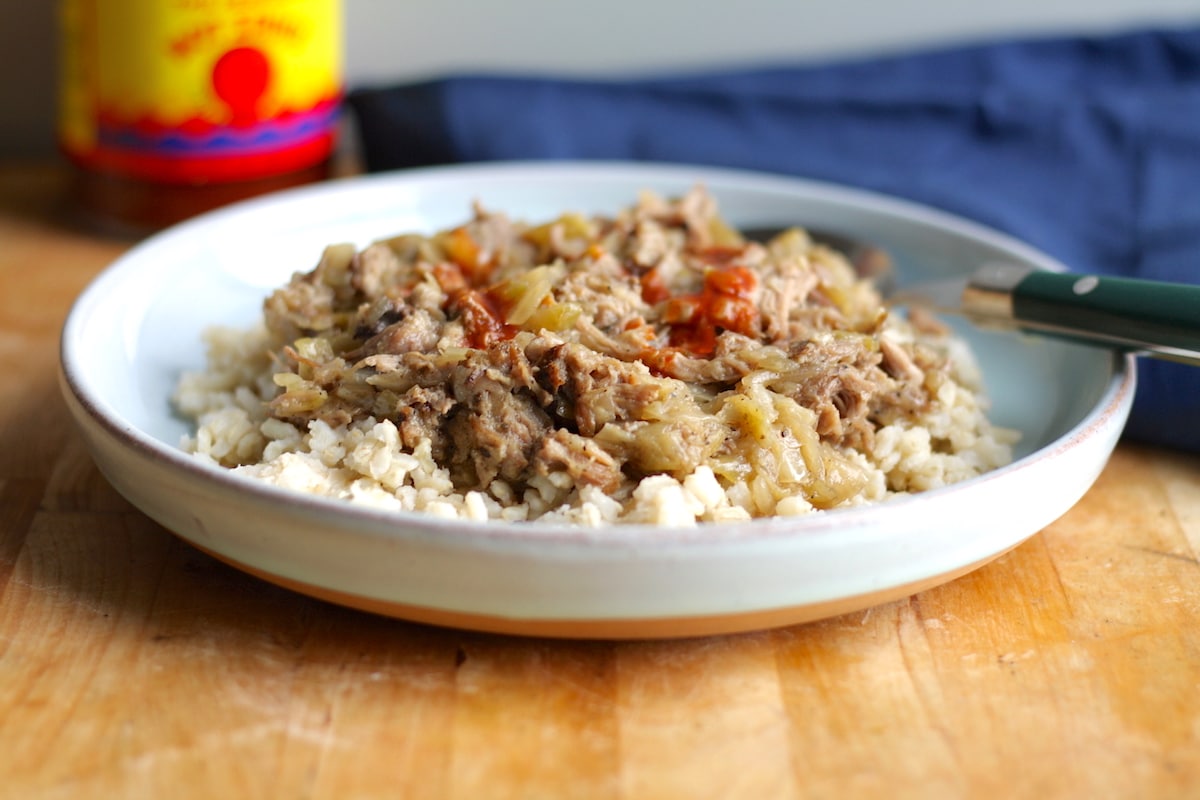 Braised Pork Neck and Cabbage
A simple recipe of pork neck bones and cabbage that results in a dish full of flavor.
Ingredients
2 tablespoons ground sage
1 teaspoon black pepper
1 teaspoon granulated garlic
kosher salt
4 pounds pork neck bones
oil or bacon fat, for searing
one 2- to 3-pound cabbage, sliced
1 yellow onion, sliced
1 quart unsalted chicken stock
brown rice, for serving
hot sauce, for serving
Instructions
Combine the sage, pepper, garlic, and 2 tablespoons salt in a bowl; sprinkle evenly over the pork neck bones to coat. Heat some oil in a large skillet or pot over medium-high heat. In batches, sear the pork in the oil on all sides until browned, 2 to 3 minutes per side. Set the pork aside.
In the same pan, add the cabbage and onion and sprinkle with some salt. Cook the cabbage until wilted to about half the volume, about 10 minutes.
Add the seared pork, cabbage and onion mixture, and chicken stock to a large pot with a lid. Cover and place in a 325˚F oven until the meat is tender and falls off the bone, 1½ to 2 hours. Let the pork rest in the braising liquid until cool enough to handle and separate the meat from the bones. Discard the bones and add the meat back to the braising liquid and cabbage. Serve over rice with hot sauce on the side.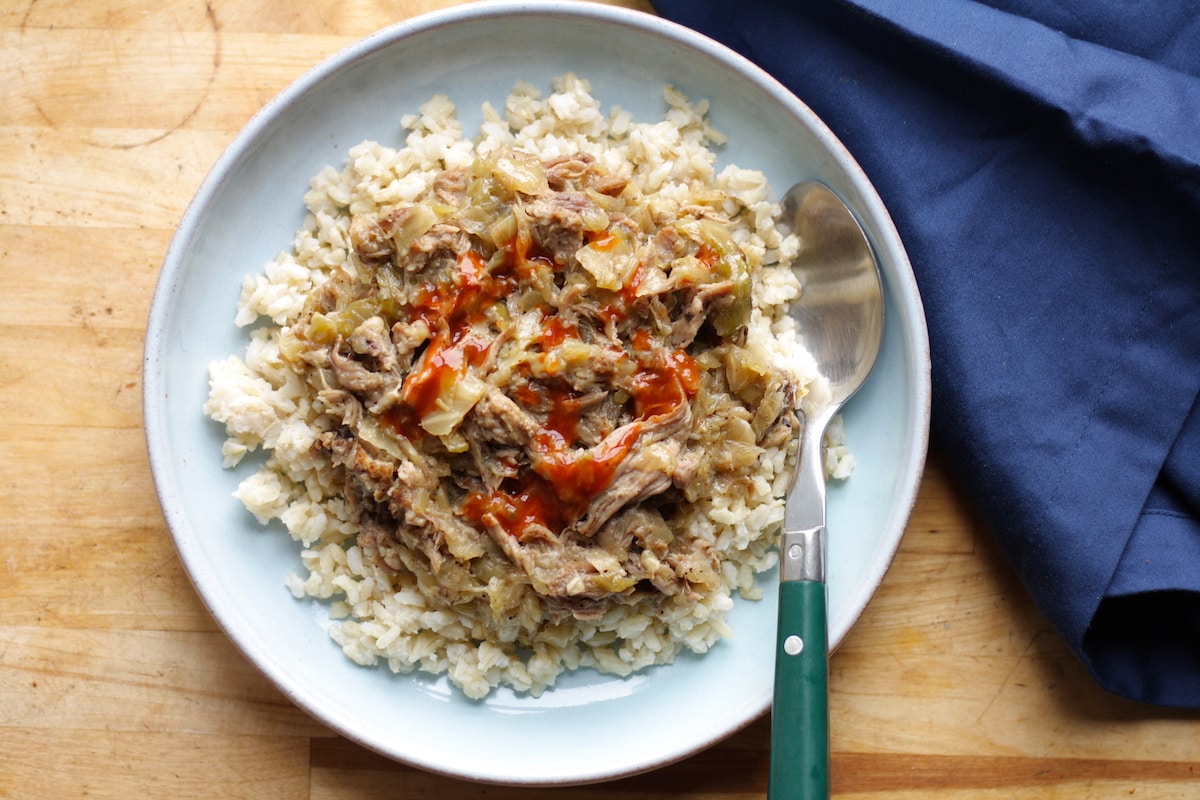 I didn't realize how much meat I would be able to get from the neck bones, so I actually cooked 2 1/2 pounds more than the recipe I've shared above. I obviously adjusted the amounts to a more reasonable amount of food, but at least now I have a quart of this in my freezer for when I don't feel like cooking…