Disclosure: This recipe was originally created for Pillsbury.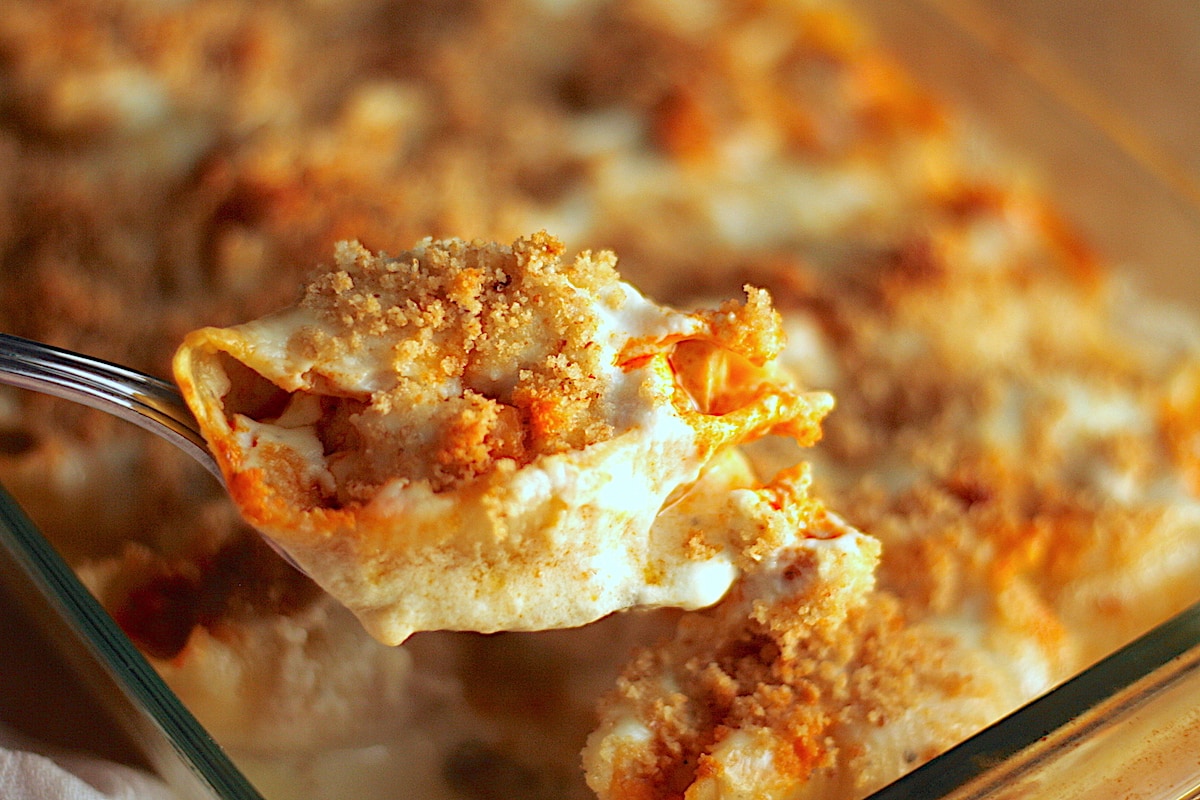 It's been a busy past couple of weeks. For starters, my blog has had some work done (in case you didn't already notice). The less than fortunate part is that this wasn't exactly planned… There was a bug with my website that I just couldn't seem to figure out. I thought it might have something to do with the template I was using, so I decided to try a whole new template. I go through with setting everything up, only to discover that the issue still wasn't resolved. At least I have a brand new (and much improved, if you ask me) design to share all of the recipes I have in store for you!
For anyone wondering what the bug was, it involved my homepage displaying a cached version from over a month ago. So no matter what updates I made, the homepage didn't reflect them—and this included new recipes. After endless hours scouring WordPress help boards (for once I'm not exaggerating about the amount of time), I finally found a solution that involved edited source code that I didn't even know existed. This "exercise" reminded me of college and why I chose not to get a minor in computer science—debugging is the worst!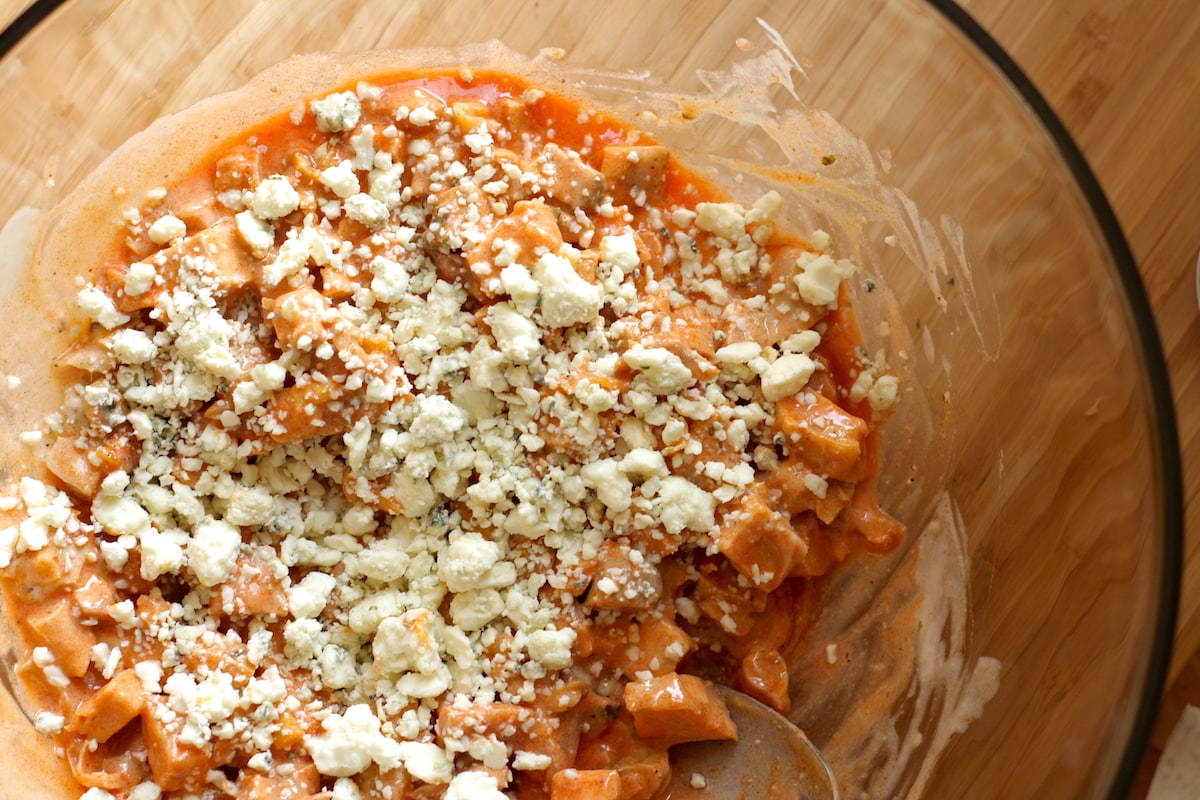 On to the recipe… This takes one of my favorite bar foods/game day snacks and turns it into a full on pasta dinner. This buffalo chicken-stuffed shells recipe includes everything that we love about the classic dish—chicken tossed with hot sauce and blue cheese. I up the ante by using two forms of blue cheese—whole blue cheese crumbles and a blue cheese béchamel. Stuff the mixture into jumbo pasta shells, nestle in some more of the blue cheese sauce, top with bread crumbs, and you'll be ready for dinner in no time.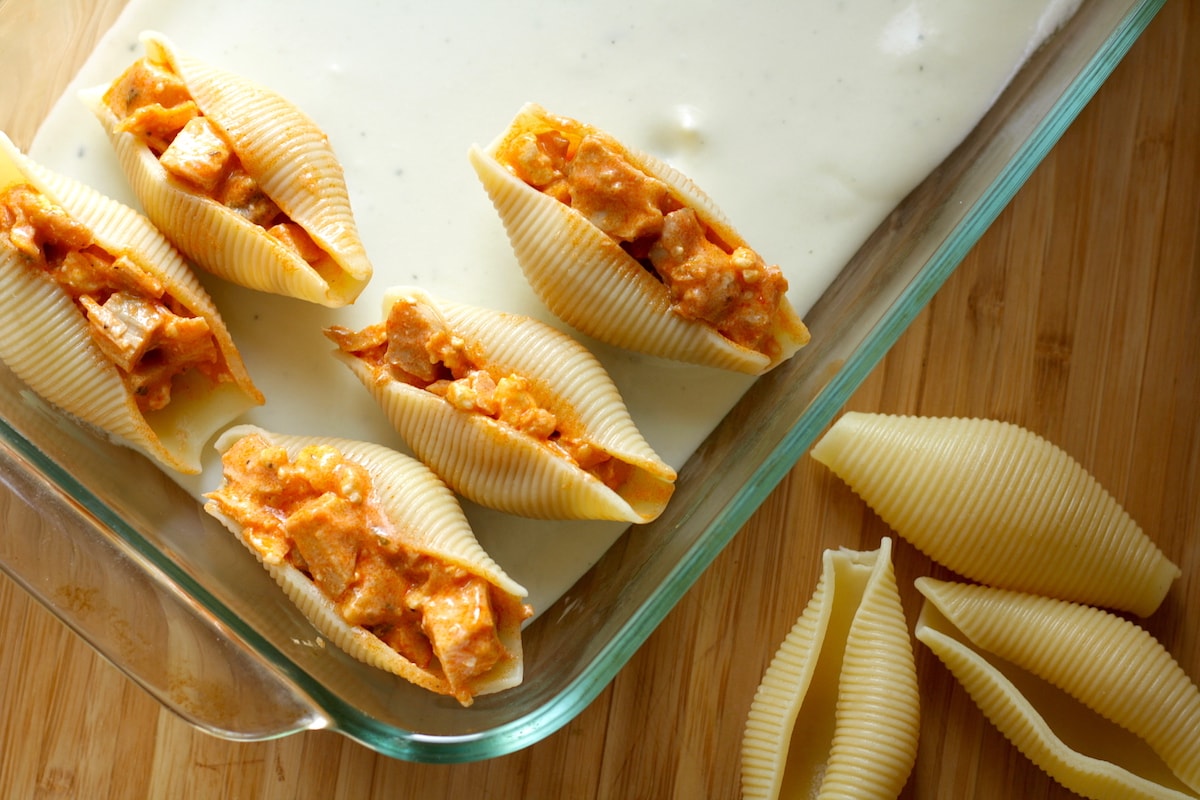 You'll notice I used my "favorite" tag on this recipe—it's just that good. And speaking of favorites, I added a section in my menu bar where you can easily access all of my favorite recipes. You know…in case you ever wanted to cook something FOR ME for once… (*hint-hint*)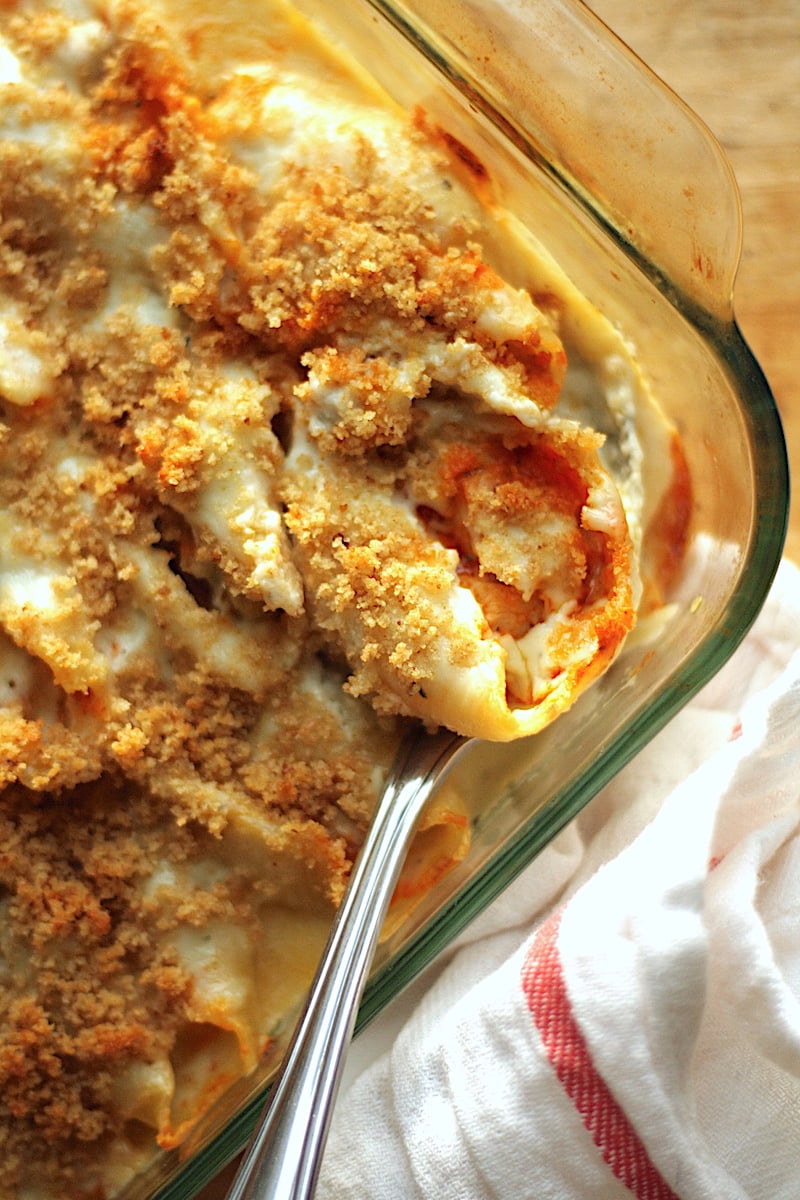 Buffalo Chicken-Stuffed Pasta Shells
Your favorite bar food is turned into a filling pasta dish.
Ingredients
18 jumbo pasta shells
2 tablespoons (plus 1 tablespoon, optional) unsalted butter
2 tablespoons all-purpose flour
2 cups whole milk
6 ounces crumbled blue cheese
salt and pepper
2 cups diced rotisserie chicken
½ cup Frank's hot sauce
¼ cup breadcrumbs, optional
Instructions
Cook the pasta shells until al dente, per the instructions on the package. Drain and rinse with cold water.
Melt the 2 tablespoons butter in a pot over medium heat; add the flour, whisk together, and cook for 1 minute. Add in the milk, bring to a boil then reduce to a simmer, and cook, stirring frequently, until the sauce thickens. Stir in 4 ounces blue cheese until melted and season to taste with salt and pepper.
Combine the chicken, hot sauce, ½ cup cheese sauce, and remaining 2 ounces blue cheese.
Add ½ cup cheese sauce to the bottom of a baking dish. Divide the chicken filling among the shells, about 2 tablespoons each, and place in the baking dish.
Pour the remaining cheese sauce over the top of the stuffed shells. If using, melt the 1 tablespoon butter and mix with the breadcrumbs; sprinkle over the top of the dish. Bake in a 400˚F oven until the sauce is bubbling and the breadcrumbs are lightly browned (if using), 20 to 30 minutes.
Notes
You may want to cook a few extra pasta shells in case they tear as you assemble the dish.