This is the end . . . of my youth. Yesterday was my birthday and I am now in the last year of my twenties. (*Gasp.*) I didn't bake my own birthday cake this time around, but instead am sharing my contribution to a cake party we recently had at work. I realize that this is now the third chocolate cake recipe I'm sharing with you, but they're all different and unique in their own way.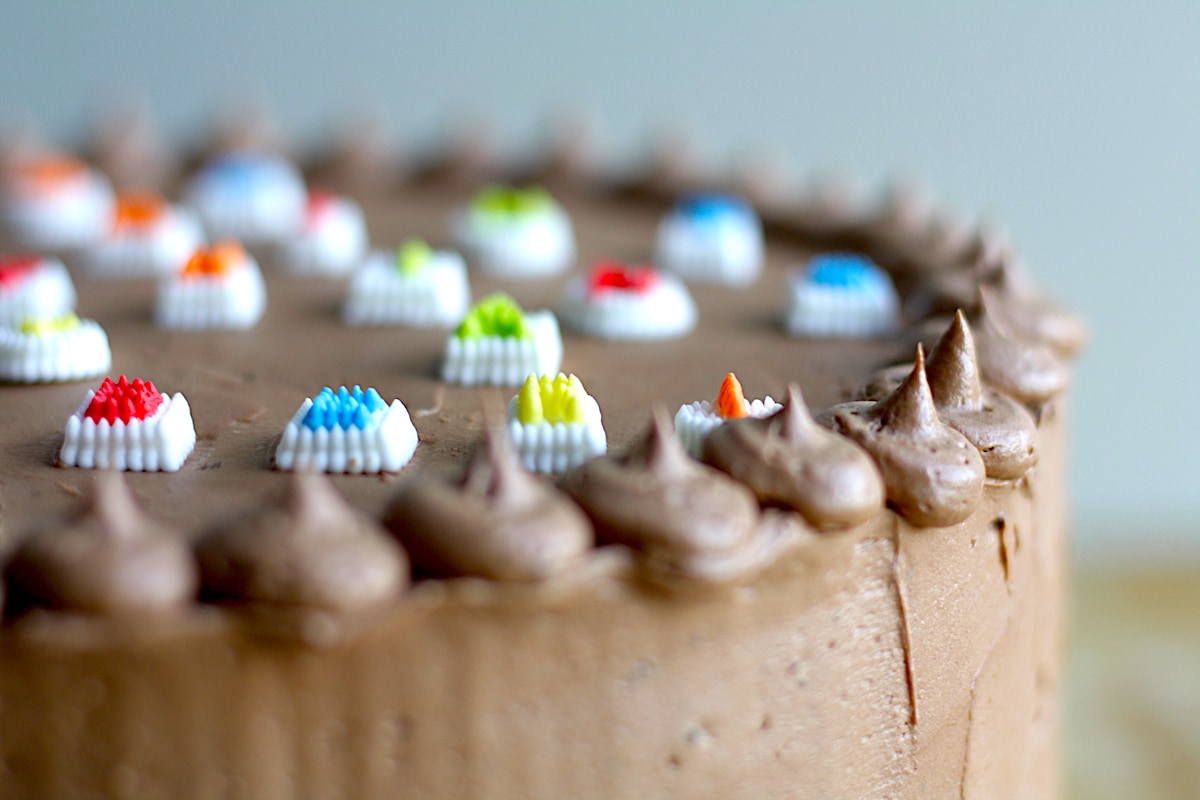 This buttermilk chocolate cake is based on a recipe from Molly Yeh. This cake uses only cocoa powder (without any melted chocolate), and is super moist and tender thanks to the buttermilk. I enhance the chocolate flavor by using hot coffee instead of boiling water in the cake. You won't really taste the coffee—instead you'll just get a richer chocolate flavor. Lastly, I used a combo of white and brown sugars. This was an accident because I ran out of granulated sugar, but I probably would have done this anyway because I love using brown sugar in my recipes. The batter will seem very loose when you pour it into the pans to bake, but that is how it's supposed to look. The resulting cake is super moist, which is why I agree with Molly when she recommends freezing the layers cake layers for a couple hours to make the frosting process easier.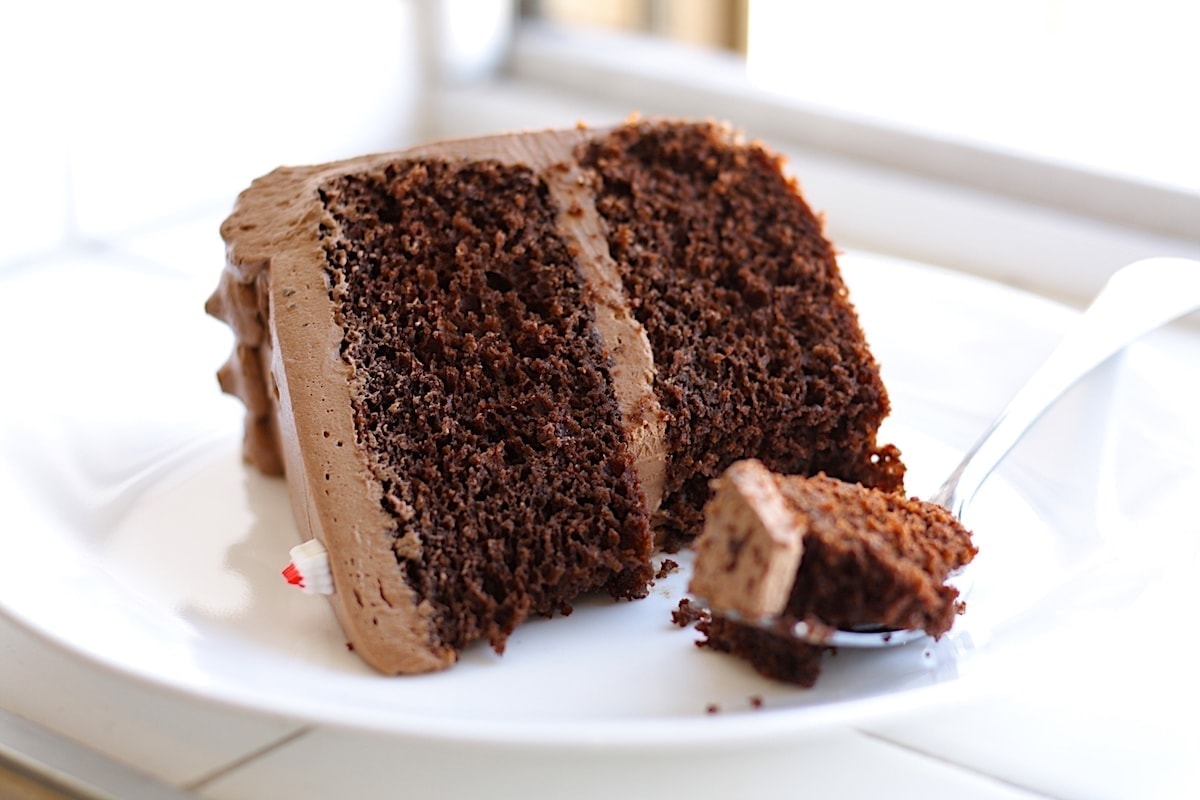 And speaking of frosting, this one uses a classic American buttercream recipe as a base with cocoa powder for color and the chocolate flavor. What sets it over the top is the healthy dose of salt to help get your tastebuds excited. Normally people recommend a fine grain salt, but I liked the textural contrast and crunch provided by a coarse salt. I happened to have some espresso salt in my pantry that I used, but kosher salt will do just fine.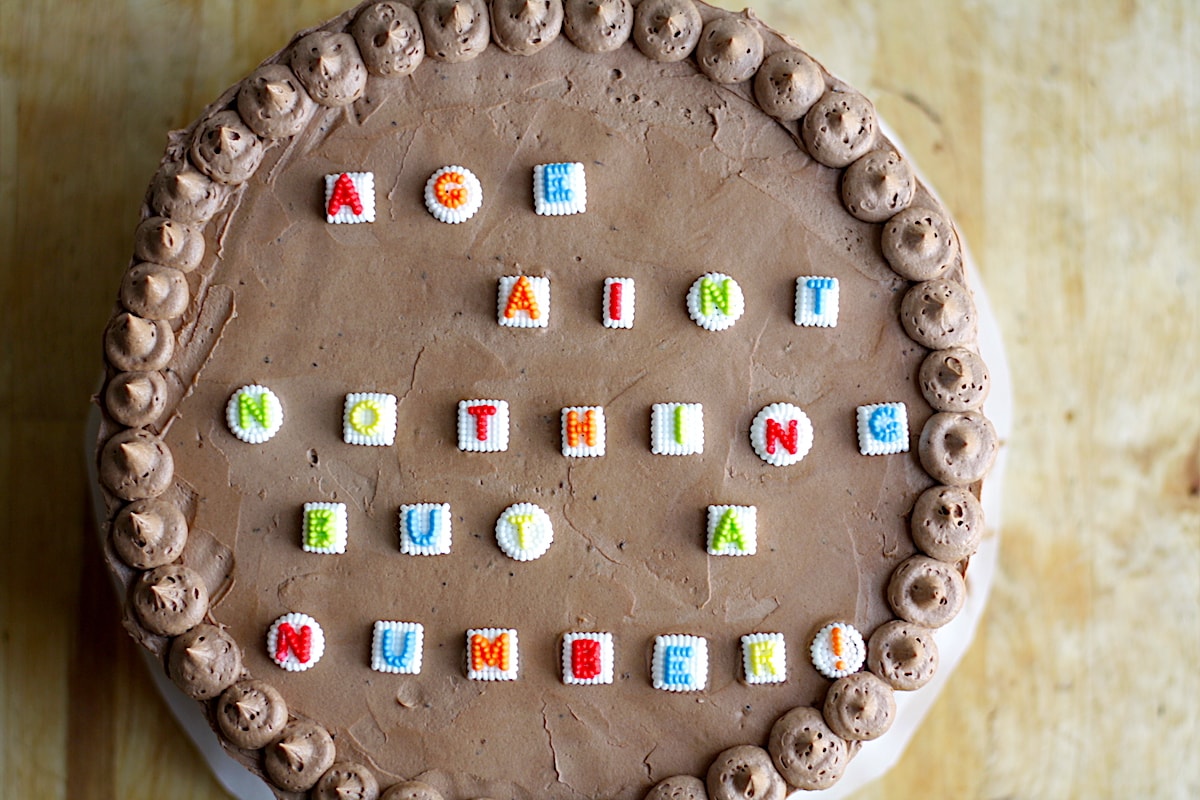 Buttermilk Chocolate Cake with Chocolate Frosting
Ingredients
Buttermilk Chocolate Cake
nonstick cooking spray
1¼ cup granulated sugar
½ cup dark brown sugar
1¾ cup flour
1 cup cocoa powder
1½ teaspoon baking powder
1½ teaspoon baking soda
1½ teaspoon kosher salt
2 large eggs
1 cup buttermilk
1 tablespoon chocolate or vanilla extract
½ cup vegetable oil
¾ cup hot coffee or boiling water
Salted Chocolate Buttercream Frosting
1 pound (4 sticks) unsalted butter, room temperature
2⅔ cups powdered sugar
⅔ cup cocoa powder
1 teaspoon chocolate or vanilla extract
1 teaspoon espresso or kosher salt
Instructions
Buttermilk Chocolate Cake
Preheat your oven to 350˚F. Spray two eight-inch cake pans with nonstick cooking spray and line the bottoms with parchment paper; set aside.
In a large bowl, whisk together the granulated sugar, brown sugar, flour, cocoa powder, baking powder, baking soda, and salt. In a medium bowl, whisk together the eggs, buttermilk, chocolate extract, and oil. Add the wet ingredients to the dry ingredients and stir to combine. Whisk in the hot coffee. Pour the batter into the cake pans and bake until a toothpick inserted in the center comes out clean, 30 to 35 minutes.
Let the cakes cool in their pans for 10 minutes before turning onto a wire rack to cool completely. Level the tops with a serrated knife. Wrap them individually in plastic wrap, and then freeze for a few hours or up to a week (optional, but recommended).
Salted Chocolate Buttercream Frosting
Use an electric mixer to cream the butter. In stages, add in the powdered sugar and cocoa powder until evenly combined. Beat in the chocolate extract and salt. (You can add in the salt to taste if you want.)
For Serving
Place one of the cake layers on a plate or cake board; top with some of the frosting. Place the second cake layer on top and cover with the remaining frosting. Decorate as desired.