First and foremost, the things we eat in America are all sweet potatoes and NOT yams. In fact, you've probably never even had a yam in your life. According to the North Carolina Sweet Potato Commission, "A true yam is a starchy edible root of the Dioscorea genus, and is generally imported to America from the Caribbean." By playing it fast and loose with naming when the sweet potato was introduced some decades ago, the industry derived the "yam" moniker from the African word "nyami." Sweet potatoes are available in a variety of shapes, sizes, and colors, but regardless of how they look, they are still all sweet potatoes.
Now that that's out of the way, let's move on to this recipe.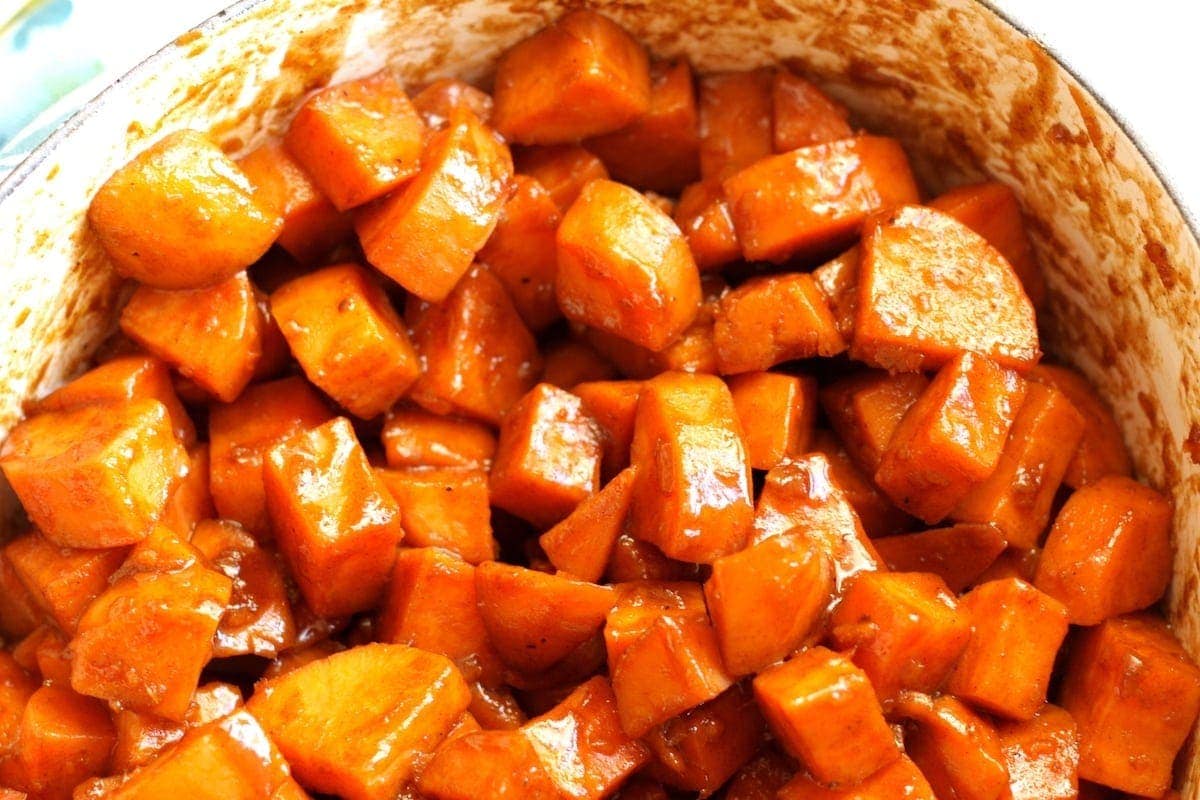 Candied sweet potatoes are a soul food staple. Though they often make an appearance for Thanksgiving, Christmas, and all the other big family gatherings, they are also part of the regular dinner repertoire. This recipe is cooked on the stove top instead of being baked (a trick I learned from watching my father) and the sweet potatoes are candied in a mixture of brown sugar, orange zest and juice, warming spices, and—my secret weapon—fresh ginger. The ginger goes nicely with all of the other flavors in the dish to make it stand out from other recipes.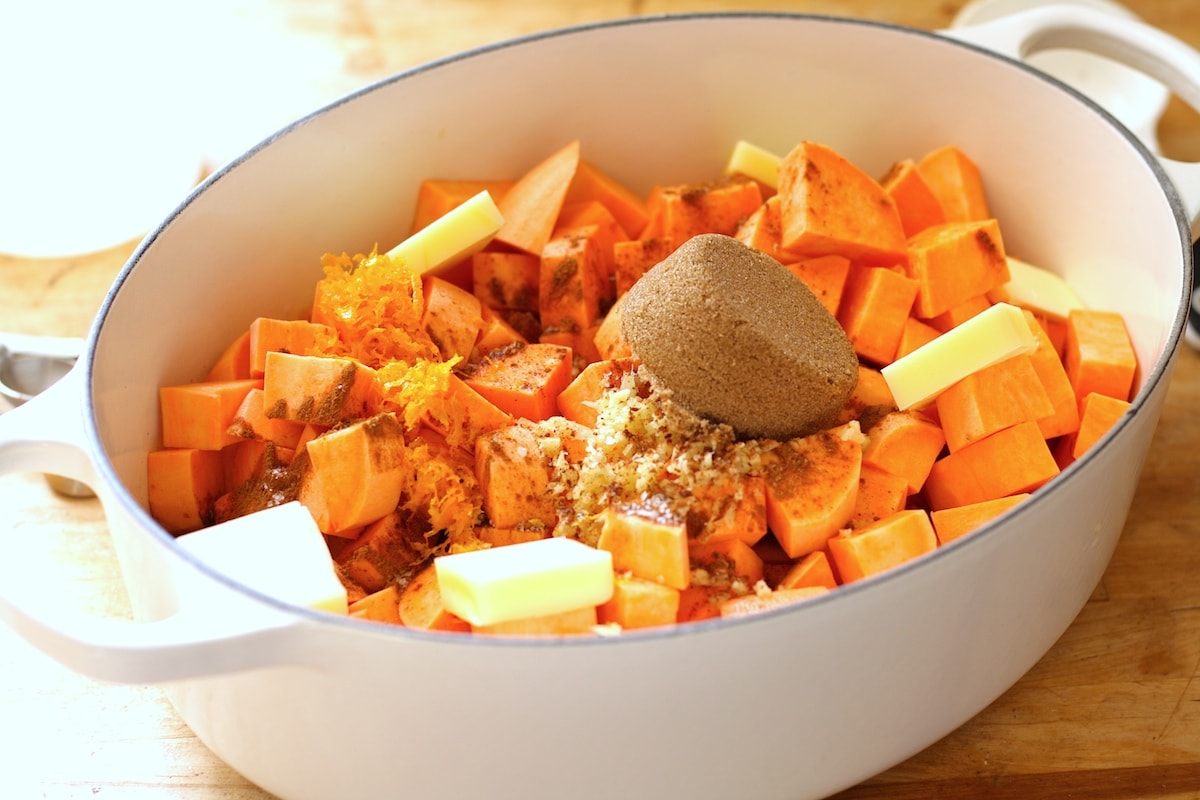 Speaking of other recipes, this one uses much less sugar than what you can find elsewhere on the internet. (I'm talking half or even a third as much.) I wanted to let the natural sweetness and flavors of the potatoes shine without making it cloying. Also, I wanted to make sure that it made sense as a side dish and stayed away from dessert territory. After all, there's already sweet potato pie to take care of that.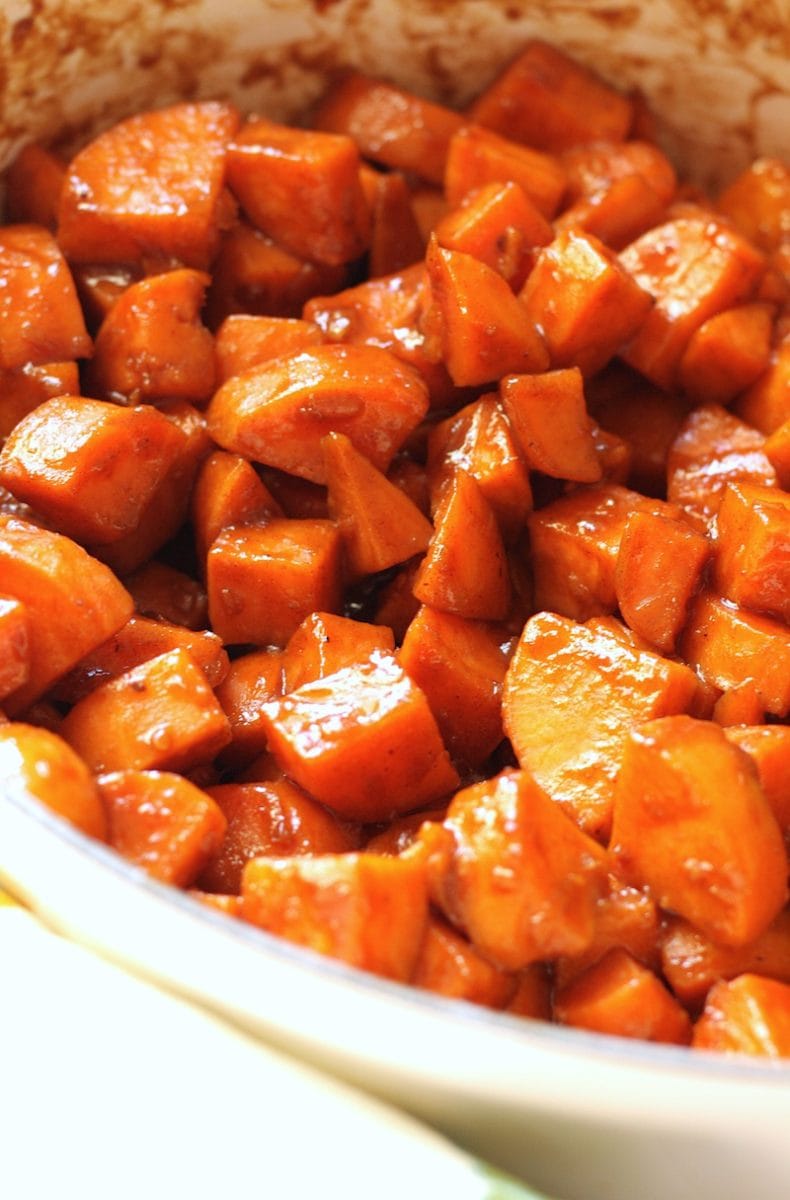 But of course, feel free to increase the amount of sugar as you see fit. You're the master of your own kitchen. (If looking for additional sweetness, I would add granulated sugar instead of more brown sugar so the molasses flavor doesn't completely take over.)
Stove Top Candied Sweet Potatoes Recipe
A soul food staple, the sweet potatoes are cooked on the stove top in a mixture of brown sugar, orange zest and juice, warming spices, and ginger.
Ingredients
2.5 to 3 pounds sweet potatoes (about 5 medium potatoes), peeled and cut into bite-size pieces
1 orange, zested and juiced
½ cup packed brown sugar
½ cup water
4 tablespoons (1/2 stick) unsalted butter
1 tablespoon minced ginger
1 teaspoon ground cinnamon
1 teaspoon kosher salt
¼ teaspoon grated nutmeg
Instructions
Place all of the ingredients in a pot over medium to medium-low heat and cook, covered and stirring occasionally, until the potatoes are tender but not mushy, 30 to 35 minutes.
Remove the lid and continue to cook until the liquid has reduced to a syrup and coats the sweet potatoes, about 10 minutes. Season with more salt if needed.