Disclosure: This recipe was originally created for Pillsbury.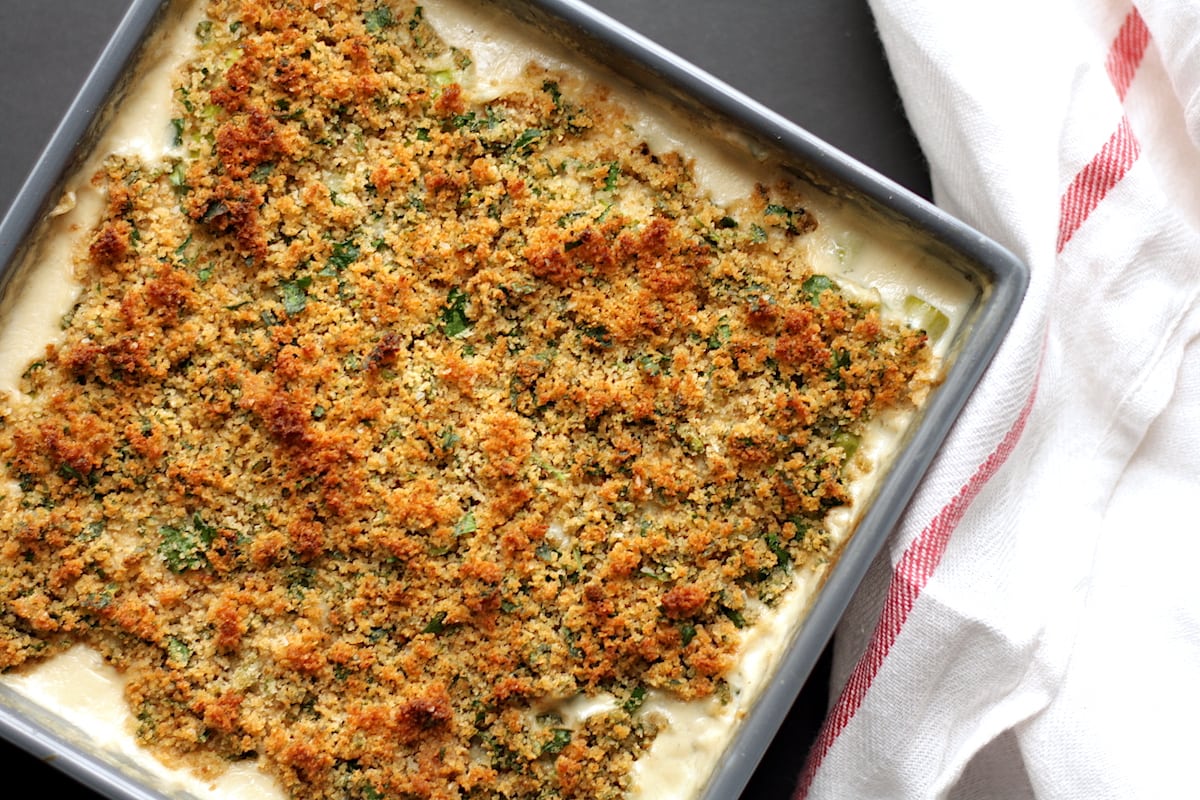 Spring is here, so asparagus is everywhere. E-ve-ry-where. I didn't eat much asparagus during my childhood, but I love those beautiful green stalks these days. I even have a bunch in my refrigerator right now (speaking of which, I should probably be cooking those for tomorrow's lunch at the moment.) There are a number of different ways you can prepare asparagus: steam, grill, sauté, etc. This time we're going to bake it.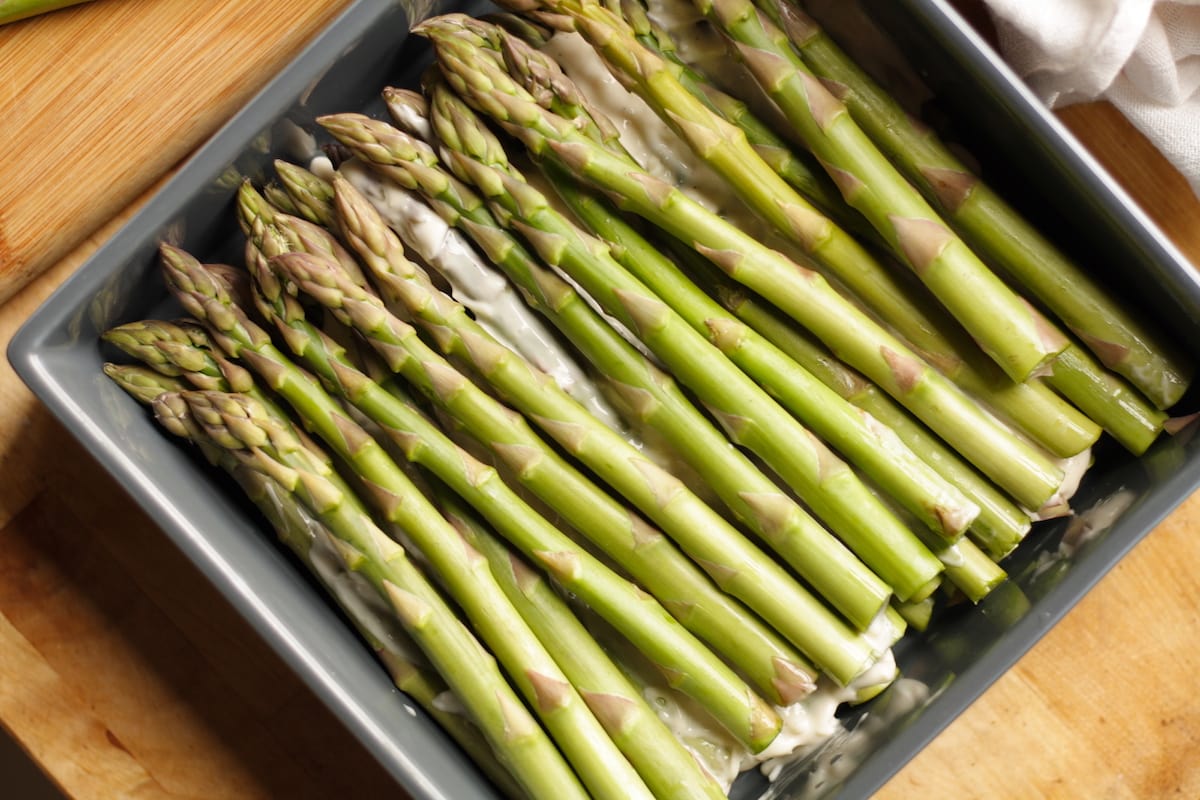 In most instances, a little salt and a good squeeze of lemon juice is all you really need to make asparagus shine. In this recipe, we take things a little bit further by adding Alfredo sauce, cheese, and an herbed bread crumb topping. Just bake until bubbling and you're good to go. This baked asparagus recipe is perfect for the thicker stalks of asparagus as the vegetables won't turn to mush during the cooking time.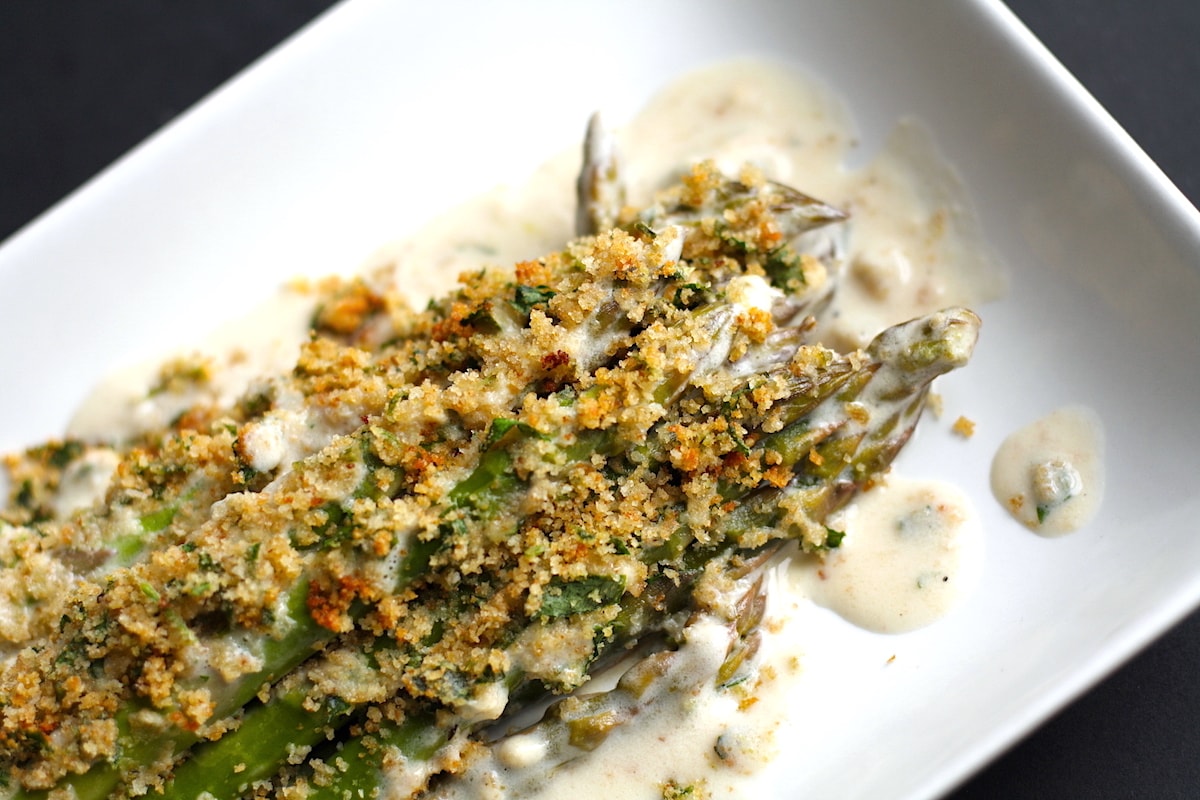 Cheesy Baked Asparagus
This baked asparagus recipe is a perfect way to make use of the thicker stalks. Mix with Alfredo sauce and cheese, and then top with herbed bread crumbs.
Ingredients
One 16-ounce jar Alfredo sauce
1 cup shredded Italian cheese blend
2 bunches (about 2 pounds) asparagus, woody ends removed
½ cup Progresso Bread Crumbs
¼ cup chopped fresh parsley
2 tablespoons olive oil
Kosher salt and ground black pepper
Instructions
Preheat the oven to 350˚F.
In a bowl, combine the Alfredo sauce with the shredded cheese. In an 8-inch square baking dish, place some of the asparagus spears in a single layer and top with some of the cheese sauce mixture; repeat until all of the asparagus and cheese sauce mixture are used, about 3 layers.
Combine the breadcrumbs, parsley, olive oil, and some salt and pepper in a bowl; sprinkle over top of the asparagus. Bake, covered, until the sauce is bubbling, about 25 minutes. Uncover, increase the temperature to 450˚F, and continue to bake until the breadcrumbs are golden, about 10 minutes more.