Guess what? It's my birthday!!!!!!!!!!!!!!! Naturally, I decided to bake my own birthday cake this time around. I came across a recipe for a chocolate birthday sheet cake from Bon Appetit and used it as a starting point for this iteration. The great part about this cake recipe is the "reverse creaming" method of adding the wet ingredients to the dry which yields a flat cake with no trimming needed. I had to do some tweaking by changing out a few of the ingredients based on what I had in my kitchen, but the cake still came out just as described and was deliciously moist.
Then I decided to go a little crazy with the decorations… Taking some inspiration from Joy the Baker's Drake on Cake Instagram, I put some of the lyrics from Beyonce's "Formation" to use as my inspiration for the year ahead. This past year of life has been an…interesting…one. I won't delve too deeply into the specifics, but looking forward I just want to take life by the horns and milk it for all it's worth. (#Slay) Oh, and then there's an attractive man in a speedo. I was picking up some supplies from the cake store with my friend Emily and she picked him as a joke to adorn my birthday cake. That joke then became a reality. We named him Marcello. He's from Brazil.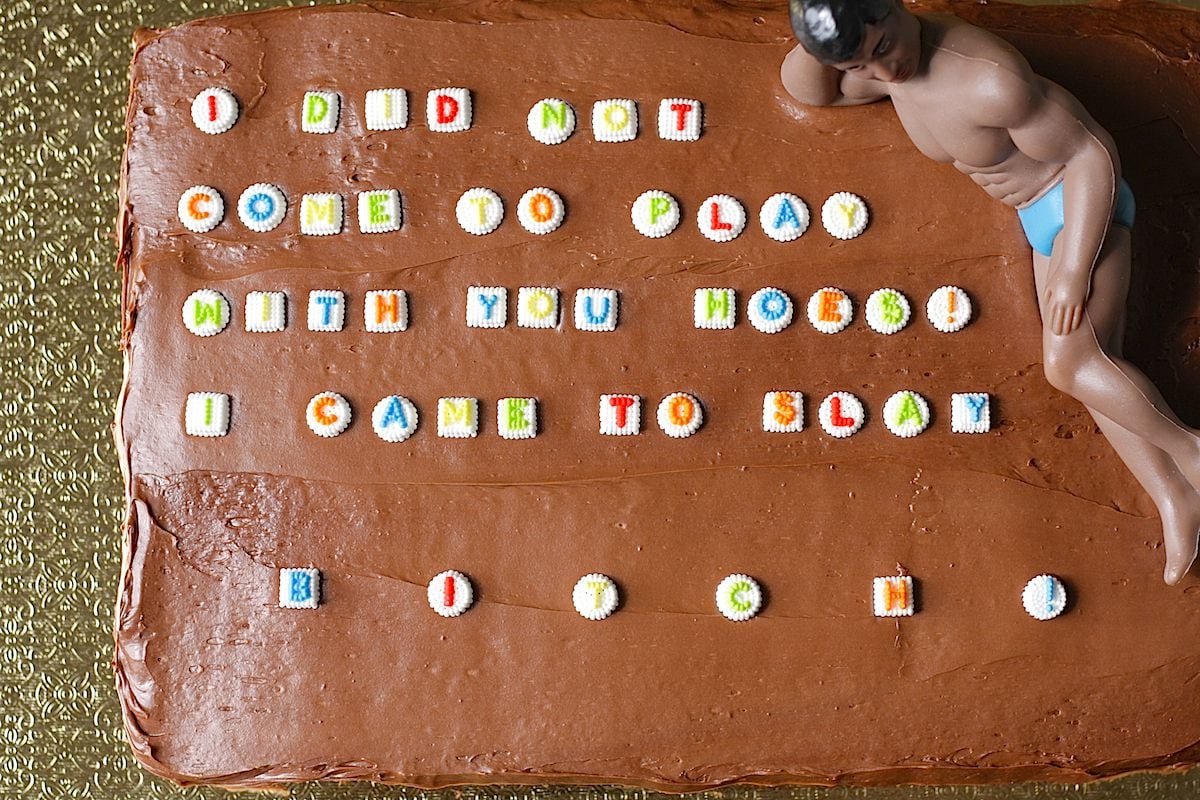 Chocolate Birthday Sheet Cake:
6 ounces semisweet chocolate, chopped
2 cups milk
2/3 cup unsweetened cocoa powder
1 tablespoon instant coffee powder
3 large eggs
1/2 cup (full fat) Greek yogurt
1/4 cup vegetable oil
1 tablespoon whiskey (or vanilla extract)
2 cups all-purpose flour
1 1/2 teaspoons baking powder
1 1/2 teaspoons baking soda
2 1/2 cups packed dark brown sugar
1/2 cup (1 stick) unsalted butter, room temperature
2 teaspoons kosher salt
cake decorations, as desired
Yield: One 9-by-13-inch cake
Procedure:
Preheat the oven to 350˚F. Line a 9-by-13-inch baking dish with parchment paper.
Heat the chocolate, milk, cocoa powder, and coffee powder in a medium bowl heatproof bowl set over a medium saucepan of barely simmering water, stirring until the chocolate melts. (The water should not touch the bottom of the bowl.) Let the mixture cool.
Whisk the eggs, yogurt, vegetable oil, and whiskey into the chocolate mixture.
Sift the flour, baking powder, and baking soda together into a large bowl. Add the brown sugar, butter, salt, and 1 cup of the chocolate mixture and beat on medium speed until evenly combined and smooth, about 2 minutes. Add the remaining chocolate mixture in two additions, scraping down the bowl as needed and beating until smooth after each addition. Scrape into the prepared pan.
Bake until the cake is firm to the touch and a toothpick inserted into the center comes out clean, about 45 minutes. Transfer the cake pan to a wire rack and let the cake cool in the pan 15 minutes before turning out onto the wire rack to cool completely.
Frost and decorate to your heart's desire.