Once again my roommate and I had a few people over to our apartment for Easter dinner. Aside from our annual Christmas soirée, this is the only other time of the year when we host any sort of real gathering at our apartment. As you can probably assume—and as expected by those in attendance—I tend to take responsibility for most (if not all) of the food.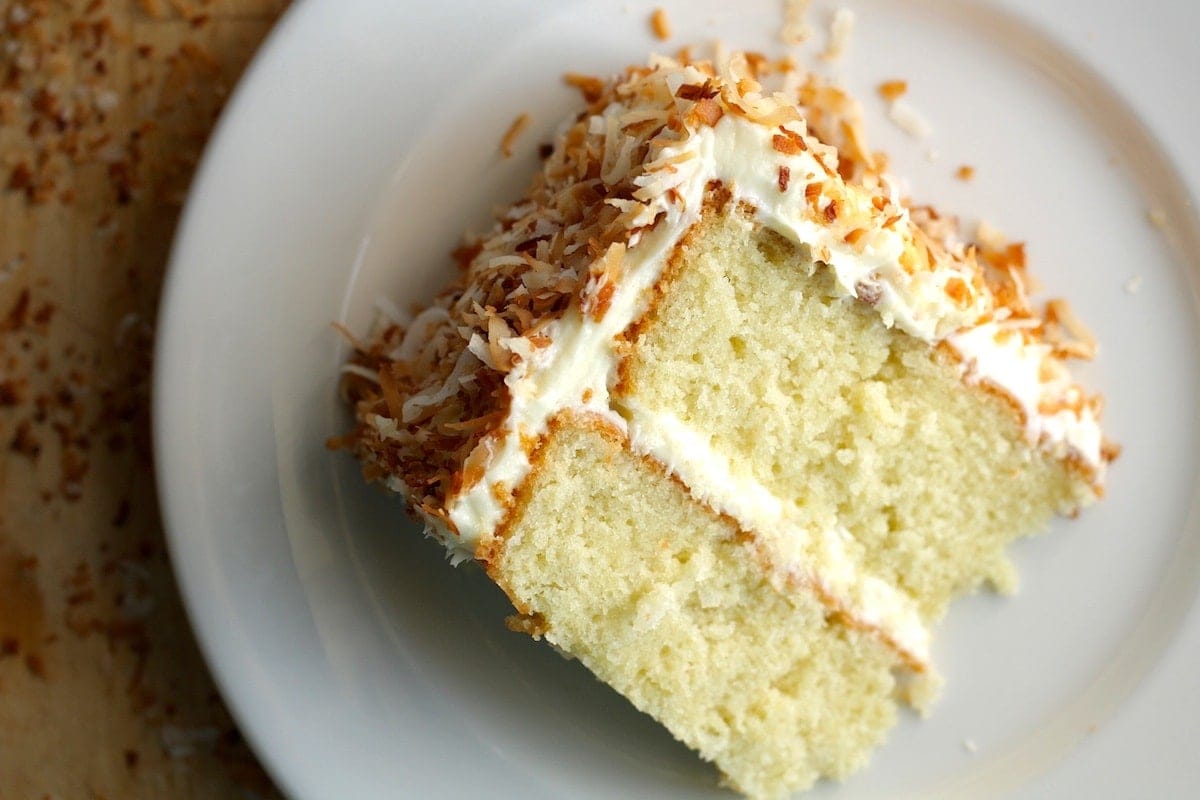 For this year's menu I went with a "Southern traditional Easter" theme (more or less) and featured a glazed ham, enough macaroni and cheese to feed a small army, and roasted carrots with the same flavors as my vegan soup recipe. (The carrots were the "less" reference in my previous side comment.)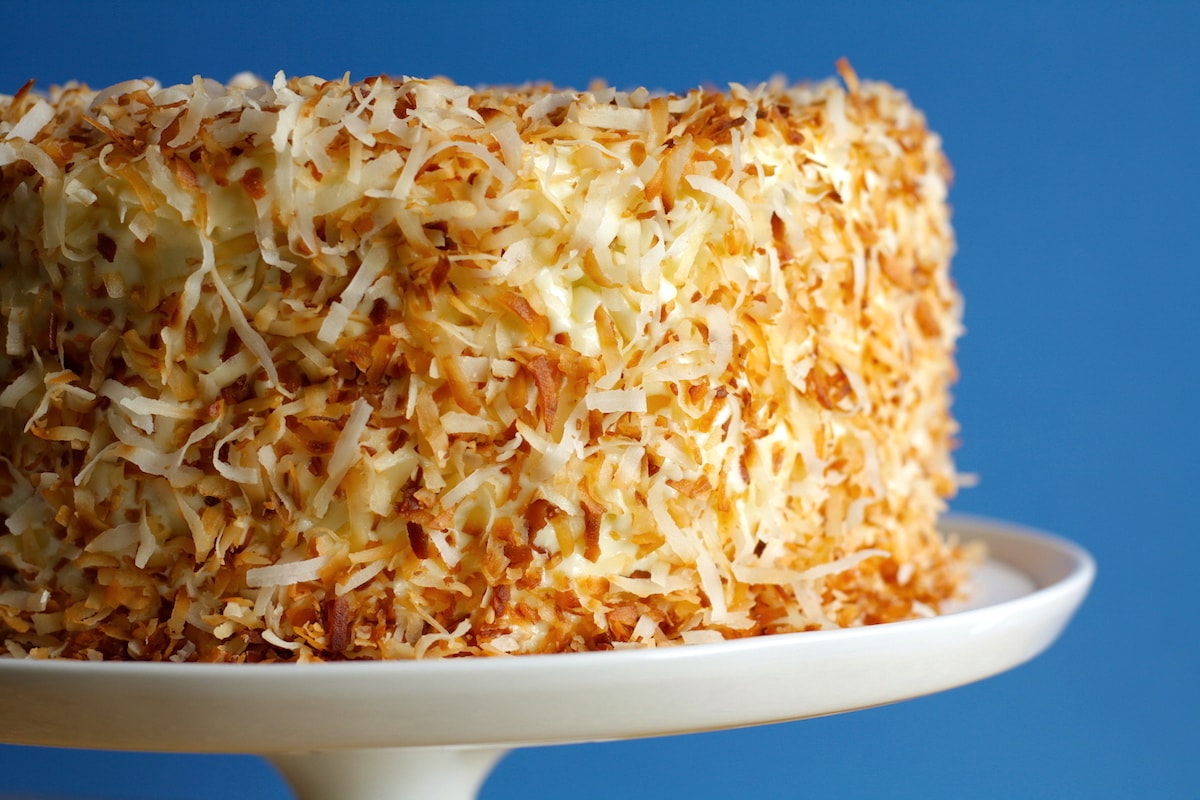 For dessert, my first thought was a reappearance of my old lemon cake recipe (mostly so I could make use of my improved photography skills to update the photos—I purchased the cake stand shown here for this very reason). However, my mind drifted to memories of coconut cake. It used to be one of my favorites growing up, and I thought it would be a perfect fit for this year's menu them.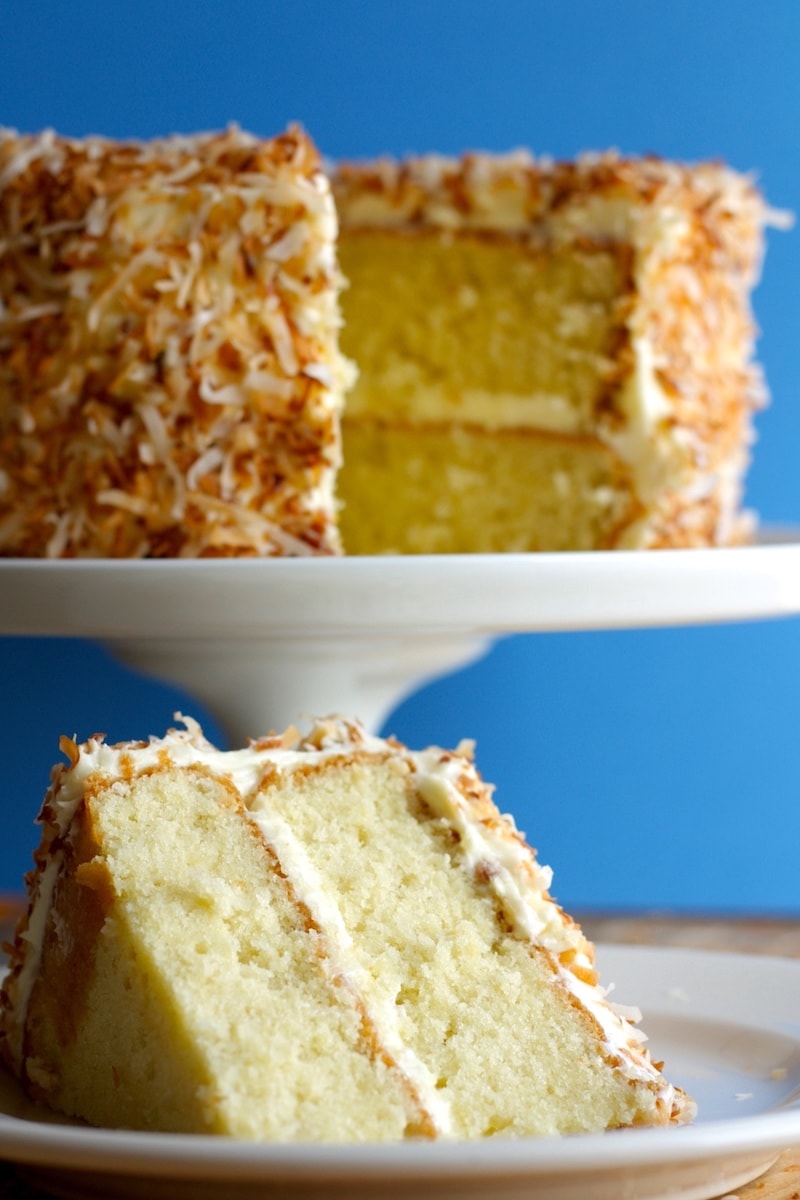 In order to come up with the recipe, I formed a hybrid of the one from my lemon cake along with coconut cake recipes from Ina Garten and Ben Mims/Saveur. The one thing I knew I wanted to do all along was to use coconut milk in the recipe. (I figured it only made since.) In addition, there's coconut flakes in the cake batter itself for another hint of coconut flavor. The result is an incredibly moist and tender cake that is absolutely to die for. Coat with some cream cheese frosting and toasted coconut, and you're guaranteed to have a hit on your hands. (I've already had to share this recipe with two coworkers who sampled some of the leftovers.)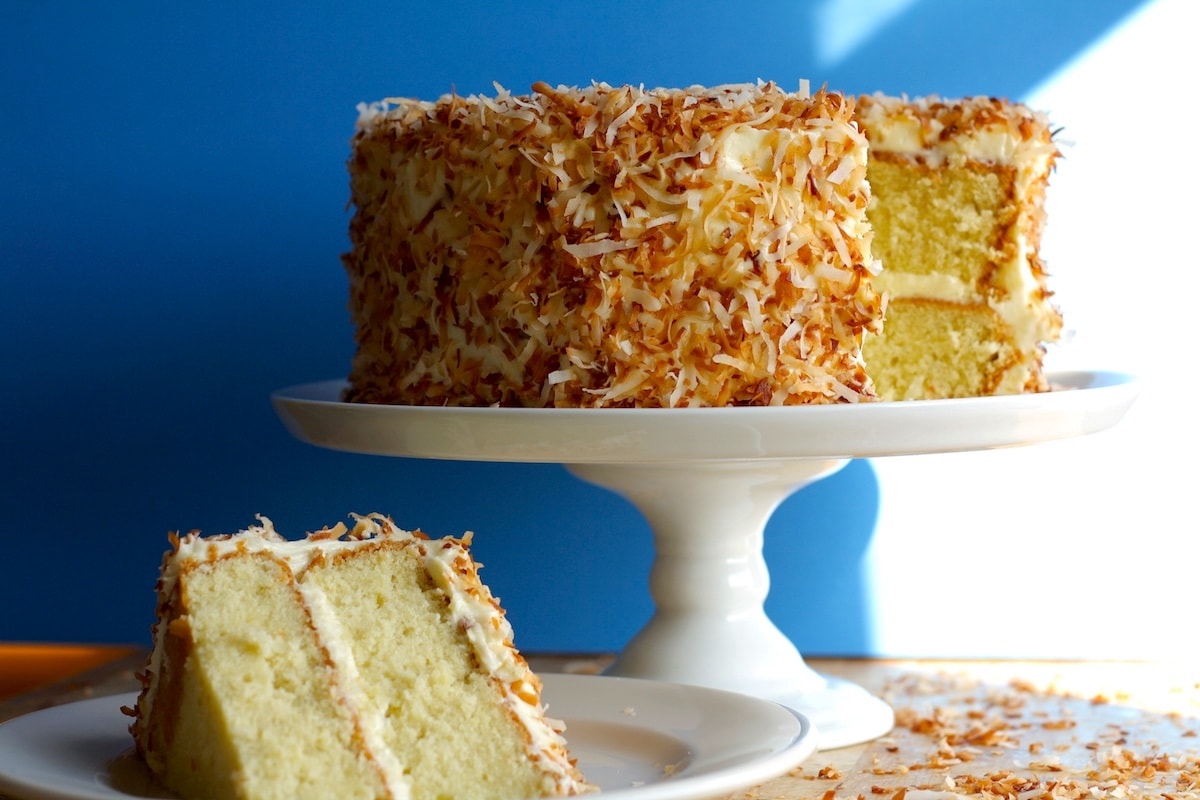 Coconut Cake with Cream Cheese Frosting
An incredibly moist and tender cake made with coconut milk and shredded coconut in the batter. It's coated with cream cheese frosting and toasted coconut.
Serves:
10 to 12 servings
Ingredients
For the Cake:
2½ sticks (20 tablespoons) unsalted butter, room temperature, plus more for the pans
2½ cups all-purpose flour, plus more for the pans
2 cups granulated sugar
1 teaspoon kosher salt
1 teaspoon baking powder
½ teaspoon baking soda
1 teaspoon vanilla extract
5 large eggs
1 cup coconut milk
½ cup sweetened shredded coconut
For Decorating:
2 cups sweetened shredded coconut (the remaining amount from a 7-ounce bag)
Two 8-ounce packages cream cheese, room temperature
2 sticks (16 tablespoons) unsalted butter, room temperature
½ teaspoon kosher salt
2 cups confectioners' sugar
Instructions
Make the Cake:
Butter and flour two 8-inch cake pans; set aside. Preheat the oven to 350˚F.
Add the butter and sugar to a stand mixer fitted with a paddle attachment and beat on medium to medium-high speed until pale in color and light and fluffy, 3 to 5 minutes. (Scrape down the bowl.)
Meanwhile, whisk together the dry ingredients in a separate bowl.
Add the vanilla extract to the butter mixture, and add the eggs one at a time, waiting until fully incorporated before adding the next egg. Add the dry ingredients and coconut milk to the butter mixture, alternating, beginning and ending with the dry ingredients (dry-wet-dry-wet-dry). Fold in the shredded coconut with a rubber spatula.
Divide the batter between the two prepared pans. Bake in the oven until a cake tester or toothpick inserted in the middle of the cake comes out clean, 35 to 45 minutes. Cool in the pans for a few minutes before turning onto a baking rack to cool completely.
Assemble the Cake:
Add the remaining coconut to a large nonstick skillet over medium heat and cook, stirring occasionally, until brown and toasted, about 5 minutes. (Alternatively, you can also toast it in the oven.) Let cool.
Add the cream cheese and butter to a stand mixer fitted with a paddle attachment and beat on high speed until evenly combined. Add the salt, and, in batches, add the powdered sugar and mix until incorporated. (Be sure to reduce the speed when adding the powdered sugar so it doesn't go flying everywhere.) Once all of the sugar has been added, beat on high speed for another minute or so to make sure the frosting is perfectly smooth.
Trim the domes of the cakes with a serrated knife to make them level. Place one cake layer on a cake plate and spread about 1 cup of the frosting on top. Top with the second cake layer and cover the entire cake with the remaining frosting. Coat in the toasted coconut flakes. (Best served at room temperature.)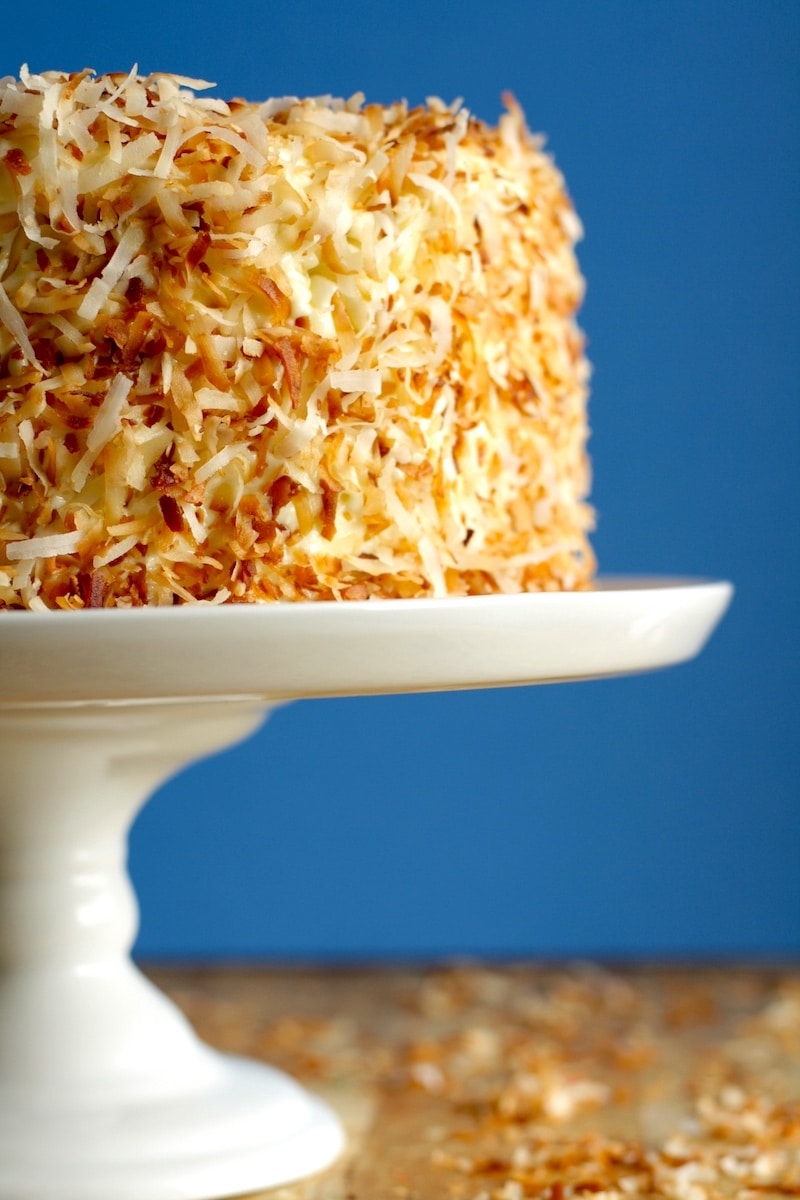 Look at this sea of wonderfully toasted coconut—isn't it just beautiful?!