Cheesy Baked Asparagus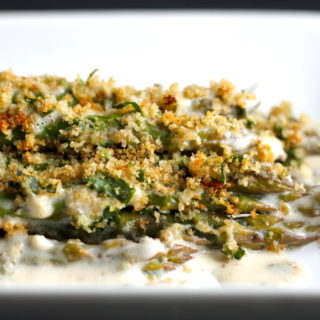 One 16-ounce jar Alfredo sauce
1 cup shredded Italian cheese blend
2 bunches (about 2 pounds) asparagus, woody ends removed
½ cup Progresso Bread Crumbs
¼ cup chopped fresh parsley
2 tablespoons olive oil
Kosher salt and ground black pepper
Preheat the oven to 350˚F.
In a bowl, combine the Alfredo sauce with the shredded cheese. In an 8-inch square baking dish, place some of the asparagus spears in a single layer and top with some of the cheese sauce mixture; repeat until all of the asparagus and cheese sauce mixture are used, about 3 layers.
Combine the breadcrumbs, parsley, olive oil, and some salt and pepper in a bowl; sprinkle over top of the asparagus. Bake, covered, until the sauce is bubbling, about 25 minutes. Uncover, increase the temperature to 450˚F, and continue to bake until the breadcrumbs are golden, about 10 minutes more.