It's never crossed my mind to use an actual recipe for mashed potatoes, but there are 932,000 results when you type "mashed potato recipe" into Google. After all, the steps are pretty simple:
Boil potatoes.
Mash them.
And voila! You're off to the races. For the most part, this spud-rific dish is pretty hard to f@#$ up. However, I have learned a few tips and tricks over the years to create a perfect bowl of pillowy goodness instead of a gluey mess.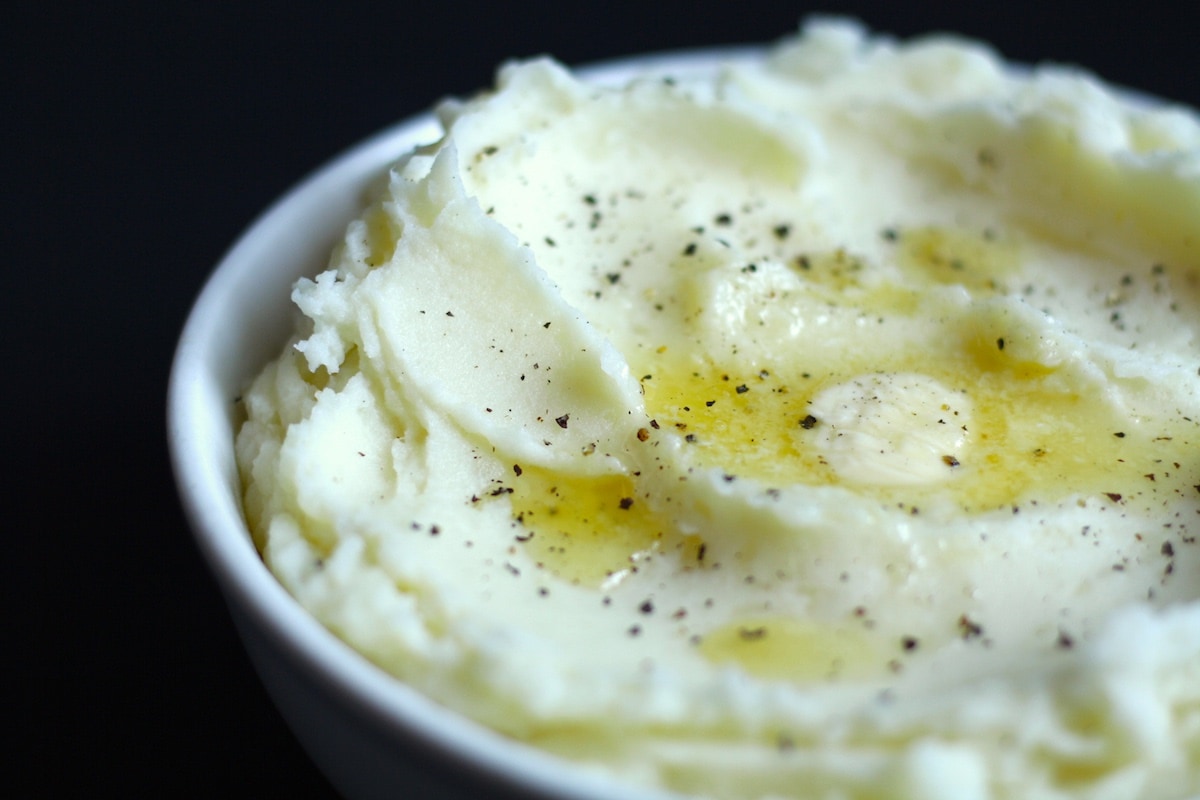 First, it all starts with the potatoes themselves, of course. Generally speaking, potatoes tend to fall into one of two categories of either waxy or starchy. An example of a waxy potato would be Red Bliss; they tend to hold they're shape the best when cooked, and are great for potato salad. Starchy potatoes are the name of the game when it comes to great mashed potatoes, so russet or Idaho potatoes are a great choice. Whether you choose to keep the skin on or off is mostly up to personal preference, although the skin is said to have extra nutrients.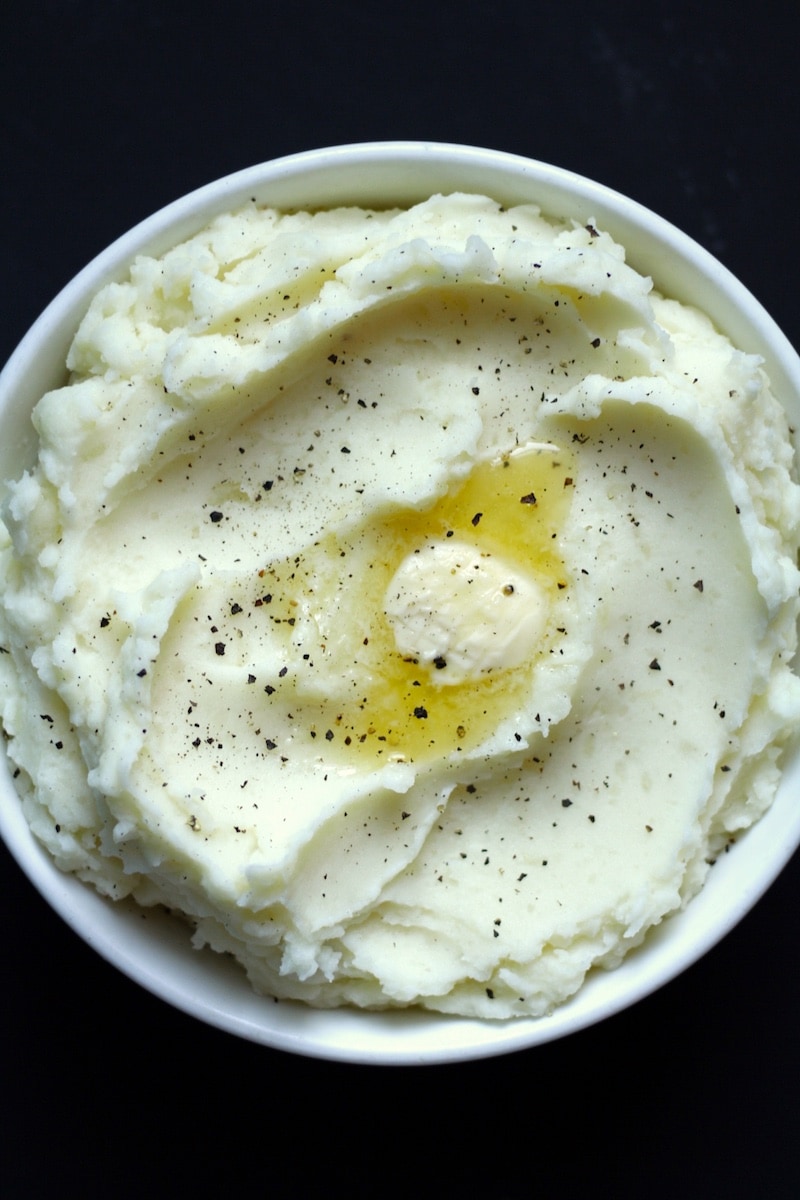 Once you've picked your spud, cut them into similarly sized chunks (so they cook at the same time), throw them in a pot with cold water, and then place it on the stove to simmer until you can easily pierce them with a fork (no more, and certainly no less). This next step is a trick I learned in culinary school, so be sure to pay attention: after draining the cooked potatoes, return them to the stove to cook for 1 to 2 minutes more to dry them out and remove any excess moisture. Doing so allows the potatoes to absorb whatever else you're about to add next and will result in a more comfortingly indulgent product.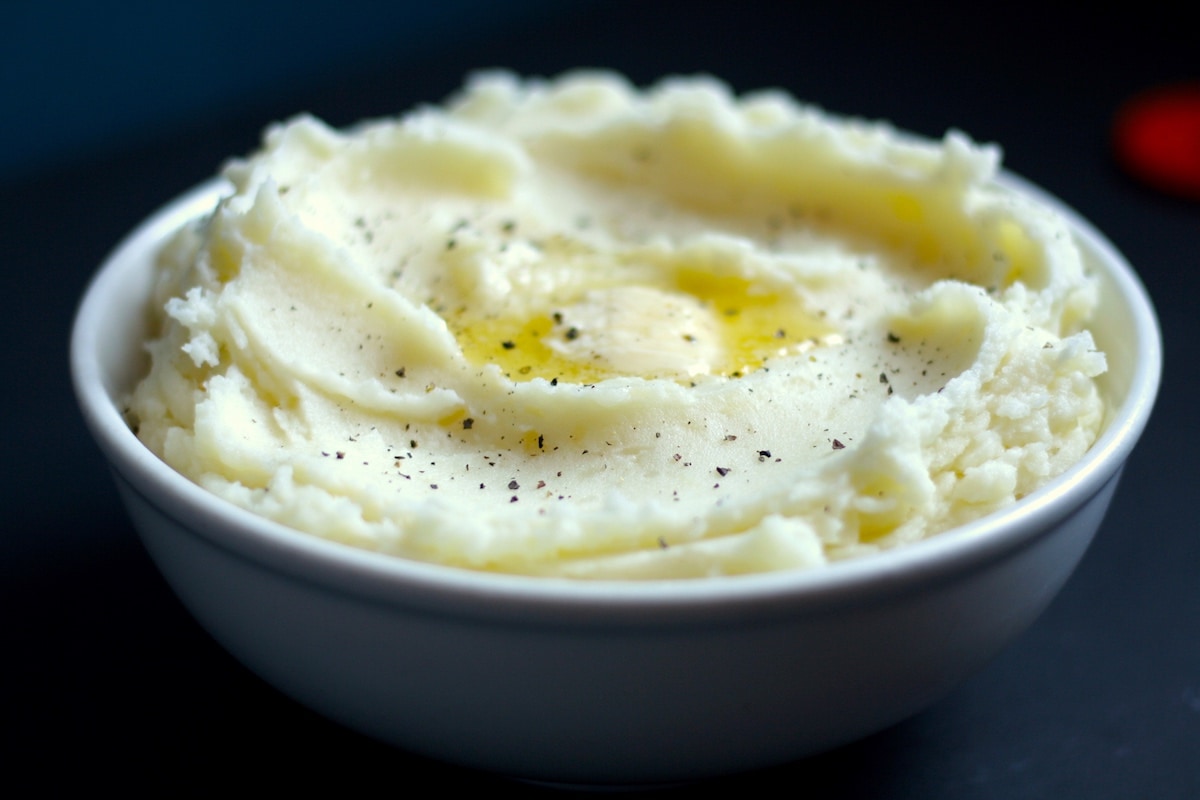 Now it's time to grab your potato masher and go to town! I like to add my butter at this point while the potatoes are still warm so that it melts and mixes itself in easily. (You can also use other fats, such as olive oil, if you wish to omit the butter.) If you want to flavor your potatoes with something like roasted garlic, be sure to add that into the mix at this early stage as well. Next I add in my dairy—milk, heavy cream, cheese, or sour cream (it adds a great tang)—to adjust the texture (smooth or chunky) and for additional richness. Lastly, this is one of the only times when I will wait to season a dish until the very end. You can get away with it because it's easy to incorporate any salt or pepper throughout by simply stirring well, and based on what you've added earlier, you might not need as much salt to make the mashed potatoes reach the point of pure ecstasy.
Note: Be sure not to overwork your potatoes; this is one of the main causes of a gummy disaster. And yes, I know that some people encourage you to salt your water and use warm milk/butter, but it's not required in my experience.