This recipe was originally posted over on Blavity. Go check them out for more great videos.
So I might have a slight confession to make…most of the times I've made macaroni and cheese in the past I was improvising. I would just fly by the seat of my pants, making it up as I went along. Not this time! I've made this recipe a number of times now and it makes my stomach full of happiness every time. In this macaroni and cheese recipe I use a combination of three different cheeses—sharp Cheddar, smoky Gouda, and salty Parmesan. The great thing about this dish is that you can customize it to suite your own tastes by using whatever cheeses you like the most. (Goat cheese is another one that works well.) It gets finished off with a buttery-herb topping before getting baked to golden perfection. You're welcome.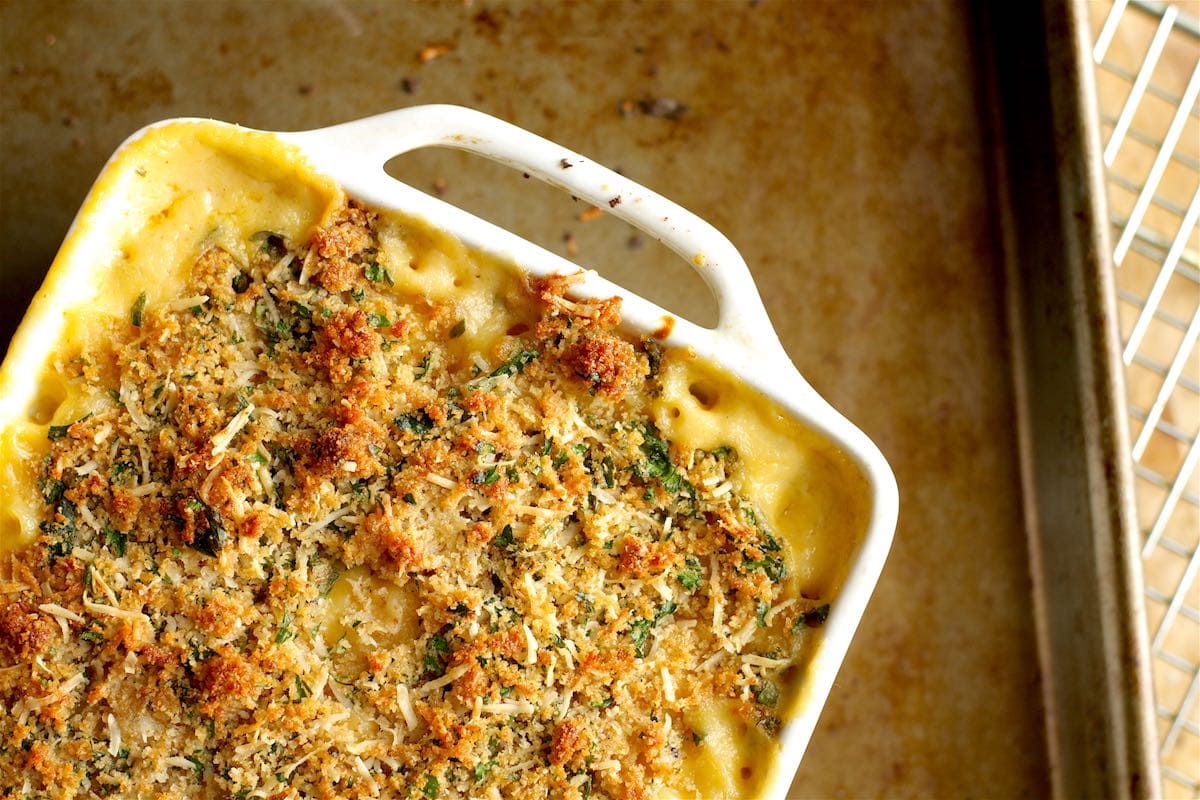 [Sidenote: I'm now on my 4th episode of Law & Order tonight. I haven't watched in quite some time, but it still is one of my favorite shows. This episode just started, so hopefully I'm off to bed within the hour before I get caught up in a 5th.]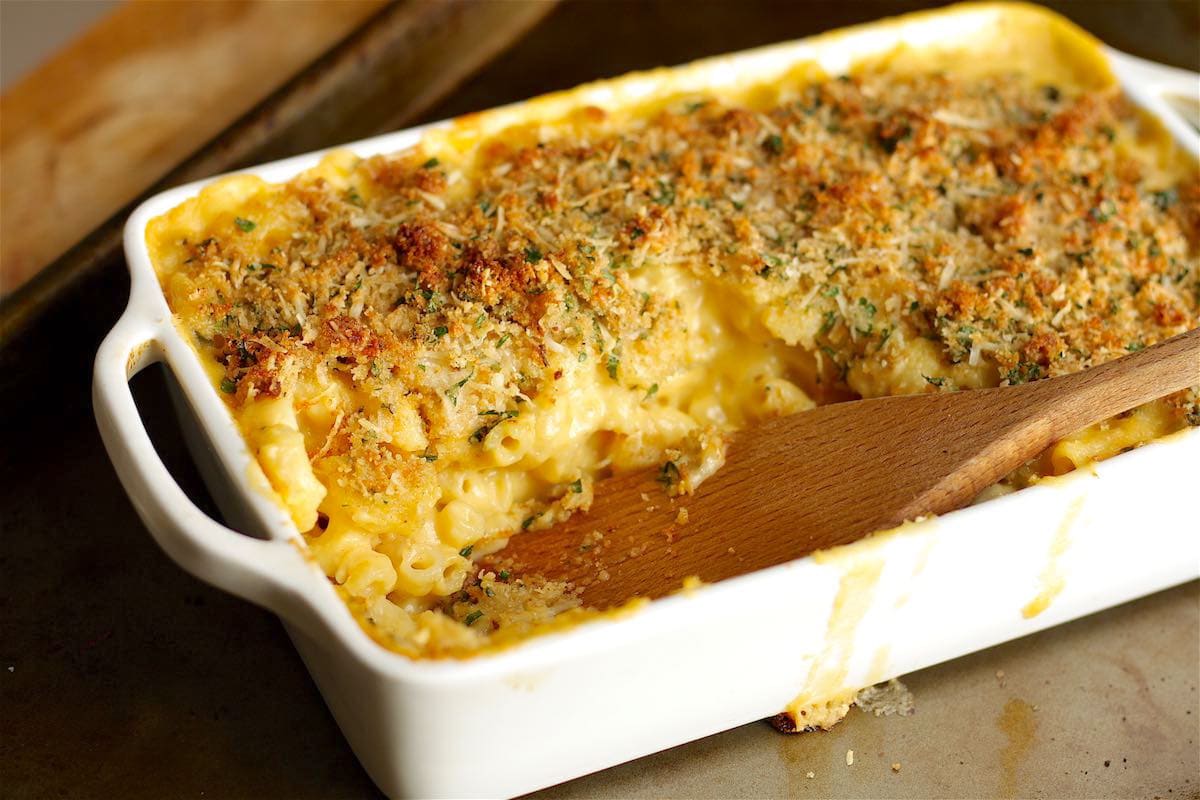 Macaroni and Cheese with Parmesan Breadcrumbs
A comfort-food classic gets taken up a notch with a combo of sharp Cheddar, smoked Gouda, and Parmesan cheeses. Your mac and cheese game will never be the same.
Ingredients
2 cups uncooked elbow pasta
4 tablespoons unsalted butter, divided
2 tablespoons all-purpose flour
2 cups whole milk
1 cup (4 ounces) shredded sharp Cheddar cheese
1 cup (4 ounces) shredded smoked Gouda cheese
1 tablespoon yellow mustard
1 teaspoon garlic powder
kosher salt
ground black pepper
½ cup grated Parmesan cheese
¼ cup breadcrumbs
¼ cup chopped fresh parsley
Instructions
Cook the pasta in boiling salted water until al dente (cooked, but still retains some bite). Drain the noodles and set aside.
Melt 2 tablespoons butter in a pot over medium heat. Whisk in the flour and cook for about 1 minute.
Add in the milk, increase the heat, and cook, whisking regularly, until the milk comes to a boil and thickens, 5 to 10 minutes. Remove from the heat. Whisk in the Cheddar, Gouda, mustard, garlic powder, 1 teaspoon salt, and ½ teaspoon pepper, and stir until the cheese has melted and everything is evenly combined. Stir in the drained macaroni noodles, and then transfer to a baking dish.
Melt the remaining 2 tablespoons of butter (you can use the microwave) and mix with the Parmesan cheese, breadcrumbs, parsley, and some salt and pepper. Sprinkle the Parmesan-bread crumb topping evenly over the macaroni and cheese.
Bake in a preheated 400˚F oven until the cheese is bubbling and it is golden brown on top, about 20 minutes. Let cool slightly before serving.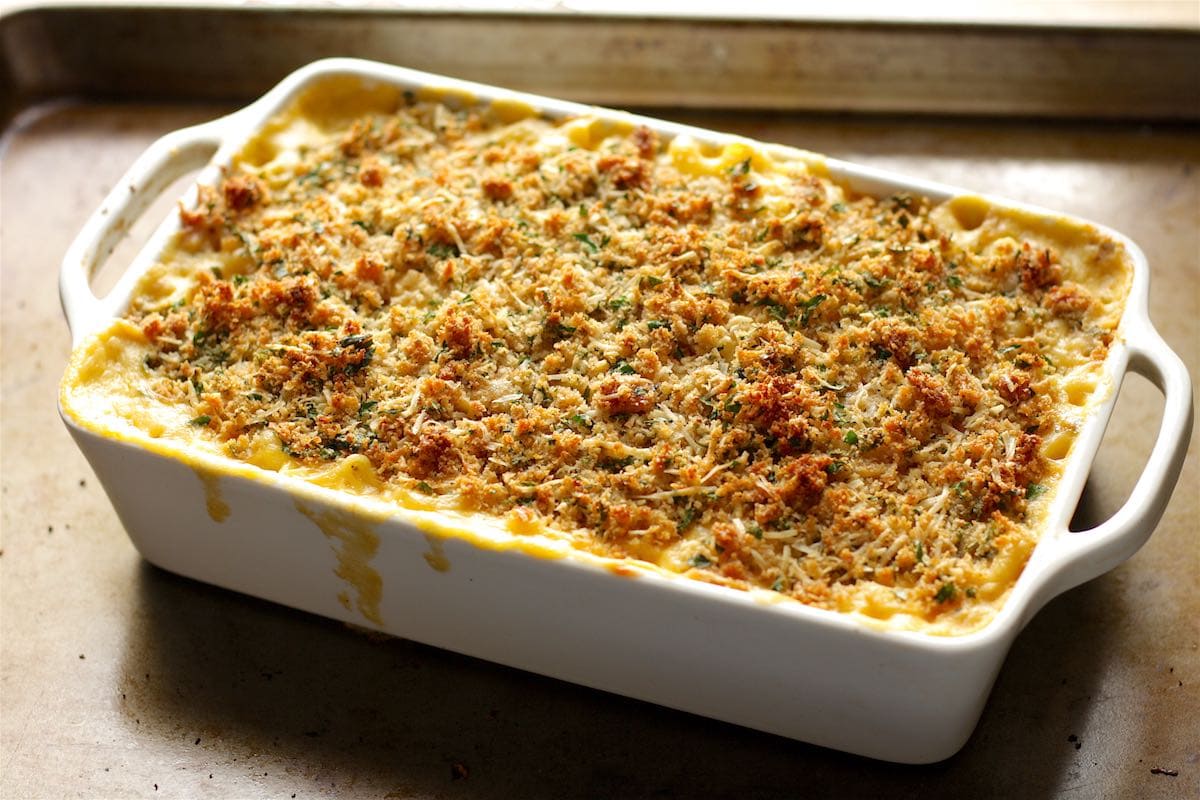 What kind of cheese do you like to put in your macaroni and cheese? Oh, and be sure to check out Blavity for more great content.