Similar to my peanut butter pear tart recipe fulfilling a friend's request for a decadent dessert, this post, too, was inspired by another's suggestion for a roasted carrot soup recipe. This soup couldn't be easier to prepare—all you need to do is know how to hold a knife and have a blender. A nice little bonus is that in addition to the full flavor, it's also gluten free, vegetarian, and vegan—so it's perfect for this time of year and any resolutions you might have to eat more healthily. One note about this recipe is that roasting thinly sliced ginger with the carrots and onions is optional because it ends up getting charred (a.k.a. burnt). There's plenty of ginger flavor provided by the fresh mint sauce served with the soup if you wish to omit it in the soup base, or you can leave the ginger in larger chunks for roasting. (More on the mint ginger orange sauce later.) Of course I left the charred ginger in and blended it with everything else—I like a bit of char—but I'll leave that decision up to you.
Vegan Roasted Carrot Soup Recipe:
2 pounds carrots, chopped
1 large yellow onion, chopped
1-inch ginger, peeled and sliced, optional
2 tablespoons vegetable oil
1 teaspoon turmeric powder
kosher salt
1 quart vegetable stock
14-ounce can unsweetened coconut milk
Mint Ginger Orange Sauce, for serving (recipe below)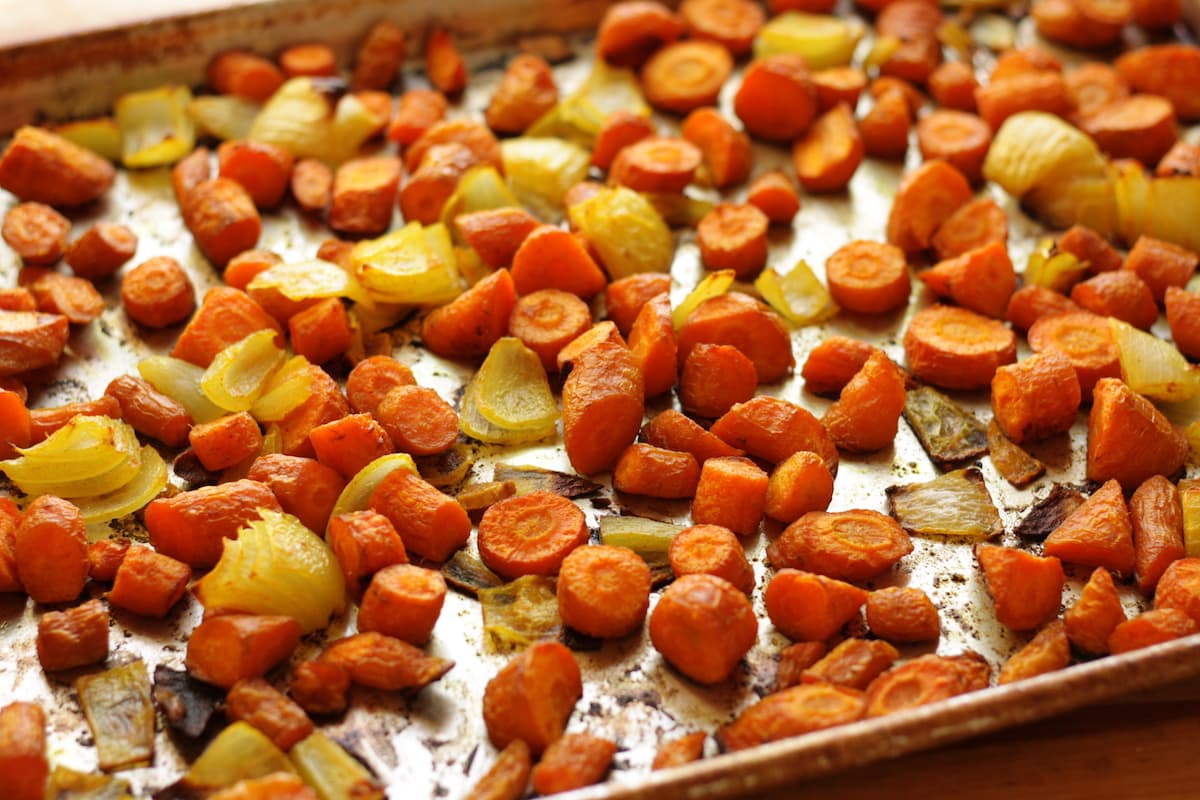 Procedure:
Preheat the oven to 450˚F.
Place the carrots, onion, and ginger, if using, on a rimmed baking sheet; drizzle with the oil, sprinkle with the turmeric and some salt, and toss to evenly coat. Roast the vegetables until tender and slightly browned/charred.
Blend the roasted vegetables, coconut milk, and stock until smooth. Put the soup in a pot to heat for serving and season to taste with salt. Serve with some Mint Ginger Orange Sauce.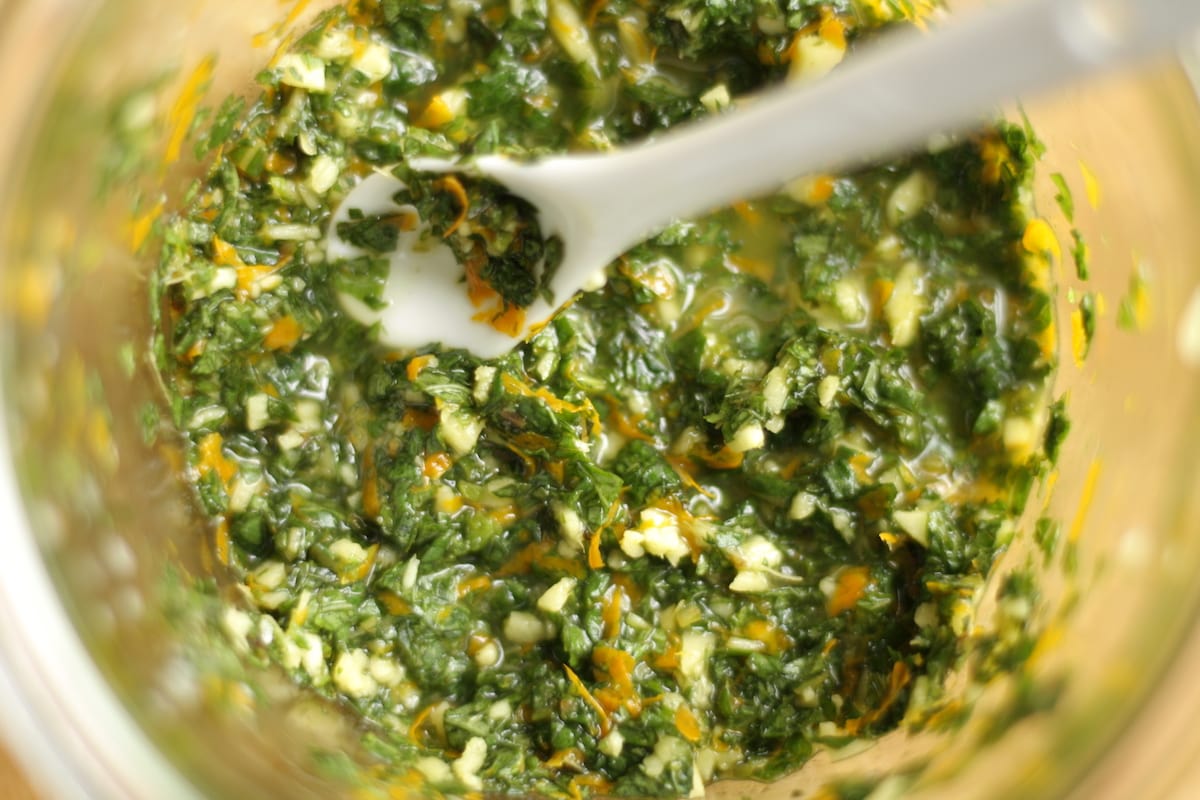 Mint Ginger Orange Sauce:
1/2 cup chopped fresh mint leaves
1 orange, zest and juice (about 1/4 cup)
1-inch ginger, peeled and minced
1 teaspoon kosher salt
Procedure: Combine all of the ingredients together. Refrigerate until needed.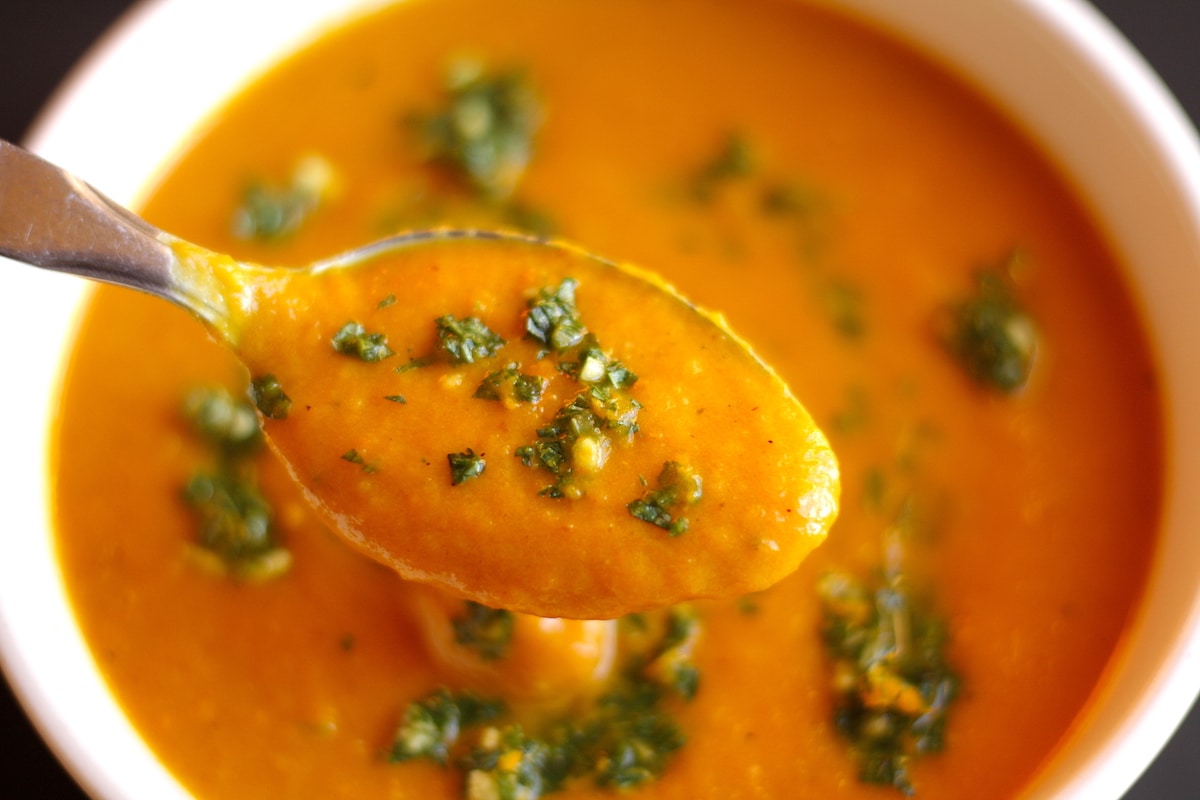 Originally, I made half the amount listed above for the Mint Ginger Orange Sauce, but as soon as I sampled it I knew I would need more. It wasn't until this recipe that I realized how much I am in love with ginger. This sauce adds a beautifully fresh and bright punch to the roasted, warm flavors of the soup. One taste of this recipe and you'll be wondering where it's been all your life.
Trust me on this one.