The other day I was on my way over to a friend's apartment to celebrate her birthday with wine and pizza—which I'll have to save for my own future celebration—and noticed my eye getting very irritated. I had been out all day with no issues and had literally just gotten on the train before feeling like I was going blind in one eye. (Okay, maybe that's a slight exaggeration, but still…) I kept trying to use the selfie mode on my phone's camera to see if there was something there, but the only thing I accomplished was looking like a crazy person with one bloodshot eye. It wasn't until I was nearing my destination that it dawned on me: allergies.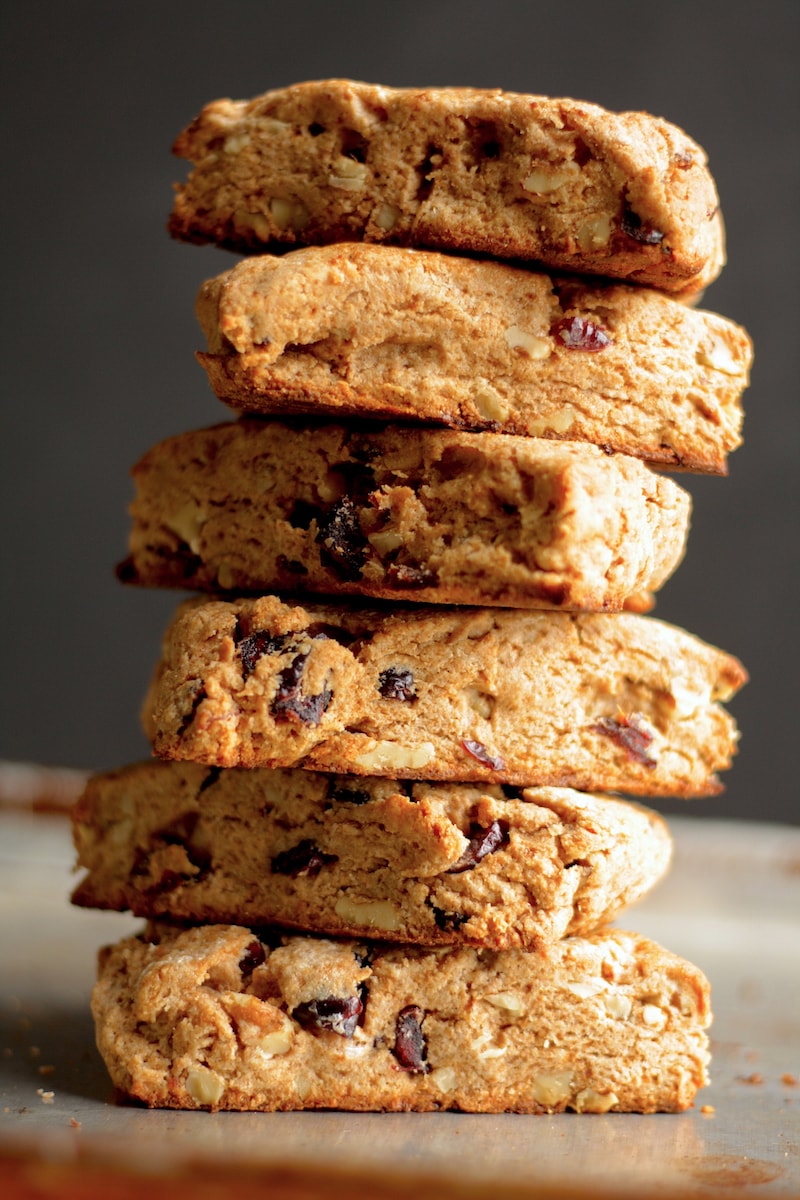 Despite the official start of the season happening a few weeks ago, my body lets me know spring is really here when it starts betraying me. Another marker for spring that is much less dreadful is the arrival of Easter. In preparation for the holiday celebration, I decided to come up with this scone recipe as the perfect baked good to make for Easter brunch.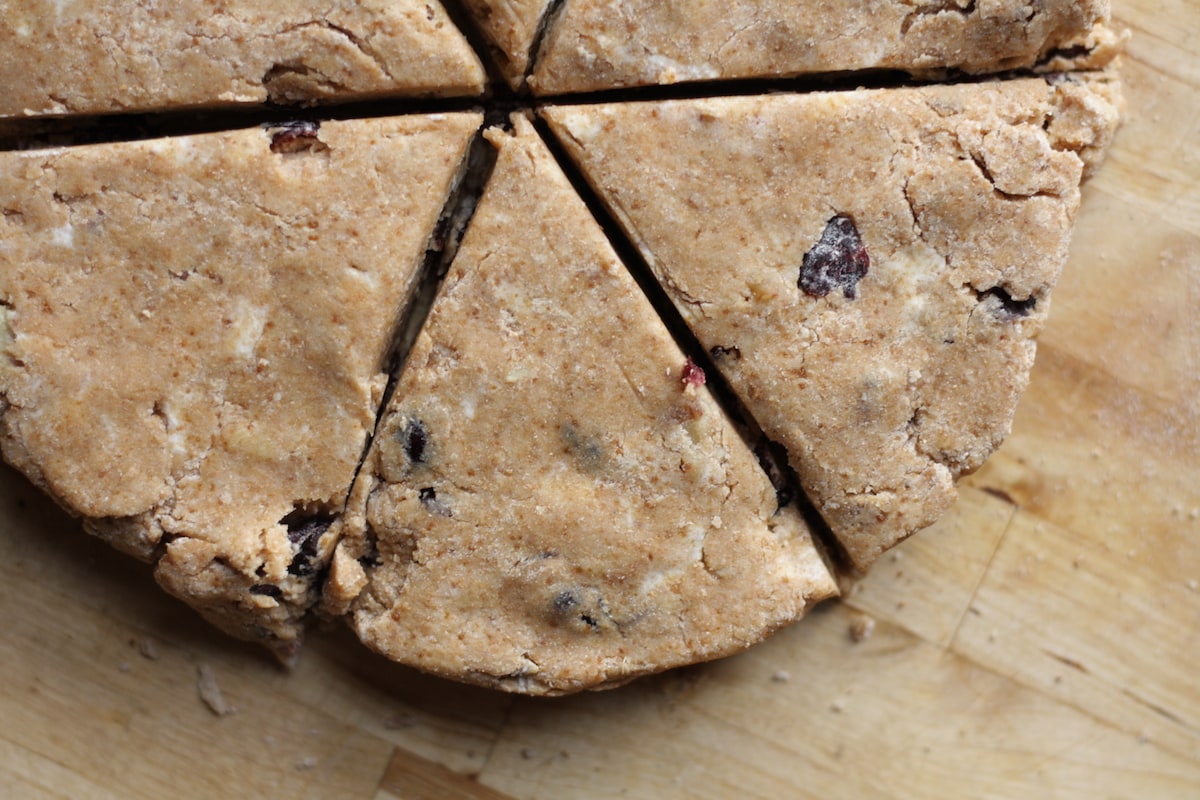 I chose to use whole wheat flour in this recipe for the extra nutritional value (#SummerIsComing), but you can substitute it for regular all-purpose flour if that's all you have on hand. This scone recipe also includes coconut sugar for a hint of sweetness. Coconut sugar has a slight caramel flavor and is not quite as bad for you as regular white sugar (but is still sugar, of course). One of the big drivers in the increase in popularity of coconut sugar is that it is acceptable with the paleo diet, which tells you to eat like a caveman or cavewoman. Not that this recipe is paleo—because it has wheat flour—but there are certain aspects of the diet that I can appreciate for encouraging people to eat better.
…I think I got lost on a tangent…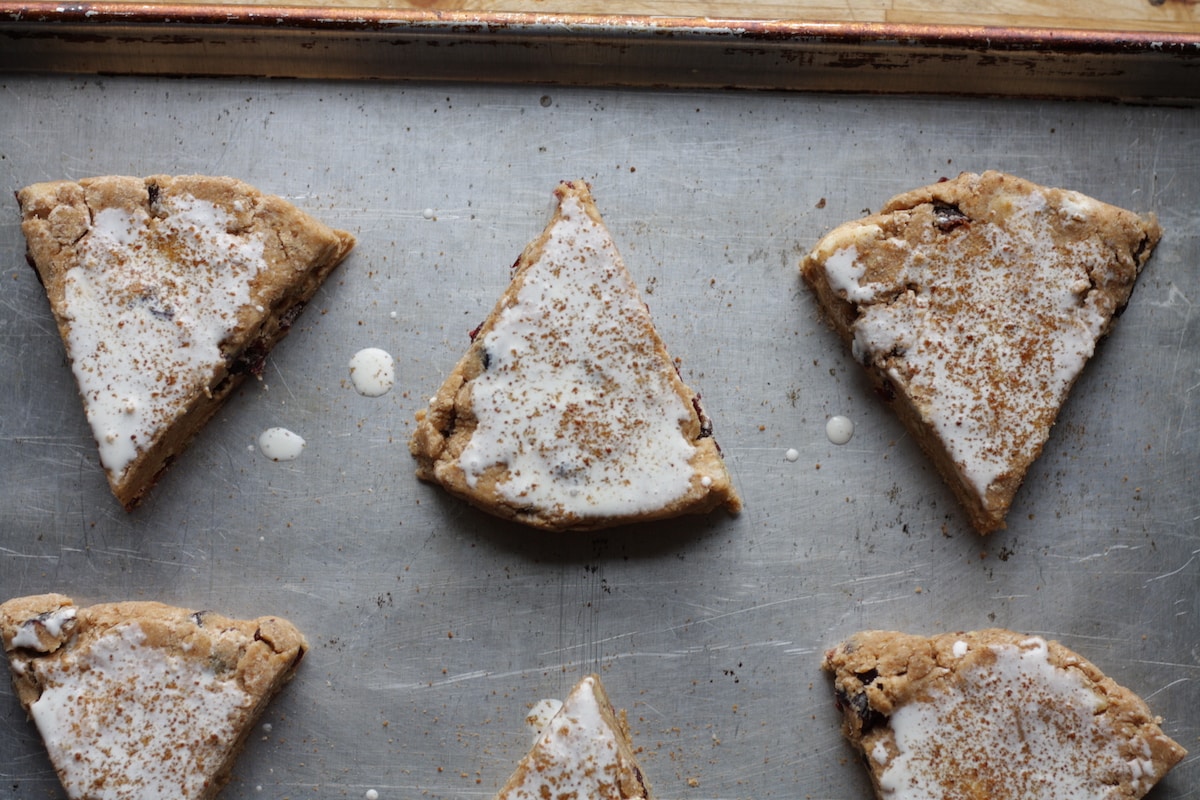 Anyway … I added in some nuts and dried fruit to jazz up these cream scones a little bit. I particularly liked when I bit into a dried cranberry for the extra burst of sweetness since the dough itself doesn't contain much sugar. As always, feel free to use whatever mix-ins you want, but I would try to limit it to about 1 cup total.
Whole-Wheat Cream Scones with Walnuts and Cranberries
A riff on a classic cream scone recipe that utilizes whole-wheat flour. It's lightly sweetened with coconut sugar, with dried fruit and nuts mixed into the dough.
Ingredients
2 cups whole wheat flour, such as Bob's Red Mill
1 tablespoon baking powder
¼ cup coconut sugar, such as Bob's Red Mill, plus more for dusting
½ teaspoon fine sea salt
6 tablespoons unsalted butter, cut into cubes
½ cup chopped walnuts
½ cup dried cranberries
1 large egg
¾ heavy cream, plus more for brushing
Instructions
Preheat the oven to 425˚F.
Add the flour, baking powder, coconut sugar, and salt to a large bowl and whisk to combine. Using a pastry blender, cut the butter into the dry mixture until the largest piece of butter is no bigger than a pea. Add the nuts and dried fruit and give a little stir.
Separately, beat the egg and whisk into the cream. Add the cream mixture to the other ingredients to form the dough. It should be relatively dry, but you should be able to form it together if you give it a squeeze. (If not, add more heavy cream.)
Turn the dough out onto the countertop and knead just until the dough comes together. Form into a ¾-inch-thick circle and cut into 6 wedges; transfer the wedges to an ungreased baking sheet. Brush with some cream and sprinkle with some more coconut sugar. Bake until the scones have risen and are browned on the bottom, 12 to 15 minutes. (Rotate the pan halfway through the baking time.)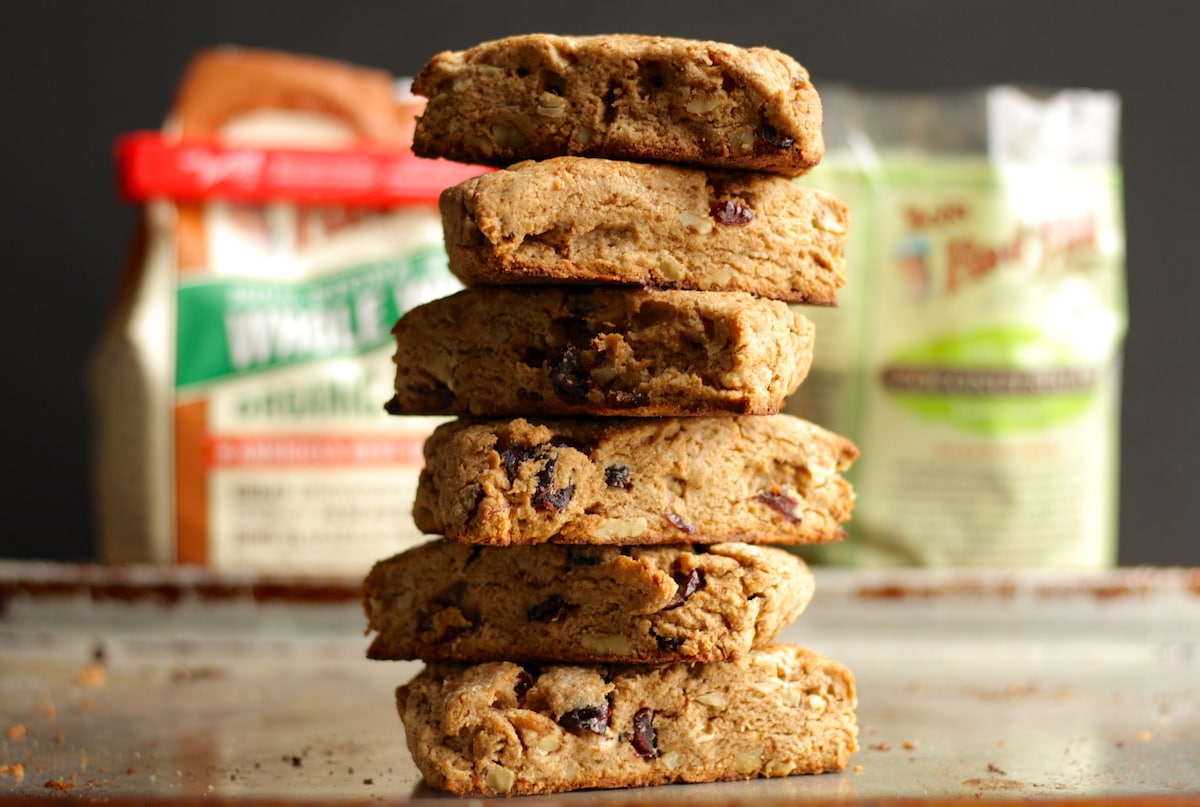 Oh, and if you're wondering what happened to me and my eye that night after I got off of the subway, I walked into the nearest store, took a Benadryl while I was waiting in line to pay, continued to have a few glasses of wine, and then passed out at home and slept for a good nine hours.
Disclaimer: I received the organic whole wheat flour and organic coconut sugar from Bob's Red Mill as samples. All views and opinions are my own.