I have to admit that I received inspiration for this recipe from my pastry chef friend's Instagram. As soon as I saw the photo of her blood orange polenta cake, I knew I needed to come up with my own version of the recipe. Most polenta cake recipes typically include ground almonds or almond flour as a significant component of the ingredient list. With almonds being relatively expensive and money not growing on any of the trees near me, I chose to leave them out to make this recipe more accessible (a.k.a. cheaper).
My cornmeal cake is essentially a sweeter version of cornbread. The blood oranges add a nice citrus flavor to complement the corn, some additional sweetness, and help enhance the aesthetics of the final product. (Feel free to use regular oranges if you can find blood oranges.) This cake recipe is the perfect dessert to make during the winter months when citrus is bountiful, but it's still suitable any time of the year. Serve with either whipped cream or vanilla ice cream.
In terms of nomenclature, I always get confused about what the difference is between polenta, cornmeal, and grits. After scouring the internet to read about the differences on Food52, New York Times, Epicurious, and The Kitchn, it seems that they're all essentially the same thing. "Cornmeal" is the catchall term for ground flour from dried corn; "polenta" typical refers to the porridge dish made from medium- or coarsely-ground yellow cornmeal; and "grits" typically refers to the porridge dish made from coarsely-ground white cornmeal. #TheMoreYouKnow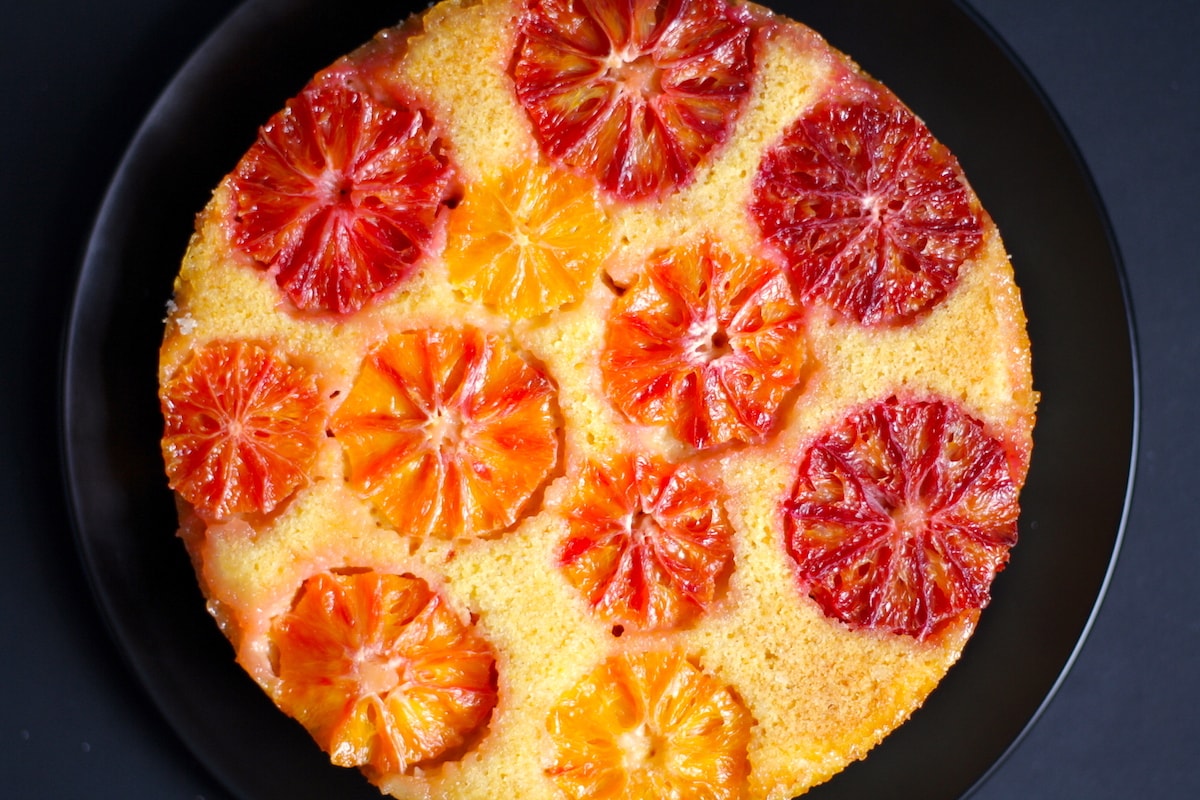 A couple of weeks ago—amidst all the political craziness going on around us—the seed of an idea was planted in my brain: I wanted to do something to collaborate with other black food bloggers to promote each of our blogs to the rest of the world. Seeing as how February is upon us, having this event coincide with Black History Month was a no-brainer. Thus, I've coordinated with 27 other wonderful black food bloggers to host a Black History Month Virtual Potluck.
I know this is a generalization, but I think it's safe to say that black people have a deep love of food. Though not always widely acknowledged, black food is more than just fried chicken and collard greens (though we love those dishes, too). The black food bloggers participating in this potluck offer a variety of recipes, from Southern to Caribbean to vegan to Kenyan to gluten free (and everything in between). There are enough recipes for you to make a new one for each day of the month! Scroll to the bottom of this post to checkout all of the other bloggers' recipes and add them to your reading lists. Trust me, this is one tasty potluck! Maybe there should be one in real life in the future…
Want to join in on the fun? Post your own creations to social media using the hashtag #BHMpotluck to join the party.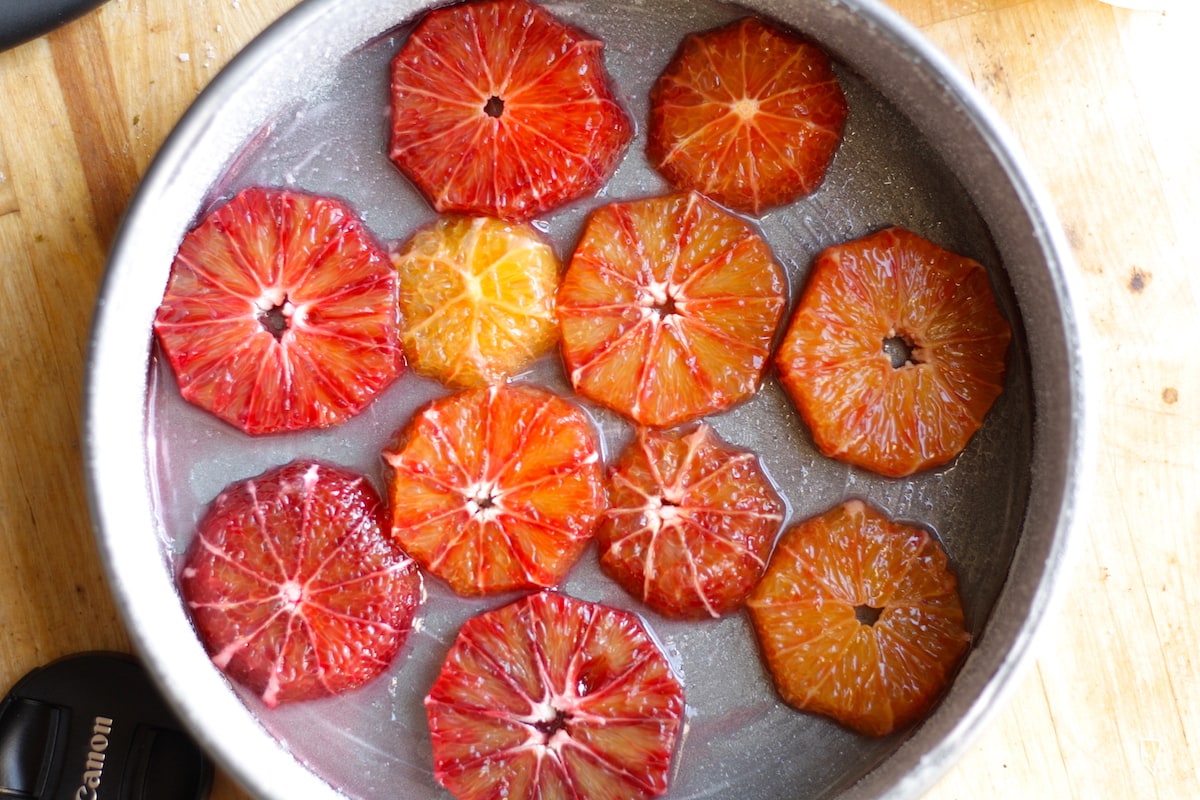 I first used the orange segments to make my cake design (below), but was slightly disappointed after they has shifted from their original positions. Therefore, I was left with no choice other than to make another cake. (Woe is me.) I used circular slices the second time around to see how that would turn out (above). Initially I liked the look of the circular slices better, but I came to see the beauty in the imperfection of the blood orange supreme placements. Both are beautiful, so I'll leave this decision up to you. Do you boo boo! (If you do decide to go with the circular slices, try to get ride of as much of the white pith as possible.)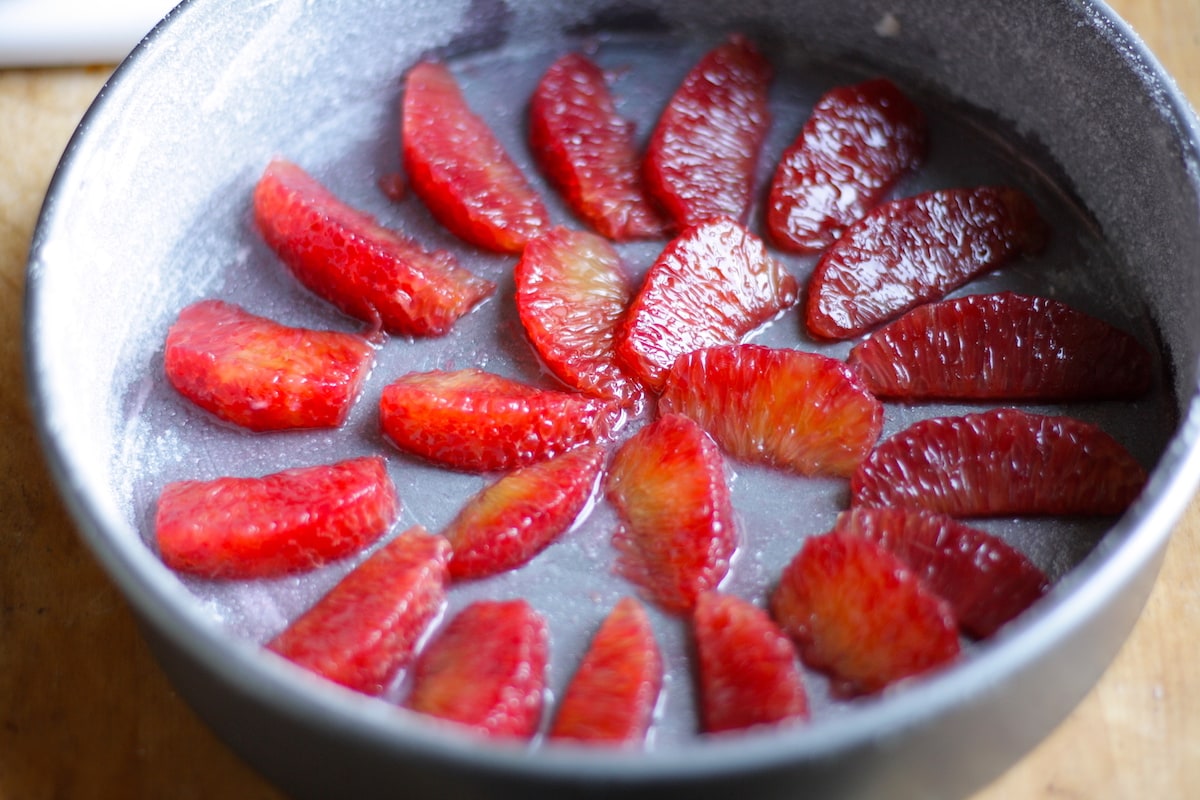 Blood Orange Cornmeal Cake
Ingredients
1½ sticks (12 tablespoons) unsalted butter, room temperature, plus more for greasing the pan
¾ cup granulated sugar, plus more for dusting the pan
2 large eggs
2 egg yolks
1 teaspoon vanilla extract
2 blood oranges, zest and segments/supremes (or circular slices)
1 cup yellow medium- or course-ground cornmeal
1 cup all-purpose flour
1 tablespoon baking powder
½ teaspoon kosher salt
whipped cream or vanilla ice cream, for serving
Instructions
Preheat the oven to 350˚F. Grease the cake round with butter and dust with some sugar; arrange the orange segments in the bottom of the cake pan.
Beat together the butter and sugar in a stand mixer or with a hand mixer until light and fluffy, 3 to 5 minutes. Add in the whole eggs and yolks, one at a time; scrape down the sides of the bowl in between. Add the vanilla extract and blood orange zest to the batter; be sure to squeeze any juice you can into the batter too.
Combine the remaining ingredients—cornmeal, flour, baking powder, and salt—in a bowl. Add the dry ingredients to the wet ingredients to form the batter. (The batter will be thick.)
Transfer the batter to the prepared cake pan and bake in the oven until a toothpick inserted in the middle of the cake comes out clean, about 45 minutes.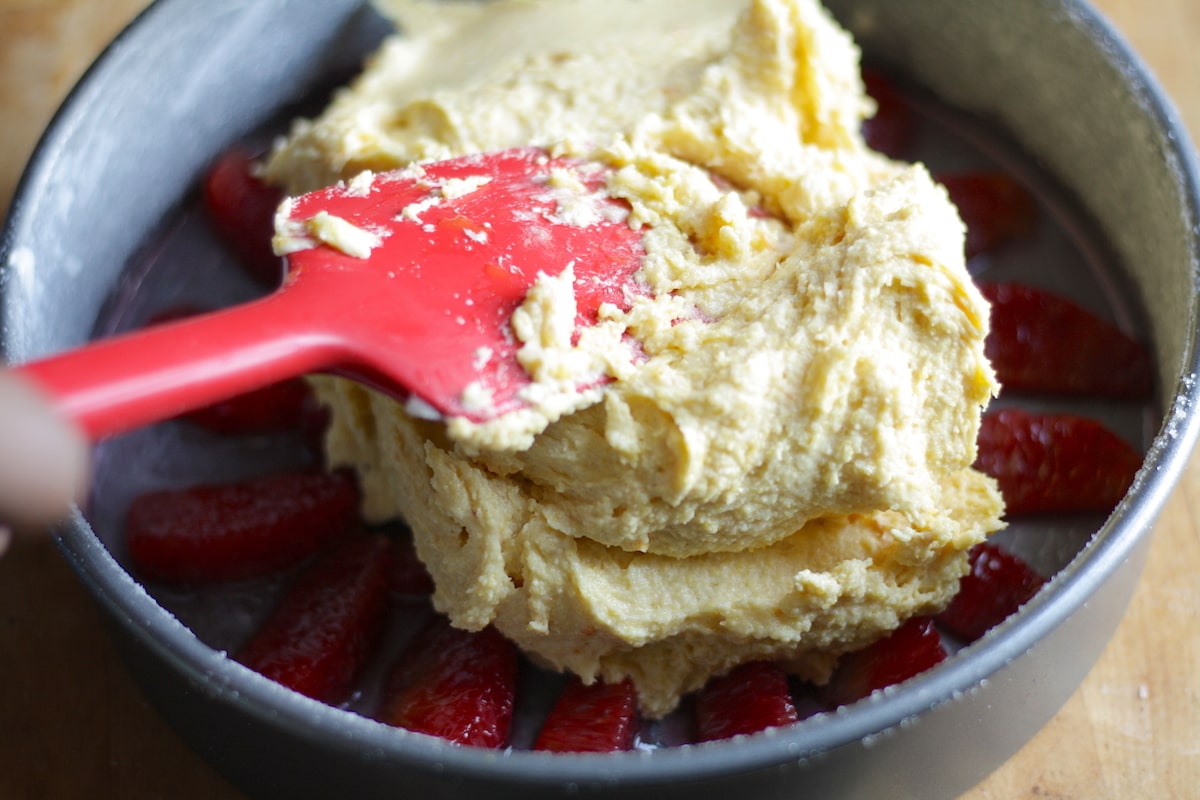 Black History Month Virtual Potluck
Meiko and the Dish | Crispy Fried Chicken with Pepper Jelly Molasses
Whisk It Real Gud | Trinidad Oxtail Pelau
Raised on Ramen | Caramelized Plantain Tacos with Pecan-Honey Butter
Dash of Jazz | Aunt Georgia's Peach Cobbler
Foodie In New York | Twice Baked Yams
The Seasoning Bottle | Jamaican Sorrel/Senegalese Bissap
Chef Kenneth | Smothered Okra with Shrimp
Savory Spicerack | Po' Boys with Cajun Tempura Shrimp
Chocolate For Basil | Groundnut Stew (Peanut Stew)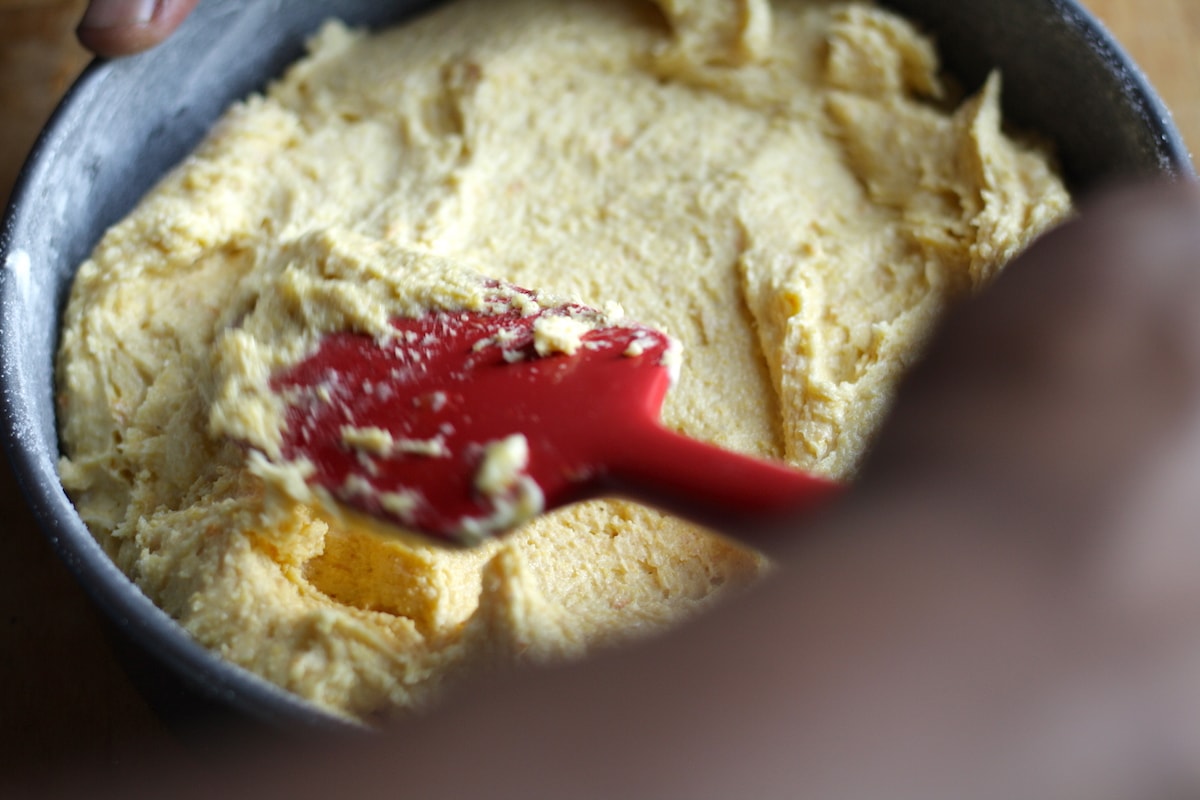 Black History Month Virtual Potluck (cont.)
Simply LaKita | Banana Pudding
My Forking Life | Callaloo and Saltfish
Kaluhi's Kitchen | Ukwaju (Tamarind) Marinated Spicy Chicken Thighs
Sweet Savant | Coffee-Rubbed Lamb Ribs
Salty Sweet Life | Southern Greens Shakshuka
Eat.Drink.Frolic. | Maple Roasted Brussels Sprouts
I Heart Recipes | Southern Fried Cabbage
Jehan Can Cook | Mango Turmeric Smoothie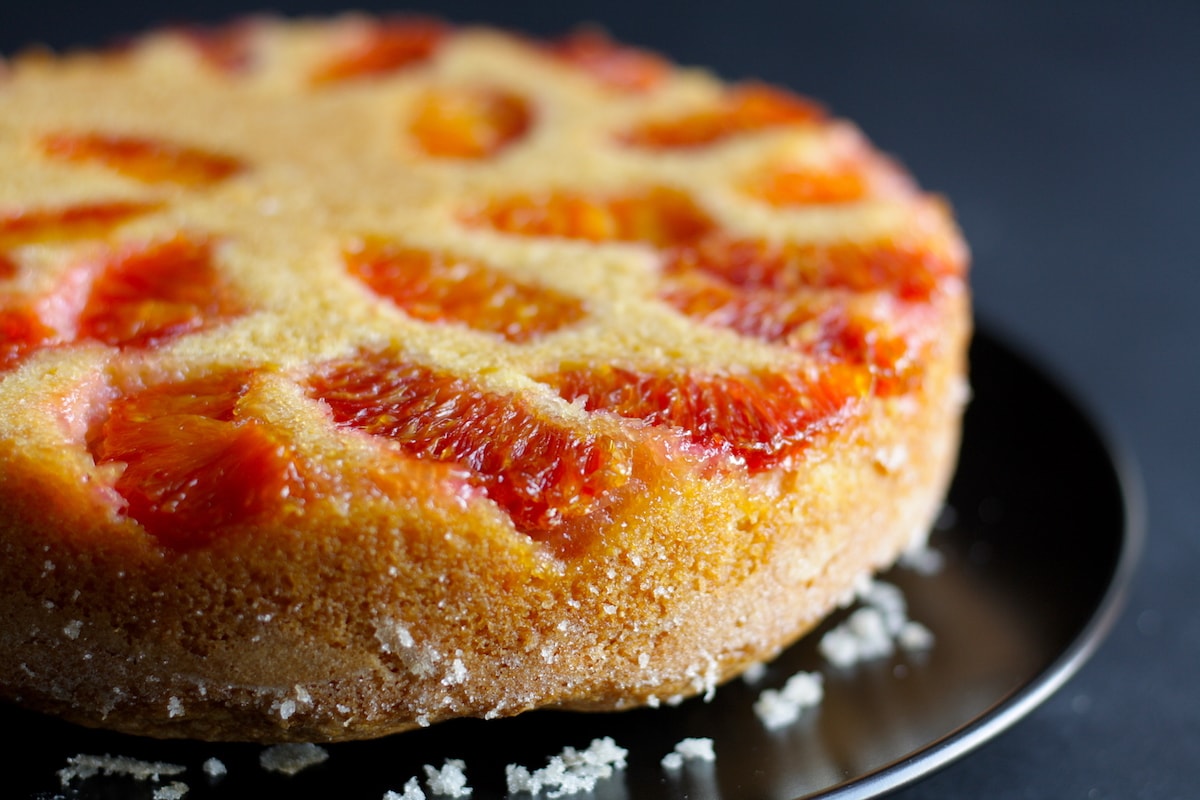 Black History Month Virtual Potluck (cont.)
Margarita's On The Rocks | Lemon Pepper Fish Tacos with Collard Green Slaw
A Soulful Twist | Slow-Cooker Gumbo (Gluten Free)
The Kitchenista Diaries | Coconut Milk Braised Collard Greens
My Life Runs On Food | Orange Chocolate Smoothie
Butter Be Ready | Skillet Cornbread
D.M.R. Fine Foods | Curry Chicken Pot Pie
The Inner Gourmet | Lamb Fried Rice
Marisa Moore Nutrition | Hoppin' John Patties with Warm Tomato Salsa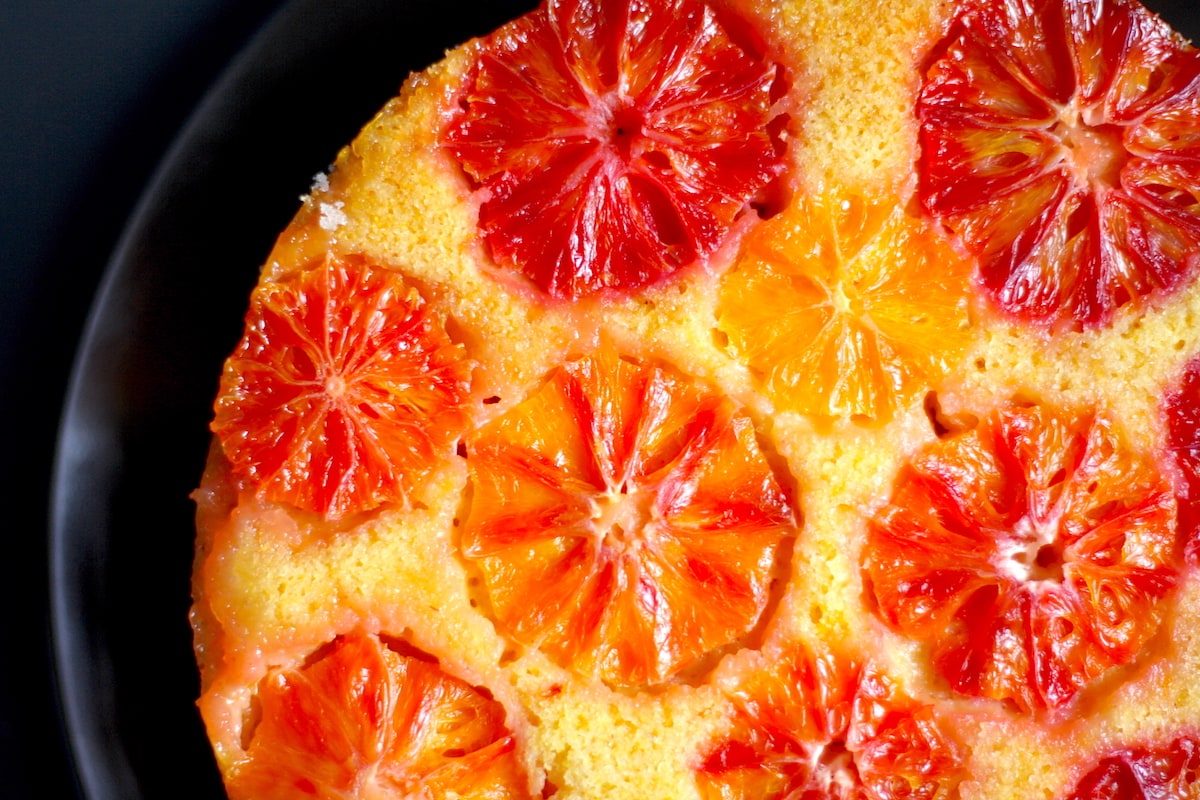 Follow the We Lover Black Food Bloggers Facebook group for more recipes from these and other black food bloggers from around the world. (Also, shoutout to Meiko And The Dish for helping me coordinate everything!)