No, this is not the first time I've posted a chocolate chip cookie recipe. (And it probably won't be the last.)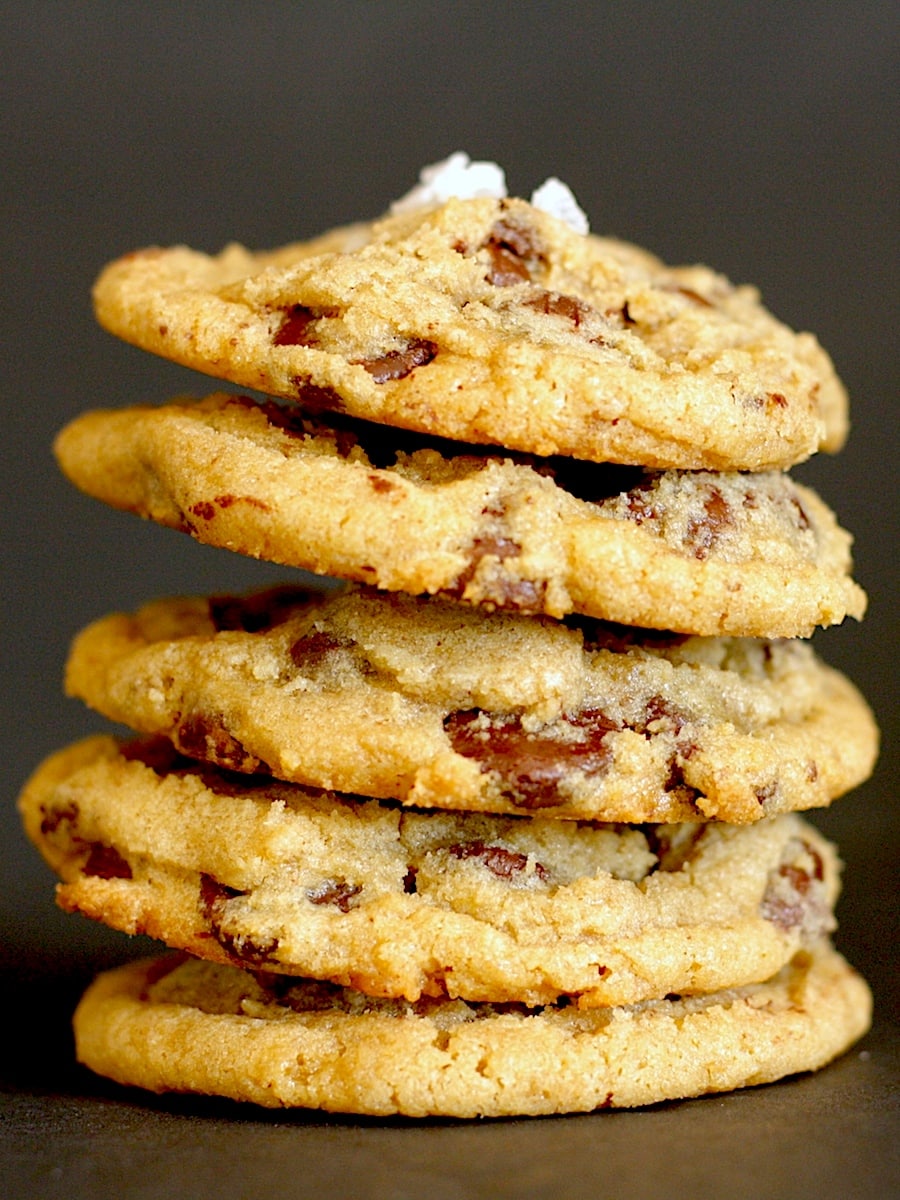 I'd already taken my "perfect" chocolate chip cookie recipe to give you an even chewier chocolate chunk variety (and convert the measurements to volume from weight). In this iteration, I am going back to light brown sugar instead of dark (less molasses flavor but still with a chew), and have added one key extra ingredient (not including the flaky sea salt).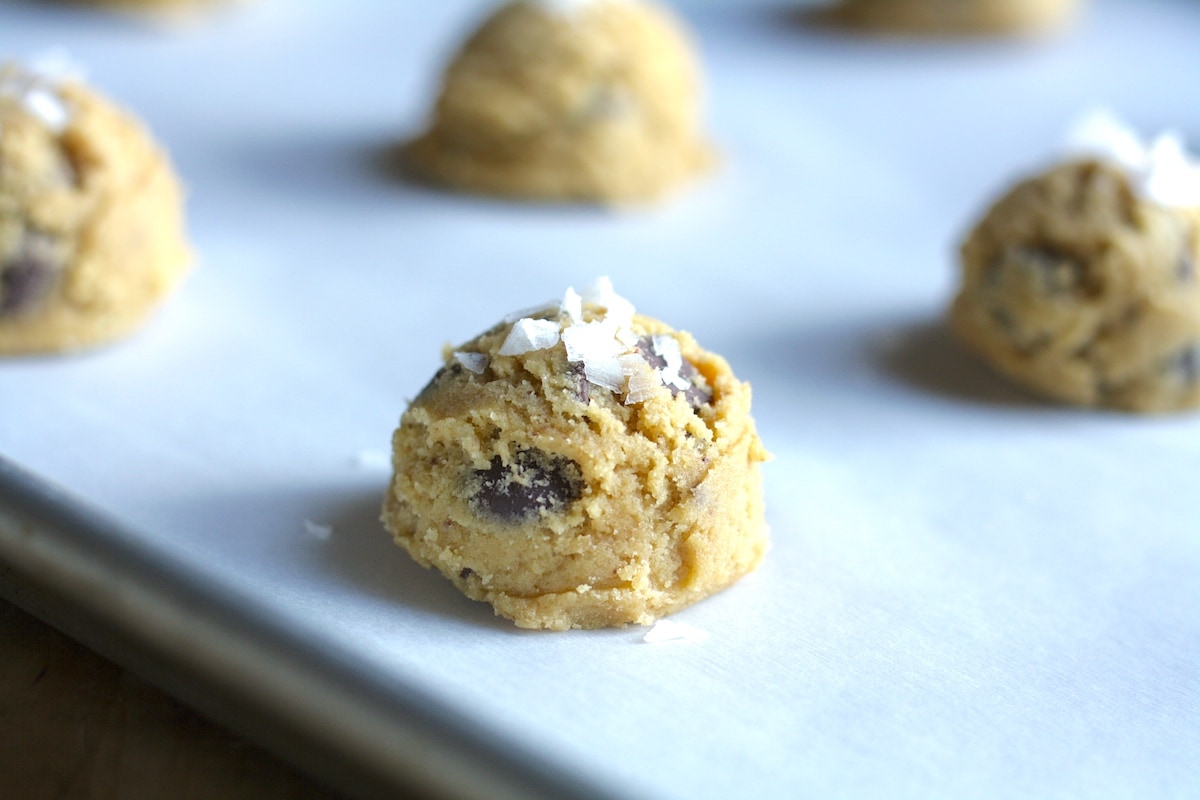 The secret ingredient in this iteration is coffee. (Instant coffee powder, to be exact.) Everyone knows the magic that happens when coffee and chocolate are paired together, so why not include a little bit in my new go-to chocolate chip cookie recipe?
. . .
Exactly.
For most of my cookie baking I use a scoop to portion the dough out evenly and then just plop them on a baking sheet. However, in a more recent recipe development process I realized the impact rolling the portioned cookie dough into balls with your hands can have on their finished appearance: a much smoother surface texture. I'll be sure to include a side-by-side comparison when that recipe is published, but in the meantime you can test it out for yourself to see the difference.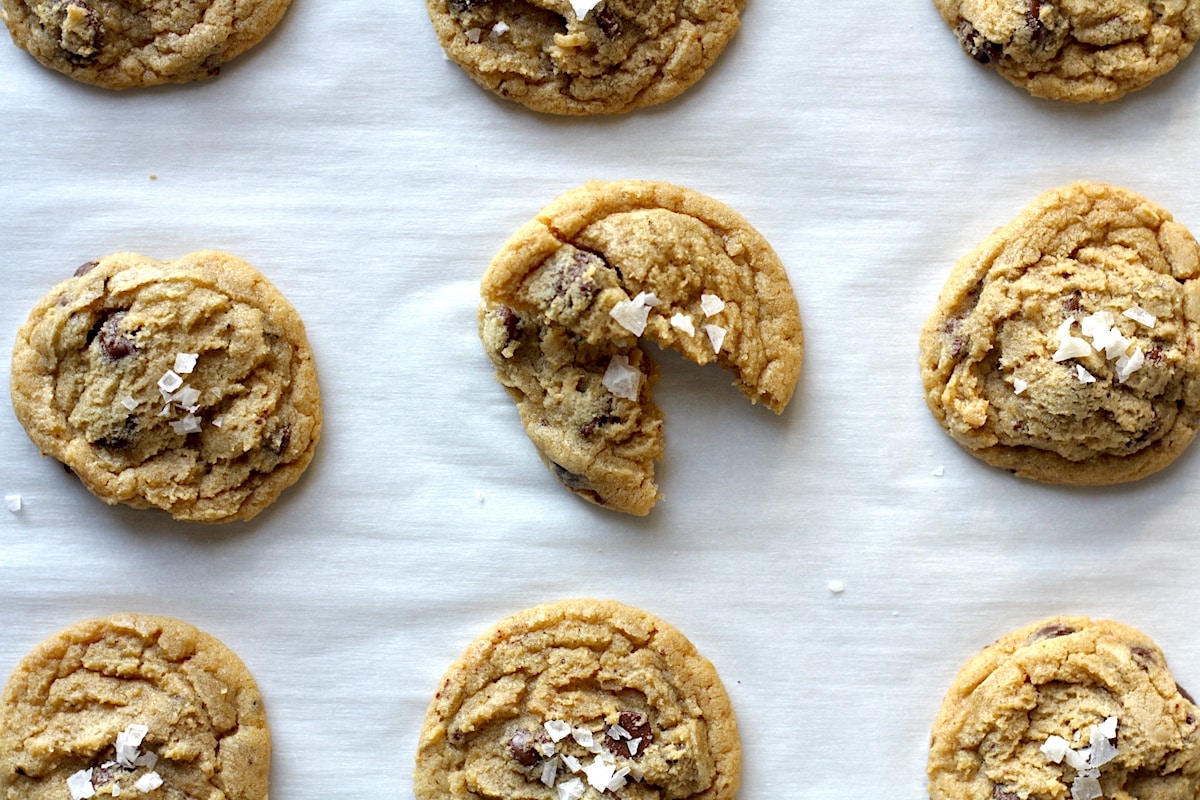 Chocolate Chip Cook Recipe
Everyone loves a good chocolate chip cookie. Likewise, everyone has their favorite recipe. This one has a crisp exterior, a chewy middle, and a secret ingredient.
Ingredients
1½ cups all-purpose flour
1 teaspoon baking powder
½ teaspoon kosher salt
1 cup packed light brown sugar
½ cup granulated sugar
½ cup (1 stick) unsalted butter, at room temperature
1 teaspoon instant coffee powder
1 large egg
1 teaspoon vanilla extract
1 cup chocolate chunks (I used a combo of dark and semisweet)
Flaky sea salt, for sprinkling
Instructions
Preheat the oven to 350˚F. Line cookie sheets with parchment paper.
Add the flour, baking powder, and salt to a bowl and whisk to combine; set aside.
Add the brown and granulated sugars, butter, and coffee powder to the bowl of a stand mixer fitted with a paddle attachment and cream together on medium to high speed until perfectly smooth and homogenous, about 3 minutes. (You can also use an electric mixer, or get a workout for your biceps.)
Add the egg and vanilla to the sugar mixture and mix until smooth; scrap down the sides of the bowl with a rubber spatula.
Lower the speed and add the flour mixture to sugar mixture to form the cookie dough. Lastly, mix in the chocolate chips. (At this point you can refrigerate the dough overnight for it to develop some rich toffee notes. Or not, because cookies.)
Scoop the cookie dough onto the prepared cookie sheets, placing them about 2 inches apart; sprinkle with some sea salt and bake until the cookies have spread and the tops have puffed up, about 12 minutes. Allow to cool for a couple of minutes on the baking sheet before transferring to a wire rack to cool completely. (The cookies will deflate as they cool.)