My roommate and I held our annual Christmas soiree this past weekend. After hosting it for so many years in our tiny apartment, we (almost) have it down to a science. She is responsible for the decorations, activities, and signature holiday cocktail for the night. I, of course, am to supply the food. I stayed up late on Friday night preparing dips and baking brownies, but I knew I wanted to make one more dessert. It wasn't until I was leaving the gym and heading to the grocery store the morning of the party that it dawned on me to bake some Christmas sugar cookies.
The traditional Christmas cookies that often come to mind require chilling the dough, rolling it out, and then cutting them into shapes before throwing them in the oven. Needless to say, ain't nobody got time for that. Instead I opted for these drop sugar cookies that could be baked in a fraction of the time. To make them extra festive I died the cookies green, frosted them with red(ish) cream cheese frosting, and sprinkled them with crushed candy canes. (The frosting doesn't get very saturated from the food coloring and ends up more of a pink color, but everyone gets the idea. If you have gel food coloring, then I believe that should help in this area.) Alternatively, you could leave the food coloring out altogether and opt for a more refined look of white and just hints of red from the candy canes.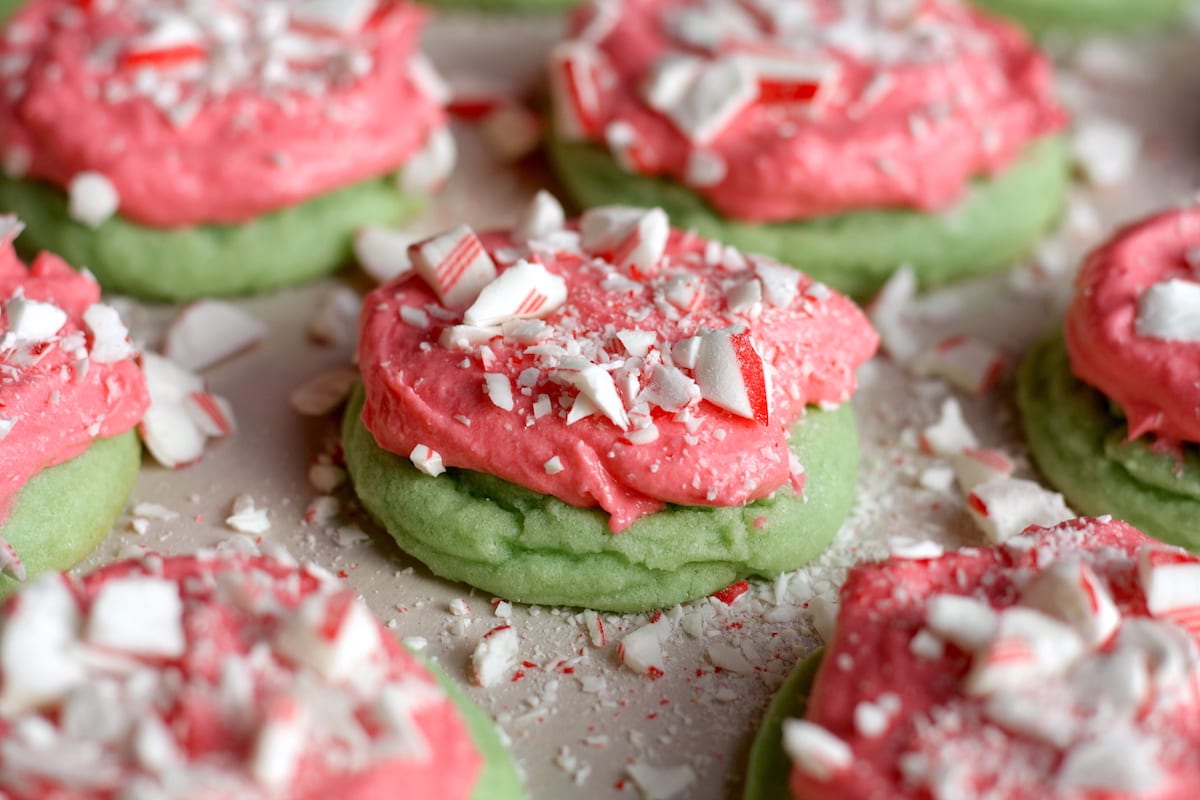 Drop Sugar Cookie Recipe:
2 sticks (1 cup) unsalted butter, at room temperature
2 cups granulated sugar
2 large eggs
2 teaspoons vanilla extract
30 drops green food coloring, if using
3 cups all-purpose flour
2 teaspoons baking powder
1 teaspoon kosher salt
Yield: approximately 4 dozen cookies
Procedure:
Preheat the oven to 350˚F.
Cream together the butter and sugar in a stand mixer; add the eggs, vanilla extract, and food coloring and continue mixing until fully incorporated. In a separate bowl, combine the flour, baking powder, and salt. Slowly add the dry ingredients to the wet ingredients and mix until the dough forms.
Scoop the cookie dough into balls about the size of a large walnut and place on a baking sheet; baking until the cookies have spread and are cooked through, 10 to 12 minutes. Let sit for a few minutes on the baking sheet before transferring to a rack to cool completely.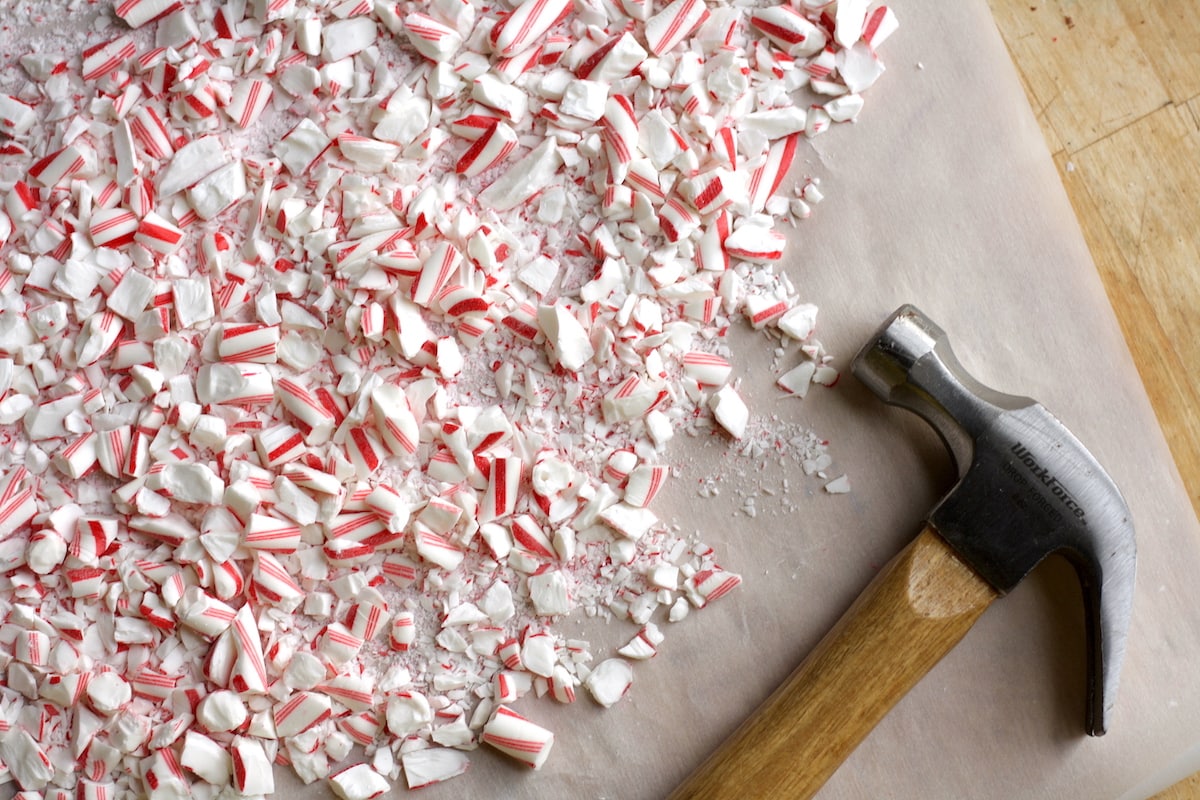 Cream Cheese Frosting:
one 8-ounce package cream cheese
2 sticks (1 cup) unsalted butter, at room temperature
pinch of salt
2 1/2 cups powdered sugar
30 drops (or so) red food coloring
Procedure: Beat the cream cheese, butter, and salt in a stand mixer on high speed until homogenized; reduce the speed to low and slowly add in the powdered sugar. (You can also just stop the mixer when you add the sugar to help keep it from flying everywhere.) With the mixer running, add the food coloring until you get the desired color.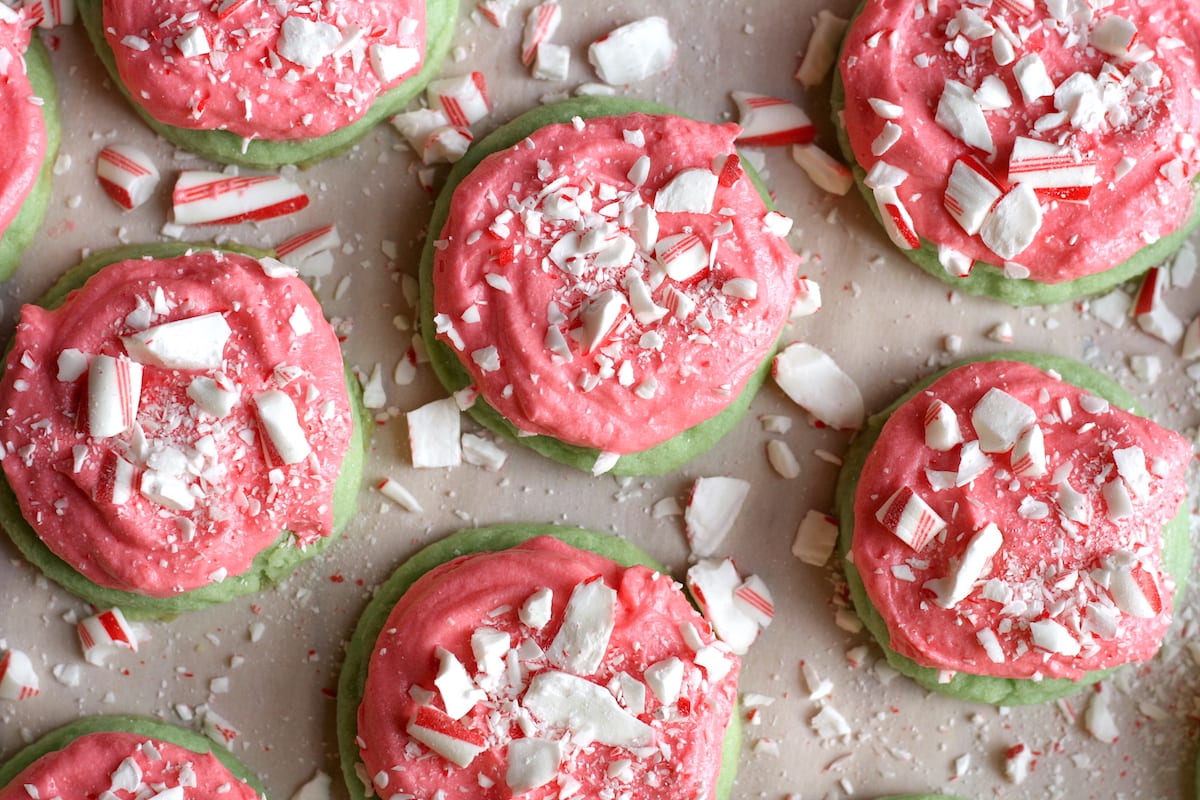 I decided to let off a little steam in crushing the candy canes by using a hammer and some parchment paper. There are much easier ways to get this task done (like with a food processor), but it's not nearly as fun! To assemble the cookies, spread some of the frosting on the completely cooled cookies and sprinkle with some crushed candy canes.