I'm back with a Black History Month virtual potluck, and I even made some GIFs!
For those of you not familiar with the concept, last year I partnered with Meiko and The Dish to bring together a bunch of black food bloggers to celebrate the diversity of black food. It was a huge success (at least in my mind) with coverage on Tasting Table, Food52, The Kitchn, Blavity, and a few other outlets. Even without the reach, we knew we'd be back at it again. So, here we are.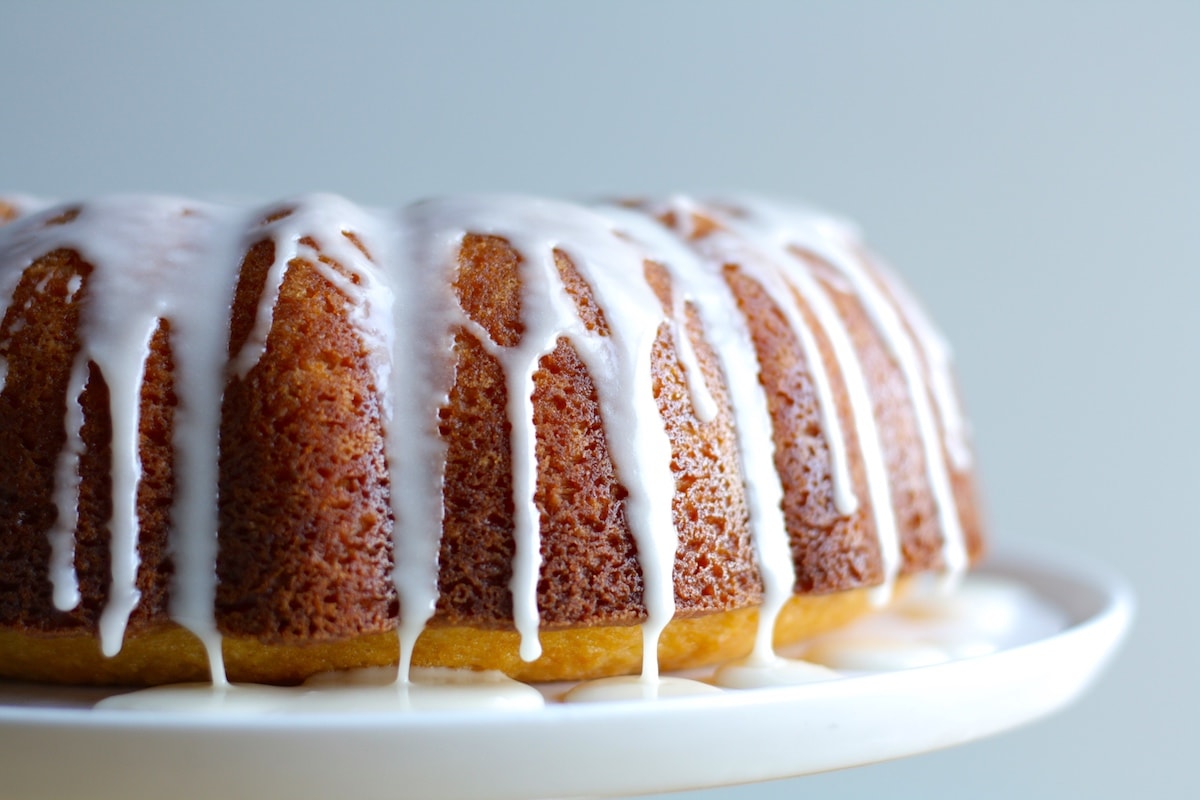 It wasn't until just recently that I realized I created orange-flavored cakes for both occasions, but in this time of year my mind is all about citrus. Also, I happened to get my first Bundt pan recently and wanted to put it to good use.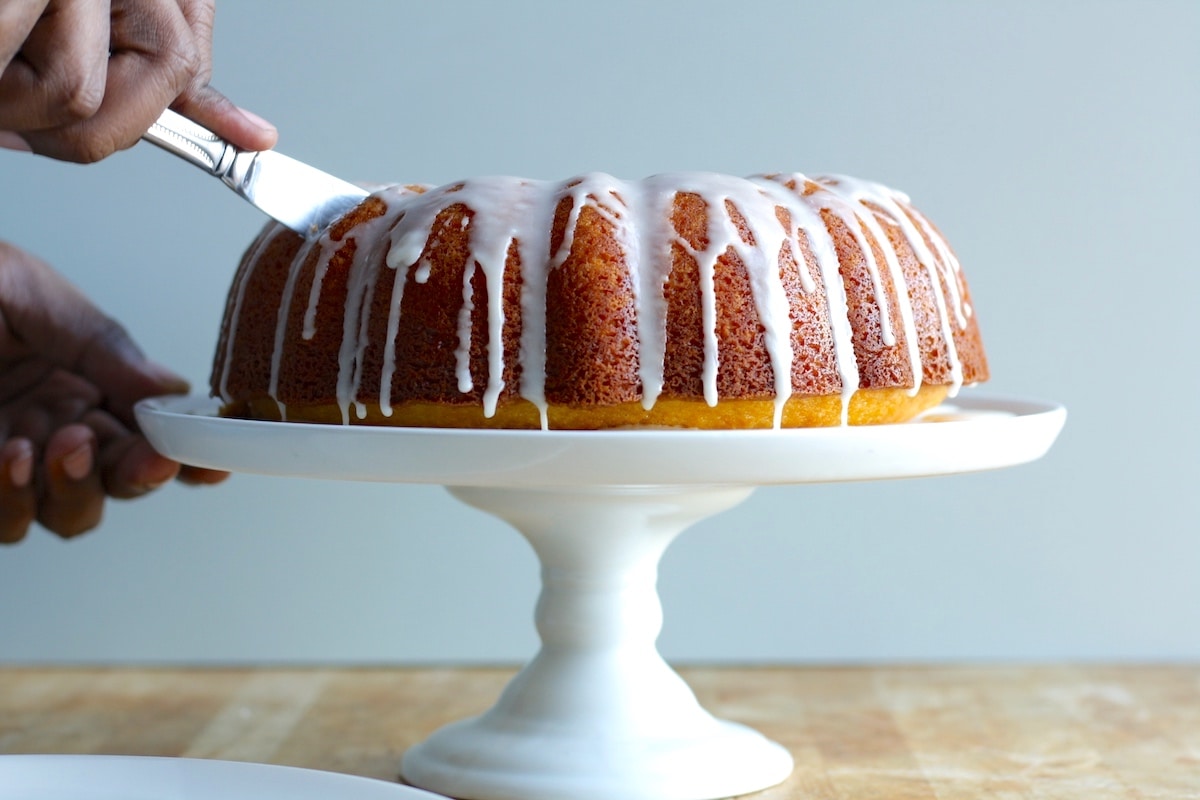 This recipe is a variation on the one for my lemon cake, except with oranges instead of lemons (obviously). It then gets drizzled with a simple vanilla glaze for a little extra sugar, but this part is optional if you don't want the extra calories.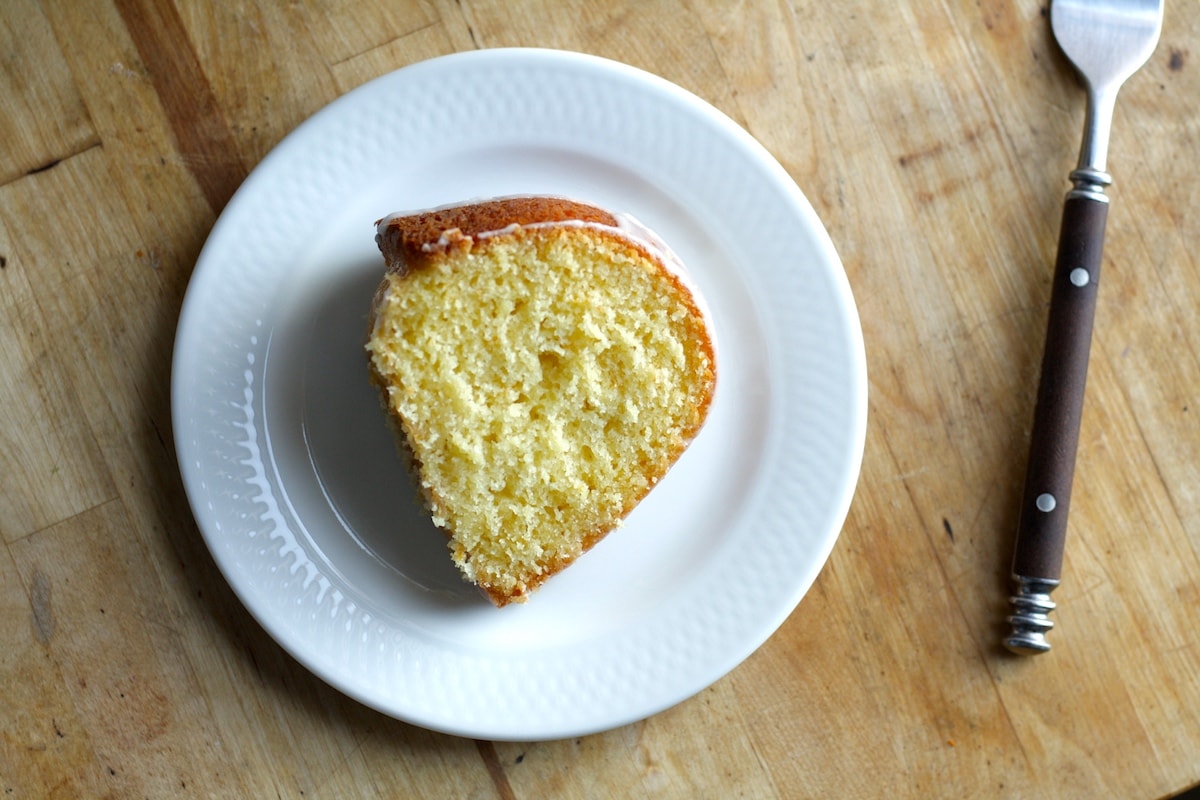 One note I have to mention is that ideally you'd use fresh-squeezed orange juice in the cake batter. However, I was lazy that day and used a high-quality store bought juice instead of squeezing some citrus myself. Luckily for you (and me) it worked great!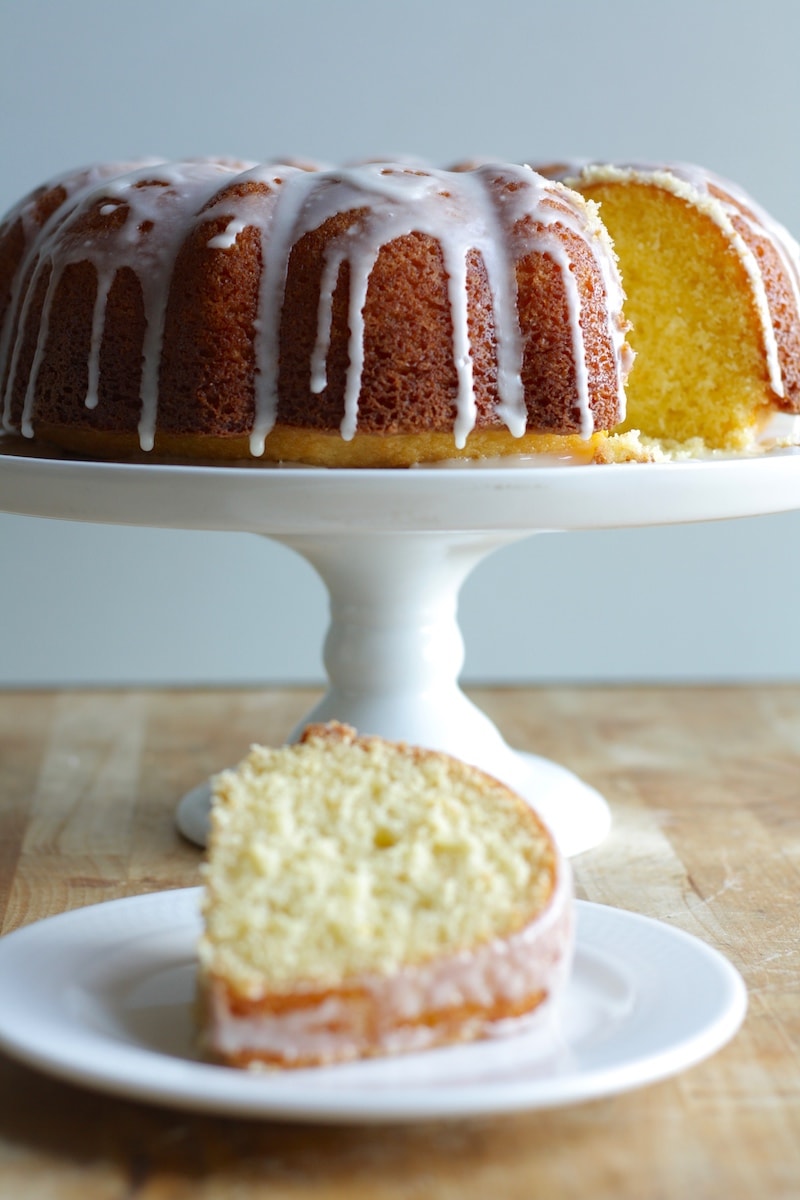 Orange Bundt Cake Recipe with Vanilla Glaze
This bundt cake is flavored with orange juice and zest to fill it with citrus flavor. It's then coated in a vanilla glaze for a picture-perfect dessert.
Serves:
One 10-inch bundt cake
Ingredients
Orange Bundt Cake
nonstick cooking spray
2 sticks (1 cup) unsalted butter, at room temperature
2 cups granulated sugar
1 tablespoon orange zest (from about 1 medium orange)
4 large eggs
3 cups all-purpose flour
1 tablespoon plus ½ teaspoon baking powder
½ teaspoon salt
½ cup whole milk
½ cup (preferably fresh squeezed) orange juice
Vanilla Glaze
1 cup confectioners' sugar
2 tablespoons whole milk
½ teaspoon vanilla extract
Instructions
For the Orange Bundt Cake
Preheat oven to 350˚F. Spray a 10-inch fluted mold (Bundt) pan with nonstick cooking spray.
In the bowl of a stand mixer fitted with a paddle attachment (or with a hand mixer), cream together the butter, sugar, and orange zest on medium-high to high speed until pale and fluffy, 3 to 5 minutes. Add in the eggs, one at a time, scraping down the sides of the bowl with a rubber spatula.
Sift together the flour, baking powder, and salt. Alternately add the dry and wet ingredients to the butter mixture, starting and ending with the dry ingredients. (If using a stand mixer, it's best to finish by hand with a rubber spatula to make sure all of the ingredients are evenly incorporated without over-mixing.)
Pour the batter into the prepared pan and bake until a toothpick inserted in the cake comes out clean, about 45 minutes.
Let cool in the pan for a little while before turning out onto a baking rack to cool completely.
For the Vanilla Glaze
Stir all of the ingredients together until smooth. Drizzle over the cooled cake.
Now, it's time for this year's recipes from the rest of the black food bloggers…
Black History Month Virtual Potluck Recipes
Beautiful Eats & Things | Turkey Sausage Stuffed Collard Green Wraps
Better With Biscuits | Fresh Corn Pudding
Beyond The Bayou Food Blog | Creole Seafood Courtbouillon
Brandi's Diary | Better than Jiffy Cornbread from Scratch
Butter Be Ready | Southern Style Mac and Cheese
Chef Kenneth | Fried Sweet Potato Hand Pie
Chocolate For Basil | Pilau and Kachumbari (Spiced Rice with Pico)
Cooks with Soul | Braised Short Rib Meatloaf
D.M.R. Fine Foods | Cinnamon Raisin Bread Pudding with Maple Glaze
Dash of Jazz | Nigerian Jollof Rice
Domestic Dee | Fried Peach Pies
Eat.Drink.Frolic. | Olive Oil Braised Collard Greens
Food Fidelity | Mofongo Relleno (Mashed Plantains with Garlic Shrimp)
Food is Love Made Edible | Buttermilk Biscuits with Fried Chicken and Tabasco Honey
High Heels and Good Meals | Crawfish Etouffee
HomeMadeZagat | Shrimp with Spicy Curry Cream Sauce
Houston Food Fetish | Sweet Almond Tea Cakes
In the Kitchen w/Kmarie | Pineapple Lemonade
Marisa Moore Nutrition | Bourbon Peach Glazed Salmon
Meiko and The Dish | Candied Bourbon Peach Cobbler
My Life Runs On Food | Lentil Soup and Roast Okra
Orchids + Sweet Tea | Carrot and Zucchini Noodles Stir Fry with Shrimp
Raised on Ramen | Orange Glazed Brussels Sprouts
Savory Spicerack | Creamy Seafood Stew
Simply LaKita | Blackberry Cobbler
The Kitchenista Diaries | Smothered Turkey Wings
The Seasoning Bottle | Honey Turmeric Skillet Chicken
Want to get in on the action? Share your own creations on social media with the hashtag #BHMpotluck and check out what everyone else is making. Also, be sure to follow the We Lover Black Food Bloggers Facebook group for more recipes from these and other black food bloggers from around the world.