It's me again. Today I'm here to share with you a recipe (and video!) for pie dough. This recipe includes a combination of butter and vegetable shortening for the fat components in this pie crust. Shortening is great because it leads to the best texture, but lacks in the flavor department. That's why a butter-shortening double team is the way to go—buttery goodness combined with flaky layers. (I think I'm in heaven!) Keeping the chunks of fat on the larger side also helps with a flaky crust. The three things to always keep in mind when making pie dough are: 1) the temperature of ingredients (the colder the better), 2) not to overmix, and 3) be sure to let it rest. I think we're ready to get started now.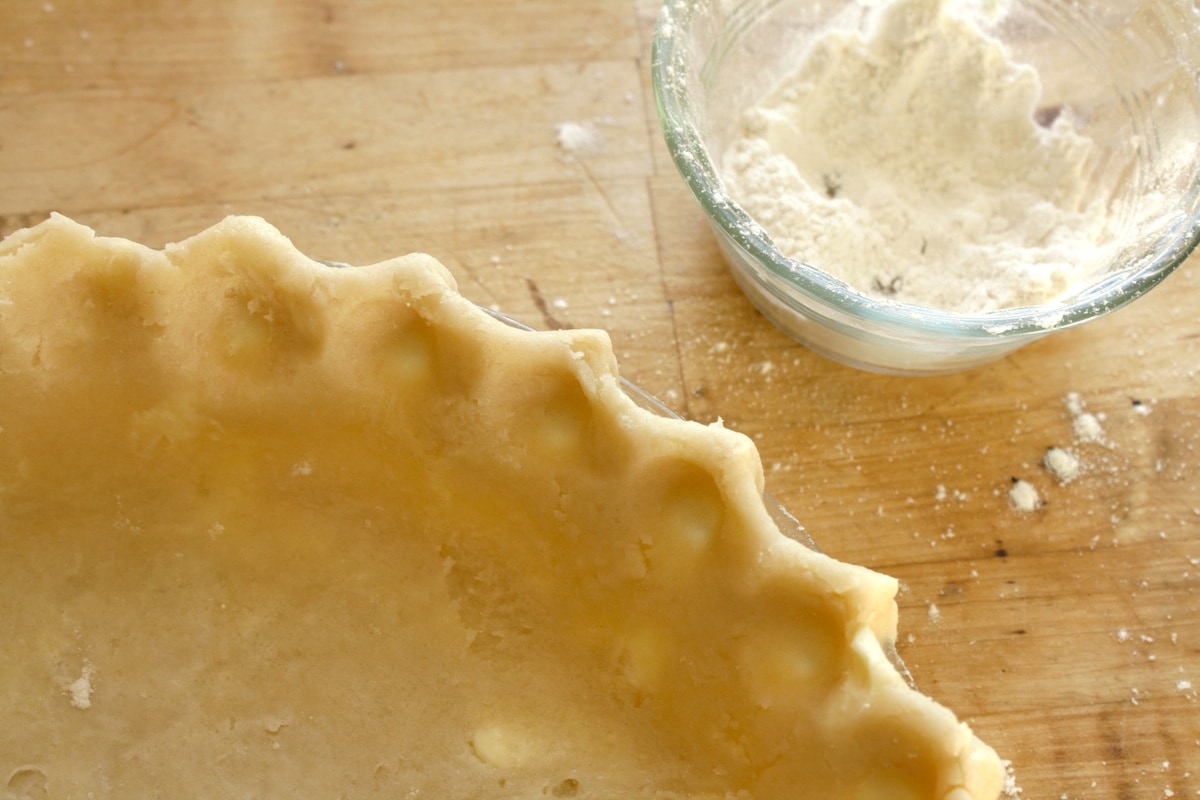 Ingredients:
(Yields one 9-inch pie crust)
1 1/2 cups all-purpose flour, plus more for dusting
1/4 cup granulated sugar
pinch of salt
1 stick (1/2 cup) cold unsalted butter, diced
1/4 cup vegetable shortening
ice water
Procedure:
Combine the flour, sugar, and salt in a large bowl. Add the butter and shortening and cut the fat into the dry ingredients until it's about the size of large peas.
Add just enough ice water so that the dough barely holds together. (The ice water helps keep everything nice and chilly, which leads to a flaky pie crust.)
Shape the dough into a disk, wrap in plastic, and refrigerate for at least 20 to 30 minutes. (You can also freeze it at this point if you wish.)
Roll into a circle that's about 2 inches larger than your pie plate in diameter. (I like to roll the pie dough between waxed paper for an easier time.) Dust lightly with more flour and transfer to the pie plate.
Trim the edges of the pie crust, leaving about a 1/2-inch overhang. Fold the dough under around the edges.
Decorate the edges of the dough as desired, fill the pie, and get ready to bake!
If those instructions didn't really make too much sense, then I'm sure this video will help. 😉
Happy Baking!