Disclaimer: This post has been sponsored by OXO. All views and opinions are my own.
A good hash is one of my favorite breakfast/brunch foods. It's usually a combination of meat, potatoes, vegetables, and eggs, and is sure to be a crowd pleaser when you bring it out to the dining table. Prep was made simpler by using a Vegetable Chopper that OXO sent me, which made chopping the onions a breeze with just one easy motion and pouring them into the skillet. I also received a Glass 3 Qt Baking Dish with Lid, which is great for storage and making a large batch of this sweet potato chorizo hash recipe for a crowd. If you're planning on having a bunch of friends over for brunch, you can even make the chorizo and sweet potatoes ahead of time, store it in the refrigerator, and then go straight into the oven with the eggs the next day for this new take on a classic brunch recipe.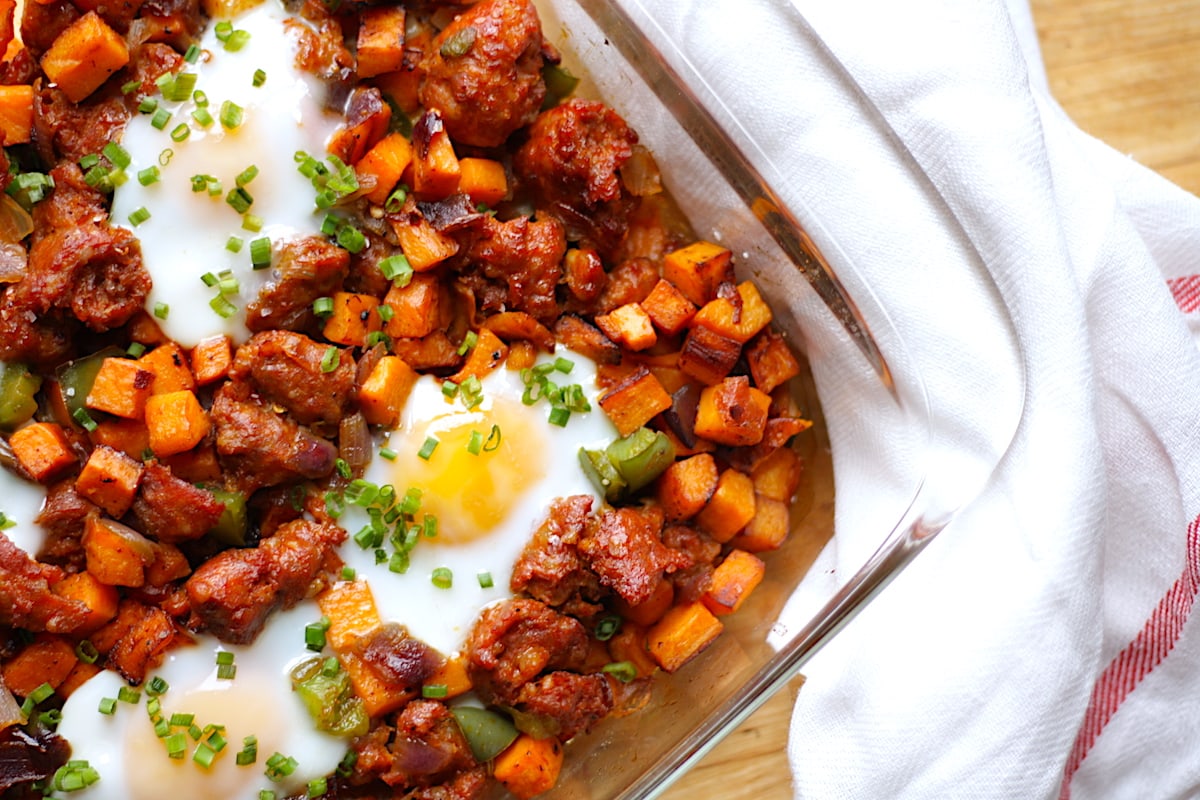 Sweet Potato Breakfast Hash Recipe:
1 pound fresh chorizo
2 red onions, diced
1 green bell pepper, seeded and diced
1 teaspoon chili powder
1/2 teaspoon red pepper flakes
salt and black pepper, to taste
olive oil
4 cups diced sweet potatoes (about 2 to 3 large)
6 large eggs
chopped fresh herbs, for serving
Yield: 4 to 6 servings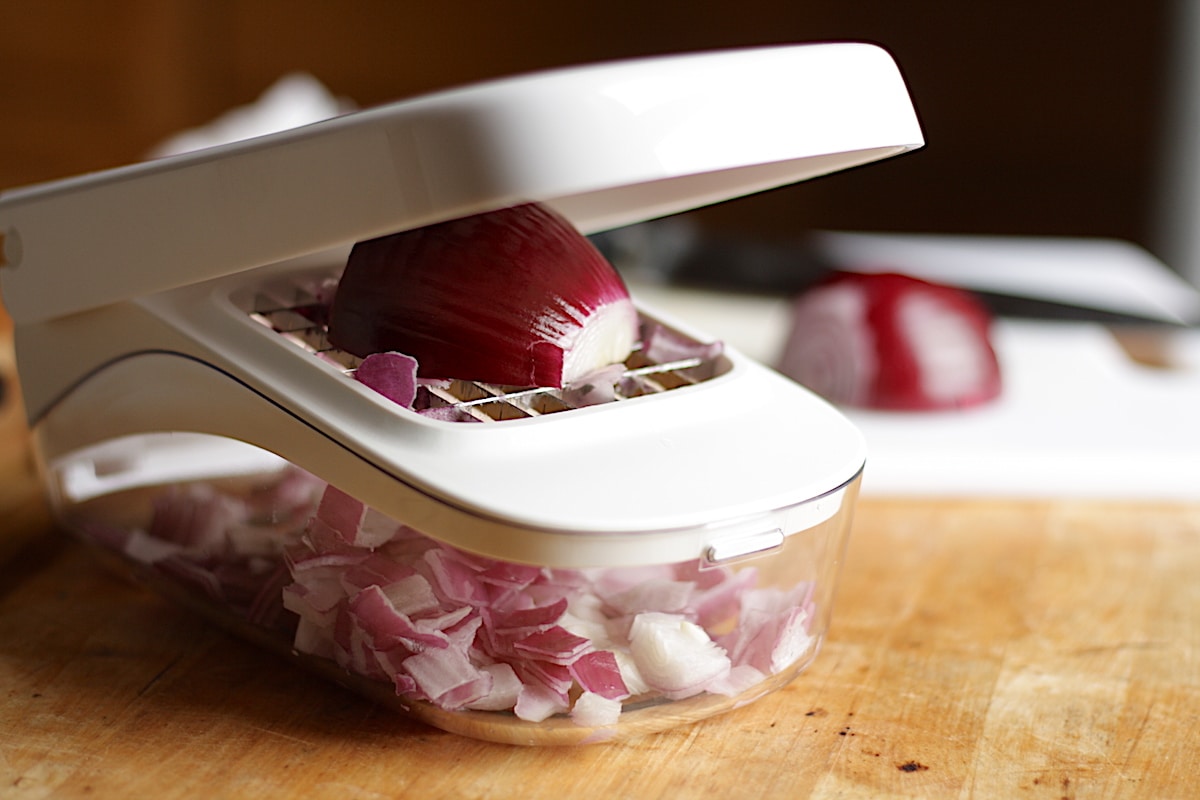 Step 1: Add the chorizo, onions, bell pepper, red pepper flakes, and 1/2 teaspoon chili powder to a large nonstick skillet over medium heat; sprinkle with some salt and pepper. Cook until the vegetables have softened and the chorizo is fully cooked. Set aside.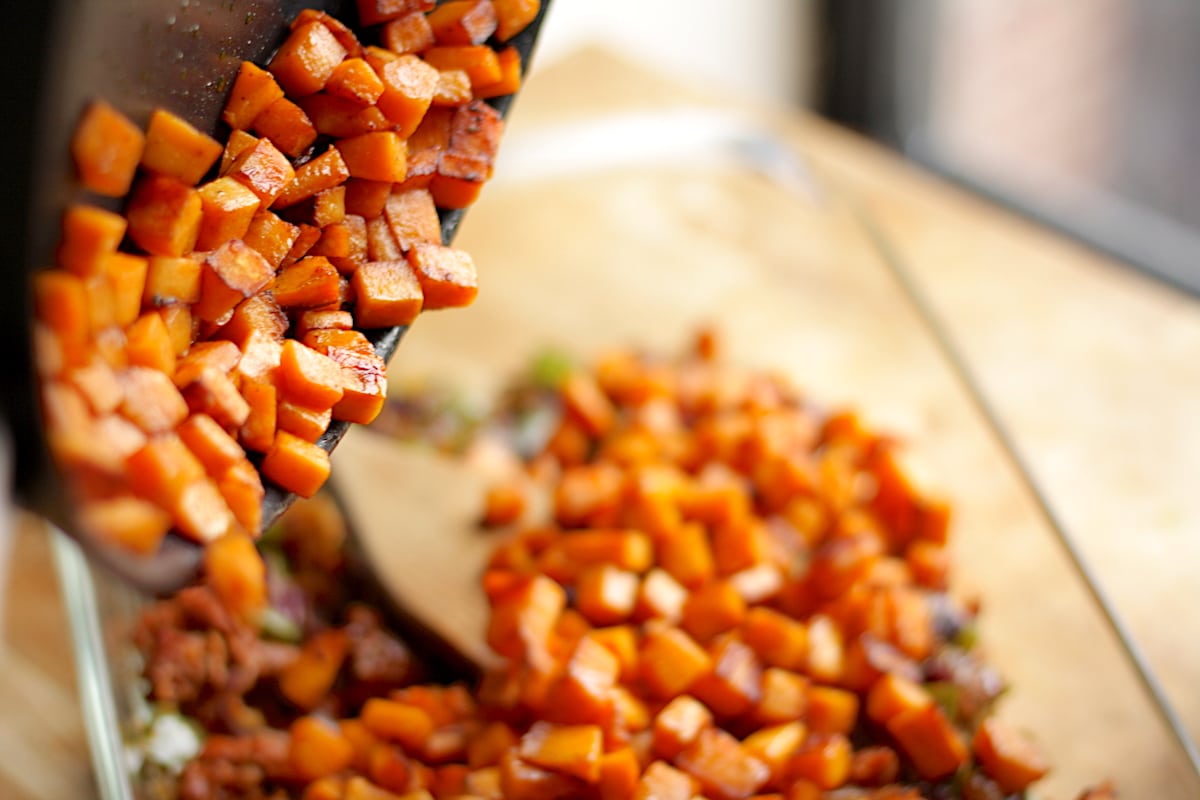 Step 2: In the same skillet, add some olive oil, the sweet potatoes, some salt and pepper, and the remaining 1/2 teaspoon chili powder and cook until softened and lightly browned. Add the cooked potatoes to the reserved chorizo and vegetables.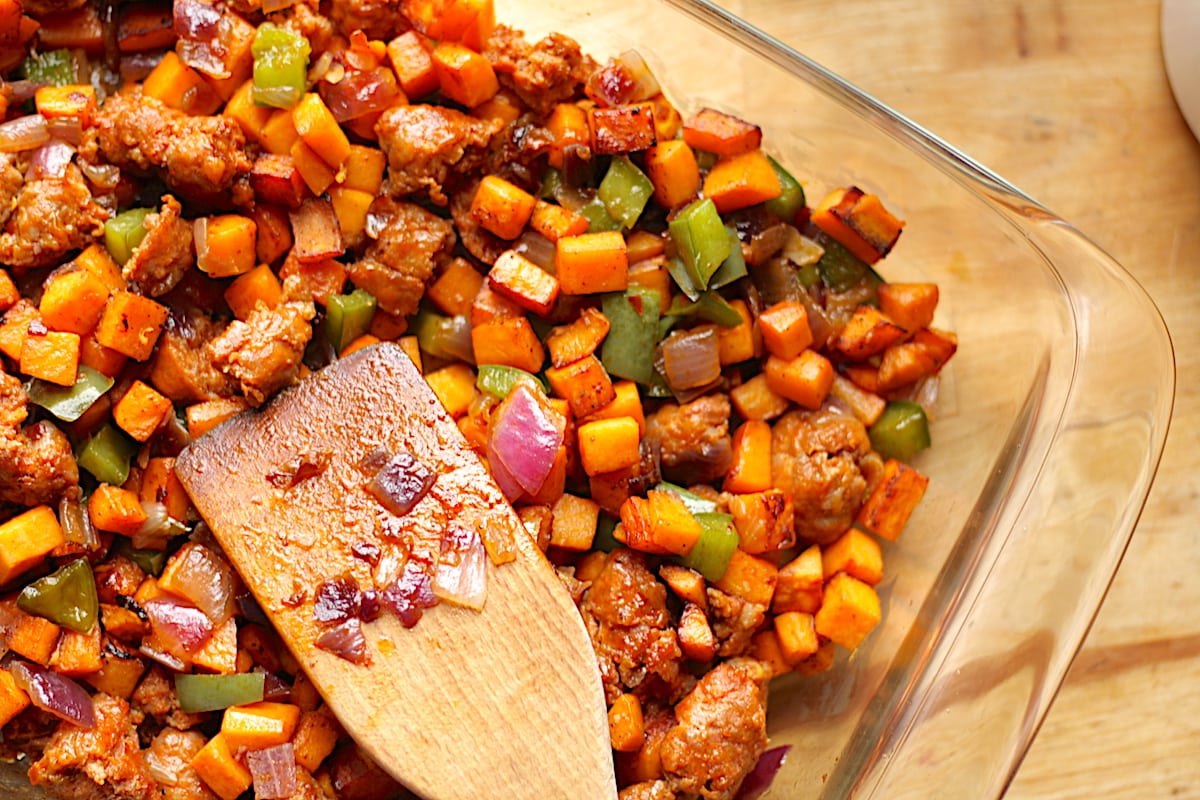 Step 3: Combine the cooked chorizo, vegetables, and sweet potatoes in the Glass 3 Qt Baking Dish with Lid. At this point you can let it cool and store in the refrigerator if finishing the following day.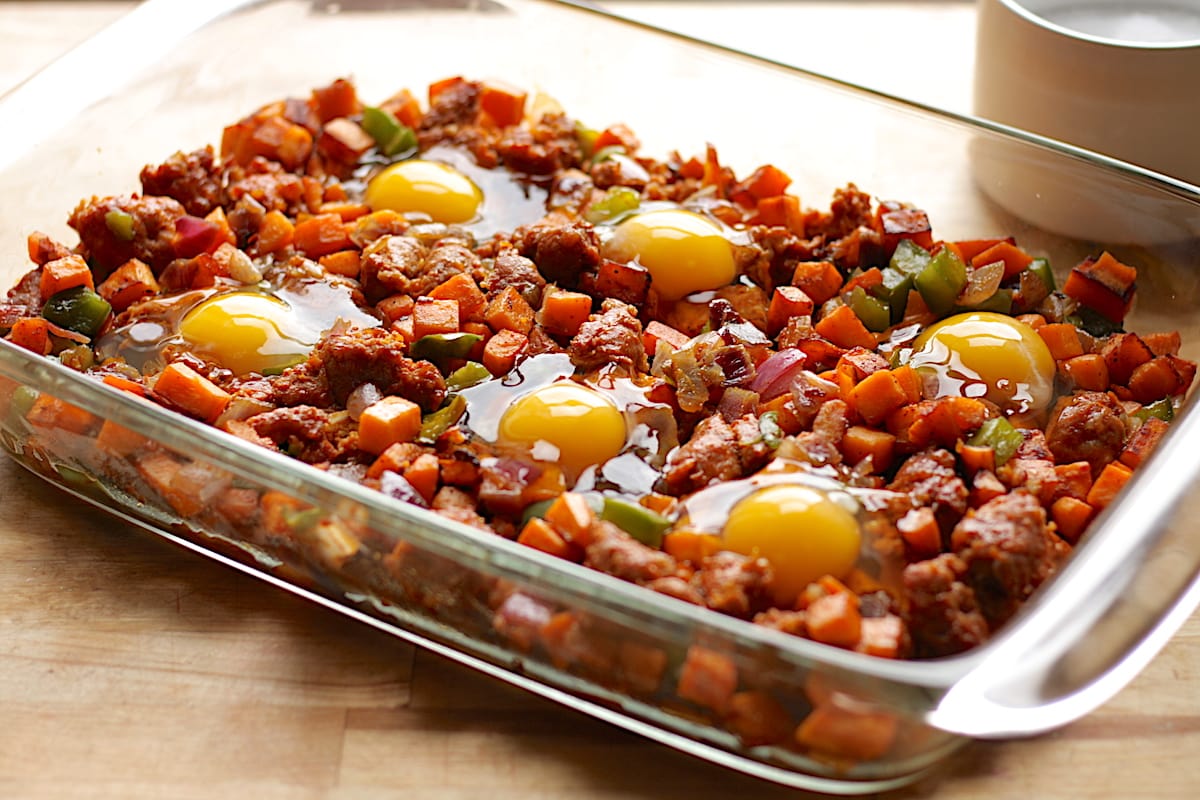 Step 4: Preheat the oven to 375˚F. Make small divots in the hash mixture and crack the eggs on top; sprinkle the eggs with some salt. Bake until the egg whites are set and the yolks are still runny, about 15 minutes.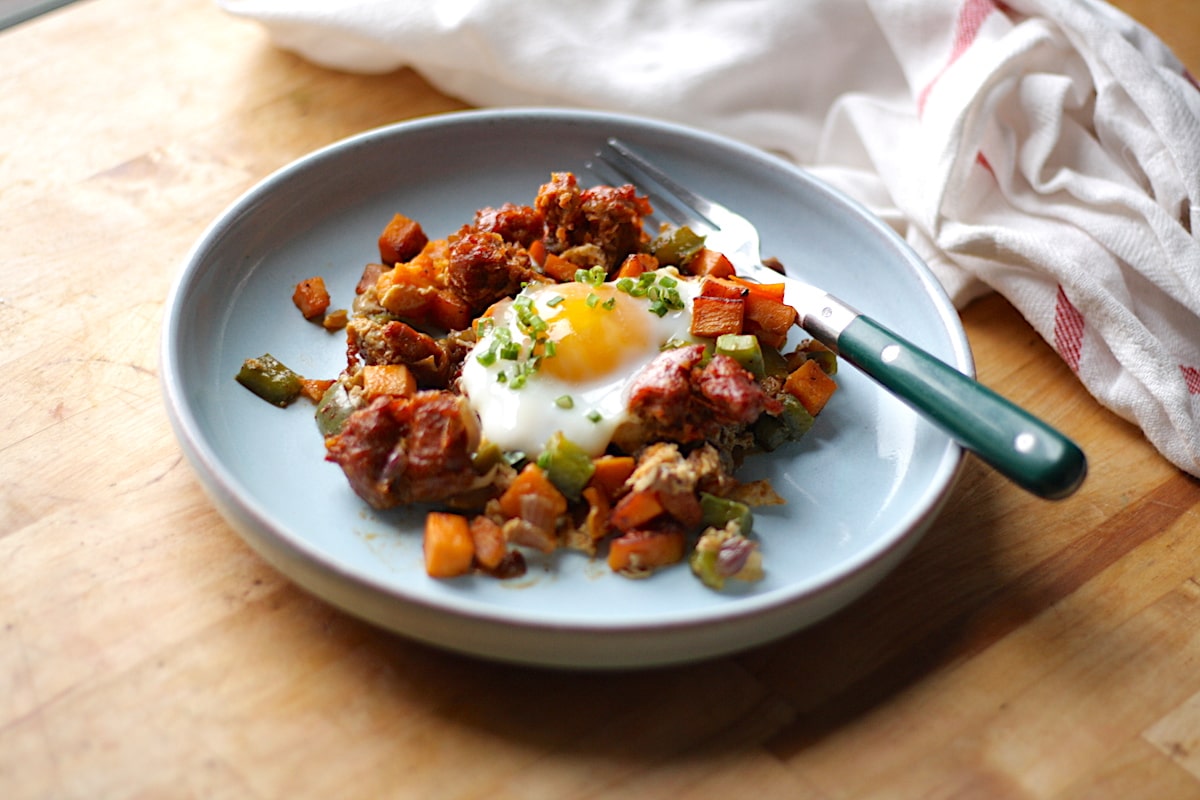 Step 5: Sprinkle the top of the hash with some fresh herbs, such as chives, and serve.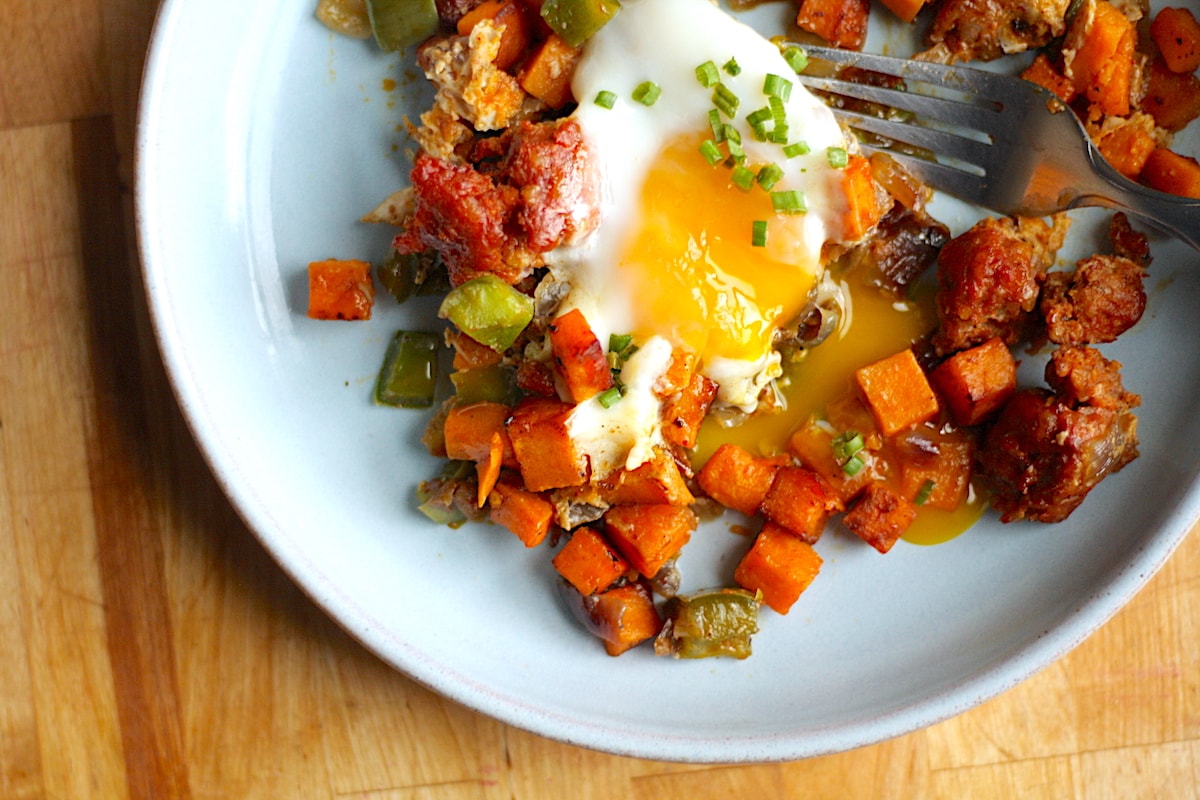 Disclaimer: This post has been sponsored by OXO. All views and opinions are my own.